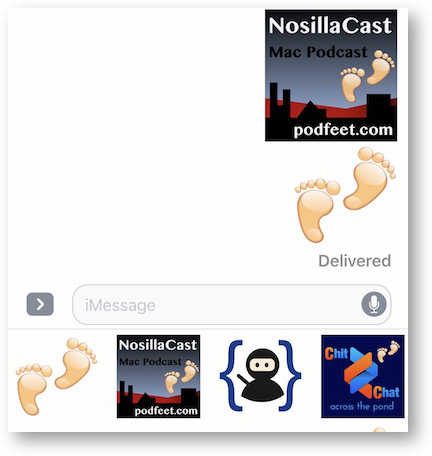 Greetings fellow NosillaCastaways. Allister here from New Zealand with a little bit of fun for those of you who have already upgraded your devices to iOS 10.
If you've been watching the recent announcements and coverage, you'll probably know that Apple have put quite a bit of time and effort into enhancing the Messages app, for use on the iMessage service. You can use apps in Messages to send money to a friend, collaborate on a to-do list, or exchange rich content like restaurant or movie details.
But far more importantly you can now use neat effects like lasers and slams to spice up your basic conversations and, of course, add stickers! Of all the new features, stickers seem to be burgeoning the most, and the simple reason for this is that they're really easy for developers to make.
If you're already an Apple developer, making a sticker pack is as simple as creating a new sticker pack project in Xcode and providing the images for the stickers, along with various sizes of icon to represent your sticker "app." That's pretty much it.
Now, if you're not a registered developer, you could download Xcode, make your sticker pack and load it on your own device for no outlay, but, well, Xcode is on the same list of applications with iTunes when it comes to users loving it, so I don't recommend it unless you're prepared to geek out a bit.
But what if you have some serious need for sticker goodness and you're also a died-in-the-wool NosillaCastaway? Well, I'm pleased to tell you that I have, with Allison's blessing, created a NosillaCastaway Podfeet sticker pack which contains stickers for each of Allison's podcasts, plus the infamous podfeet logo and Bart's Programming By Stealth ninja. We're planning on adding some more stickers soon.
If you're on iOS 10, simply head to the App Store and search for "NosillaCast" to find the sticker pack, look for the podfeet, or there's a link in the show notes. They're free to download.
If you'd like to hear more from me, you can find most of my stuff over at zkarj.me including the once-again-relaunched Sitting Duck Podcast for you music lovers, and my other App Store offerings like the newly launched Night Clock app.