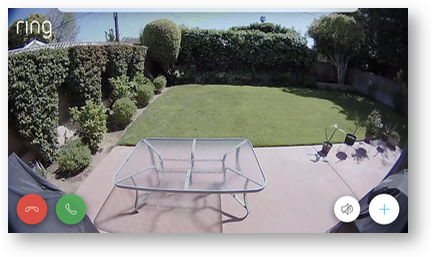 We live in a pretty safe neighborhood, but we like to keep an eye on things around our house. As safe as the neighborhood is, we do know of cases where deliveries have been stolen from front doorsteps from time to time. You've probably heard about the Ring Video Doorbell that we reviewed last January. It's great to watch our front door with a live view or to answer the doorbell from wherever we are. When Steve's new GoPro Hero 5 was delivered while we were out of town, I was able to tell the delivery person to leave it and then ping my neighbor to go snag it from the front door so I wouldn't have to buy a third one.
Steve has always wanted a video camera in the back yard. He wants to secure the home as best he can, and being alerted if someone is lurking back there in the middle of the night would be useful information. I'm not as concerned about that as he is, but I do have an additional concern. We live in a very urban area of Los Angeles, but we have a coyote problem. Every few days I hear about a coyote sighting, even on our own street a few blocks away. There's a sign at our local park that says to call 911 if you see an aggressive coyote, but if you just see a "regular" one call the parks department. Sheesh. We've heard reports of the coyotes eating small dogs who were let out in the night time.
Tesla is too big to be eaten by a coyote, weighing 50% more than the biggest ones, and could probably beat one in a fight, but I sure don't want to give her the opportunity to prove that. David Roth would never forgive me if she got hurt. We have a big floodlight in the back yard with a motion detector, and we always flail a hand around the sensor at night before we let her out to make sure it's safe, but a camera with motion sensors would give me more peace of mind.
At CES in January, we interviewed the CEO of Ring, Jami Siminoff, about their soon-to-be released Ring Floodlight Cam. I planned to get it for Steve for his birthday in April, but without telling me he pre-ordered one so he could be the first kid on the block to get it. Oh well, he's had a bad week so we'll allow it.
Before I go through the entire setup process and talk about what we think of it, I should probably tell you what's cool about the Ring Floodlight Cam. It's got two super bright LED floodlights, it's got motion detection, it's got an infrared and daytime HD video camera, two-way audio, and it's even got a 110 decibel siren alarm. And of course it's all connected to the Internet so you can watch your yard when you're at home or away.
The Ring Floodlight Cam isn't cheap at $249 and it isn't HomeKit enabled. This means that we'll have to put it on our stinky, less secure network with our other non-HomeKit compatible device and our Windows machine.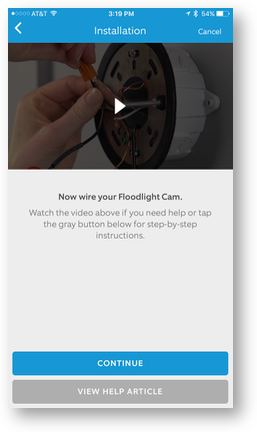 Physical installation was pretty easy according to Steve. He took down the flood lamp we already had, which was connected to three wires: a ground, a hot wire, and a neutral (return) wire. I normally am not the one to do the wiring, but I'll explain in a bit how I might have been able to do this one on my own.
To start, you download the Ring app from the App Store (iOS, Android, Mac or Windows), and tap the Add a Device button. Flip through the different devices Ring offers, until you find the Floodlight Cam. You choose a name for your floodlight cam and then confirm a location or enter an address by hand. I'll explain later why it wants to know your location.
The very next step in the app is not how to get it on your network, it's a video on how to install the mounting bracket for the Floodlight Cam. Hit continue and you get the wiring video. Continue again and you get the video on how to attach the camera to the mounting bracket. So even a mechanical engineer could follow those instructions!
Finally once all that messy hardware stuff is done, it's time to go through the network setup. I've walked through the steps to install an IoT device on your network when we did the Nest smoke detector, the Wemo Switches and more and the process is all pretty much the same:
First you fire up the device
The device will create it's own local WiFi network
Connect your phone to the device's WiFi
The device then slurps in the available 2.4GHz networks
The device asks you to select a network
You choose the network for it to join and tell it the password
You flip your phone back to your real network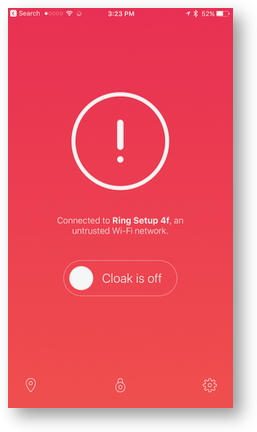 Except it never works that way. Something always seems to go wrong. When Steve did the initial setup he ran into a bit of a snag. He got stuck because when he connected to the Ring Floodlight Cam's WiFi network, his VPN software kicked in on his phone. Of course he didn't notice it at first but eventually he did. He could have told his VPN to trust the network, but he simply told it not to secure the network, and then the process worked as I described.
If you can't connect to the Ring Floodlight Cam's network, there's a screen you go past that asks if the light on the cam is blinking. If it isn't and you press no, a very helpful GIF is displayed showing someone pushing the flush button on top of the camera. I know that sounds hokey but it was a great way to show us where the button was and how long to touch it. They really do spoon feed you through the process.
As usual I've managed to spend a lot of time on this review without telling you how this thing works and what I think of it.  Well let's finally get into it.
Like the Ring Video Doorbell, the Ring Floodlight Cam uses motion detection to send you alerts. This camera has much more advanced controls than the doorbell for defining the area to watch. You can actually view your yard through the camera and draw out irregularly-shaped motion zones for monitoring. You get 8 little dots to drag around to define a zone, you can name these zones, and you can independently toggle each zone active or inactive. This is great if you've got a tree blowing in the breeze in one area, or you're tired of being notified every time someone parks a car in one corner.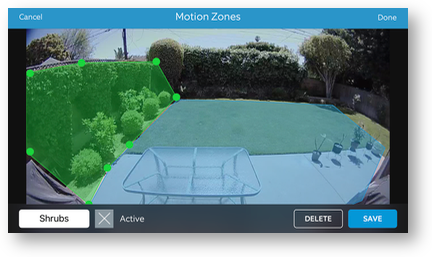 You can change the motion sensitivity from All Activity down to People Only and 3 steps in between. We started at the highest sensitivity, which meant it was going off constantly so we dragged the slider to the opposite end to People Only. Then I read online that the sensors have face detection. That made me wonder if it would indeed catch a coyote were it to wander into our yard. I tested my theory by letting Tesla out by herself, and sure enough, with it set to People Only she did not trigger the motion detection. I dragged the slider up one notch and she triggered the motion detector. We now know that level 2 should detect coyotes.
You can set up schedules for motion activity, but this feature is disabled if you choose not to share your location. Makes sense, the app doesn't know what time it is unless it knows where the you are, right? I suppose they could have made it harder and made you define your time zone, but I think adjusting for all that automatically is a far easier way to go. Best of both worlds that you have a choice on whether to share your location.
I really like the way they implemented scheduling of motion detection. Every day around 10:15am Steve takes Tesla out in the back yard and they putter around back there till 11. Before I turned on motion scheduling, my iPhone, iPad, Mac and Apple Watch were all ringing away during that time alerting me to their nefarious activity. In motion scheduling you disable during specific times. You can create multiple rules where you select days of the week, a start and end time, and then give the rule a name.
As with the Ring Video Doorbell, there's often a delay between when you get a motion alert and when you can actually view the video. It's frustrating because if the motion is too quick (like someone dropping off a package) you never get a chance to interact with them.  When you play back the video, you do see who or what triggered the alert. This is something we'd really like to see Ring improve.
When I first read the Ring website about the camera, I misunderstood the specs. They said the field of view was 270°, but clearly in looking at the video imagery it does not see around corners so I thought 270 was a typo on their website. Luckily they have 24×7 tech chat support at ring.com. My new little friend Kyle explained that the heat-sensing motion detectors are at 270 degrees, and the camera's view is 140° x 81°. That makes a lot more sense! In any case the 1080p video quality is superb. During video playback after an incident has been recorded, the video is very smooth but in Live View it seems to stop and speed up. It's capturing all of the motion but it seems to buffer a bit when viewed live.
The Floodlight Cam has two super bright LED flood lamps (hence the name) and you can control motion zones for the lights to turn on. These zones are independent of the camera's motion detection. For the lights you get three triangular sections, left, right and center. You can also change the distance from min to max. Not sure why you'd want the motion control for the lights different than the camera but cool that you can if you want to. On that same screen you can control how long the lights stay on after they've been triggered from 30 seconds to 15 minutes.
I should mention that the screen I just described is a bit hard to find. If you go into Light Settings, you'll only see the Light schedule option where you define a span of time that the lights will always be on. The controls for that take up just a little bit of the top of the screen, so your eyes may not wander to the bottom of the screen where in tiny text it says Advanced Settings. We missed it the first few times we went through the light setup screen.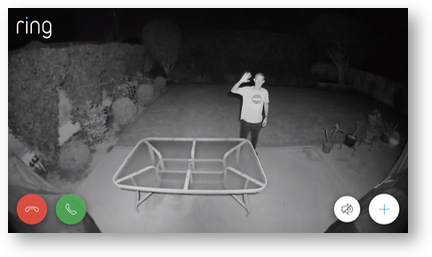 You don't have to depend on the lights to view your yard, the Ring Floodlight Cam is also infrared so you can keep an eye on things in the dark. It's pretty cool looking actually! I put a screenshot of Steve waving in near darkness (only light coming from the windows but not the floodlight) and you can clearly read his NASA shirt we got him at the Hayden Planetarium.
When you get an alert (or in Live View) you can listen to what's happening outside, and you can choose to talk through the built in speakers as well. We played with it a bit, and if I spoke at more than a whisper Steve said it was loud enough to really disturb the neighbors. I can picture yelling, "HEY! WHAT'RE YOU DOING BACK THERE???" to an intruder and scaring the pants off of them.
Speaking of disturbing the neighbors, there's a remote-activated 110 decibel siren on the Ring Floodlight Cam! We only very briefly tested it and it is REALLY loud. I think I would reach for the siren first when and if that coyote ever sets foot in my yard!
I've mentioned video storage – that's going to cost you a grand total of $30 per year (after the first free month) for the Ring Floodlight Cam. You don't get a break if you're already paying $30 per year for the doorbell, but if you go nuts with a whole bunch of Ring devices, you won't pay more than $100 per year total.
There's a button to check Device Health, which is really a way to see if your WiFi signal is strong enough. When we first set it up, we inadvertently put it on our Netgear X8 WiFi network. It's much farther away from the back yard than the Airport Extreme and several more walls away. The Device Health screen was red and said the signal was very weak. When we reset the device and put it on our Airport Extreme, the Device Health screen came back green.
We previously had purchased two Ring Chimes to go with our Ring Video Doorbell. The Chimes plug into outlets, connect to the doorbell and give us a ring inside our house so we don't have to use a mobile device. We were able to make the Chimes ring with the Floodlight Cam as well. It would be an improvement to have the interface allow you to change the tone depending on which device had been triggered. If we get an alert we have to look at our phones to know whether to answer the door or look in the back yard.
Like the doorbell, you can add shared users to the Floodlight Cam, which allows other people to access your camera. This could be great if you want to monitor your parent's house, or you want a friend to watch your house while you're out of town. We'll definitely add this to the list of devices Lindsay, Kyle and our house sitter Brandy have access to while we're away.
VoiceOver accessibility of the Ring app is kind of weak. Most buttons are labeled but they're often labeled stupidly. For example, all of the buttons on the camera view screen say "icon sm" before their name, so you hear "icon sm grey light button" which actually should be labeled, "turn on the light". It appears that they just got lucky that there's any label at all. I have the CEO's email address since we interviewed him, so I think I'll drop him a gentle hint of a note about it. It's not terrible but it could so easily be a lot better.
Bottom line is that the Ring Floodlight Cam is a great device and it does just about everything we wanted in a security camera for the outdoors. It's not cheap at $250 but the online video storage is cheap, the camera detail is fantastic, the customization is easy and intuitive, and the setup is pretty easy as long as you remember to disable your VPN first. I wish it was HomeKit compatible, but I can highly recommend the Ring Floodlight Cam from ring.com.