On October 24th I wrote a blog post about how Olympus (the camera makers) were using third-party cookie tracking using a service from Criteo. I was appalled that a site dedicated to letting me buy their products would use such a service. It wasn't just that they wanted us to be tracked, it's that this Criteo tracker pops up a banner saying that if you click any link on the page, you have agreed to be tracked. So there's no way around it.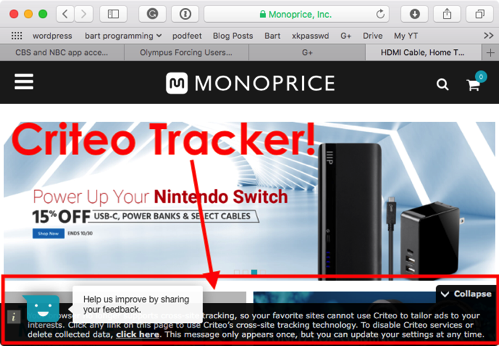 After I posted the article about Olympus and tracker company Criteo, Bruce Tyrell in our Facebook group (podfeet.com/facebook) alerted me to the fact that Monoprice is also doing this with ad tracker Criteo. If you're not familiar with Monoprice, they sell electronics at very low prices, specifically known for inexpensive cables.
I've bought cables from them for years. I went over to Monoprice.com and sure enough, there's that nasty Criteo banner. But get this – Monoprice has obscured the banner with a happy face and a bubble covering the popup that says "Help us improve by sharing your feedback." That's double nasty because the message it's covering up says that if you click on any link on the page, you've agreed to be tracked! I couldn't believe it.
I mentioned that Monoprice was using Criteo in our Google Plus group podfeet.com/googleplus. George from Tulsa responded by pointing to Monoprice's Privacy Policy. I think it's worth reading:
Technologies such as: cookies, beacons, tags and scripts are used by Monoprice, Inc. and our partners Google, Yahoo, Bing, Oracle, Criteo, and Steelhouse, affiliates, or analytics or service providers Google and Microsoft. These technologies are used in analyzing trends, administering the site, tracking users movements around the site and to gather demographic information about our user base as a whole. We may receive reports based on the use of these technologies by these companies on an individual as well as aggregated basis.
On the one hand, Monoprice is quite open about the fact that they're tracking you, getting your demographics as a result, and finding out where you shop if you don't buy from them. They say they're following you around the Internet. It's quite open of them to tell us this.
On the other hand, I am paying for physical goods from this company and I have no intention of allowing them to do this.
As Bart likes to say, vote with your dollars. We bought a half dozen High-Speed 4K HDMI cables this week, and we did not buy them from Monoprice. We bought them from Amazon Basics. The cables were inexpensive, were shipped for free, and we got them in one day.
Hey Monoprice! See this? it's my credit card leaving your store till you stop tracking us!