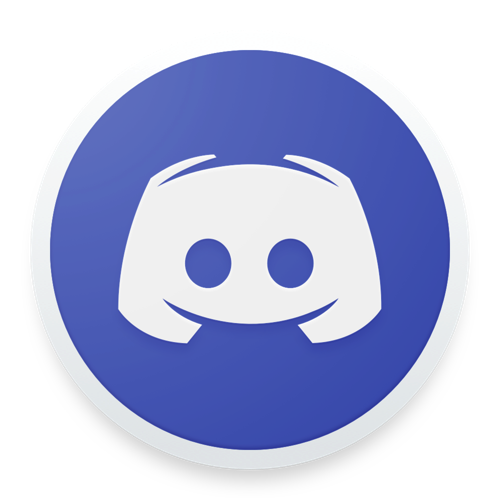 Sometimes I think that the Podfeet Podcasts are just an elaborate ruse to allow me to try out new gadgets and software. It is most evident in how I can't seem to stop refining how I produce both the recorded and the live show. If you've never taken a look at the live show diagram, it's worth a peek to see the madness. It needs to be updated a bit as a few things have changed, but the fundamental structure of it is still the same.
What never changes though is my desire to swap out one tool for another. In fact, that's why it's out of date!
Usually I'm trying to solve a problem, but sometimes I experiment with a tool just to learn about it to find out if it solves any problems. In the last couple of weeks I've started playing around with a tool called Discord. Discord is a free, dedicated app for the Mac, Windows, Linux, iOS and Android, as well as a web-app from discordapp.com. If my early testing is right, it could replace a lot of apps for me, reduce the complexity, and make it easier to connect with people for Chit Chat, all while actually giving you an enhanced experience during the live show.
I'd like to walk through just a few pieces of my workflow (and how they impact the audience) before I come back to Discord.
Current Tools
Skype for Chit Chat
When I record Chit Chat Across the Pond, the audio conversation takes place over Skype. The guest and I both have to install Skype, we have to have user accounts, one person has to initiate a contact request and the other person has to accept that request.
While Skype gets the job done, I'm afraid it has been a constant challenge for people because it gets updated really often. You would think updates are a good thing, but often they remove functionality, dramatically change the interface so you can't find anything, make formerly accessible things inaccessible, and do things to make the quality of service get worse. These "upgrades" seem to be going more and more in the wrong direction since Microsoft took over.
YouTube Live for Live Video
Like I mentioned earlier, the live show is a lot more complicated. Steve and I are visible on screen because we initiate a YouTube Live session (formerly known as Google Hangouts on Air). Steve has to embed a new YouTube link every single week into podfeet.com/live. It works pretty well, but you don't get to see it real time exactly, you're behind by about 20-30 seconds from real time.
I use Audio Hijack to route my audio not just to the video you see, but my audio also has to go into Hindenburg, the multi-track recording app I use to assemble the show. Audio Hijack, together with Loopback, also has to route the playback from Hindenburg back to YouTube Live so the real-time audience can hear when I play back listener contributions to the show.
IRC for Live Chat
The best part of the live show (in my opinion) isn't that you can see me, it's that the NosillaCastaways get to talk to each other in chat. The chat method we use is a very old, but still useful protocol called Internet Relay Chat, or IRC.
To provide IRC to the live show, I had to build my own chat server. Of course this was loads of fun, with Bart teaching me to be a system admin. I was able to buy what they call a droplet, a tiny little bit of a server through a service called Linode. I only pay $5 per month for it but that does start to add up. In addition, I have to run updates on my server; for example I actually had to patch it for Meltdown and Spectre, and I'll have to keep doing that over time. Not a huge amount of work, but non-zero.
IRC came along in the pure text days and it hasn't moved forward since then. In some ways it's part of the beauty of IRC. But there are times when you want to drop in an image for example, and IRC doesn't support that. Or what if you start chatting to someone else in IRC, and you want to chat outside of the live room, you have to somehow make contact through another service.
I was able to figure out how to embed a web-based IRC tool into podfeet.com/live so you can chat right from that main window. Most people use a third-party app to get into chat though, because you get a few more enhancements to the experience. Kirschen Seah and I wrote up tutorials for several Mac apps, to explain the arcane steps you have to go through to get into the podfeet chat server. You have to know the server name, and the channel name and set up a few other switches to get it to work. Definitely a barrier to entry.
Icecast for Live Audio
Some people aren't able to watch live, but like to listen live. For those folks, I also route all of the audio of me, Steve, and Hindenburg into another app called Nicecast. Nicecast works by sending the audio through an Icecast server, which Bart actually runs. I told you this is complicated, didn't I? Apply all the maintenance stuff I have to do for the chat server to Bart for the Icecast server.
Discord
Ok, now that we have the pieces identified, we can finally learn about Discord. Discord will be able to eliminate the Nicecast/Icecast server , the IRC chat server (and enhance the experience), and will replace Skype for recording Chit Chat Across the Pond, and possibly the need to use YouTube Live. Let's walk through the pieces in the same order.
Discord for Chit Chat
We'll start with how Discord can replace Skype for Chit Chat. Like I said, I heard about Discord quite a while back but didn't really grok the full impact of its potential until I heard Dave Hamilton explain that he'd jumped over to it cold turkey for recording the Mac Geek Gab with John F Braun. As you probably know, Dave is a bit of an audiophile, and it was the Skype audio quality in particular that was on is nerves for recording.
Dave wrote up some instructions on how to modify the audio settings for Discord on the Mac Observer, and in about 3 minutes I had set mine up as Dave had suggested.
I use Audio Hijack to record my Skype channels, and I was able to swap in Discord for Skype in my recording session, and I was ready to record.
Before I had a chance to use it for my own show, I was invited to be on The Phileas Club with Patrick Beja, and he was already using Discord. We made friends in much the way you would in Skype and he was able to launch a 3-way audio call with me and Turki for the show. That's one way to do it, but I have an even more fun way.
Discord uses the concept of servers, which are little isolated groups where you can talk and text. I created a server called Chit Chat Across the Pond and figured out how to drop in a logo. Inside the server, you create channels. You can have text channels and voice channels. You also have a big button that says Invite People.
My first victim to test recording from Discord was Tom Merritt, which was great because he'd starting using Discord with Scott Johnson for The Morning Stream so he was up for the challenge. I tapped on the Invite People button in my Chit Chat server and I got a web link with an option to make the link expire in 24 hours. For a guest on Chit Chat (other than Bart), it makes perfect sense for him to not have to be a member forever, but just for one day.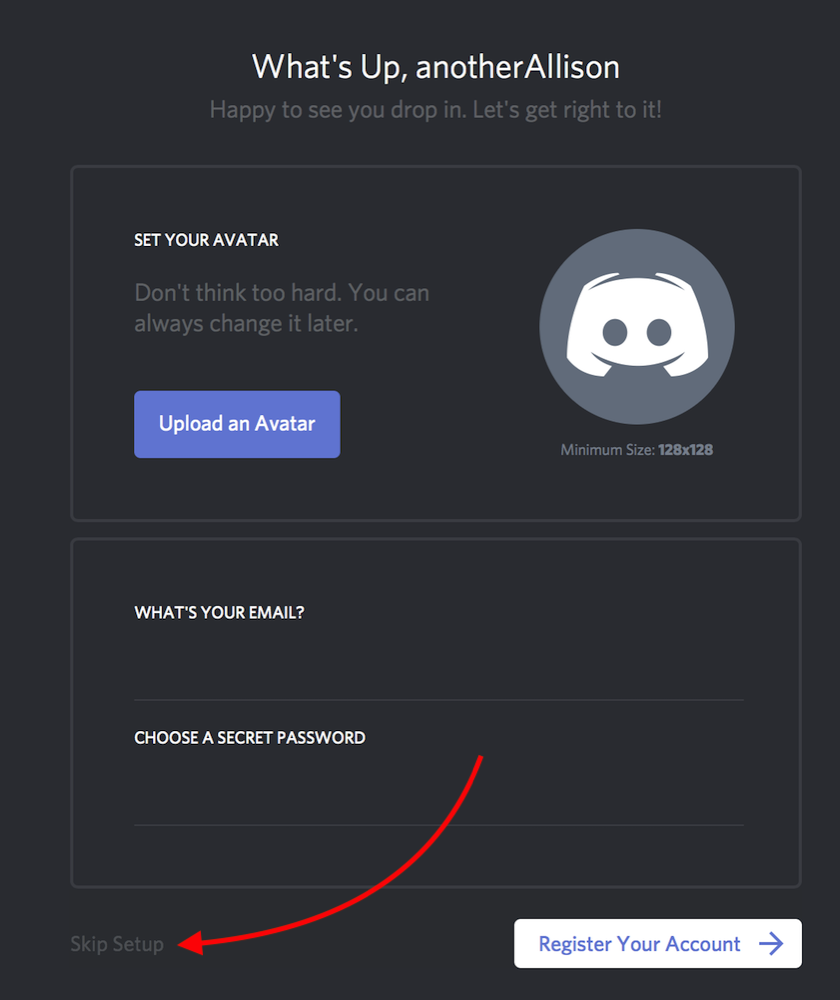 And get this: with that invite, he could participate right from the web, and not even have to create an account or do any faffing around. The link opens a window that looks just like the Discord app, and asks you to create a name. It will then invite you to create an account, but if you look closely (in grey on black), you'll see the words Skip Setup. There are some audio limitations to using Discord via Safari, but it works great on Chrome.
I mentioned earlier that you can create text and voice channels, with a default text channel at launch. I asked Tom (in text) to tap on the Voice Channel I had created called Live Show Chat. Automatically Discord tries to connect your microphone and headphones. It doesn't ask your permission, but since you're actively clicking on a voice channel I guess that's ok.
There are a few settings to improve audio, but since Dave Hamilton figured that all out already I was able to point to a few sliders and switches for Tom and he was sorted. It worked flawlessly and with Audio Hijack I was able to record and you never even knew that I switched tools. Already Discord is a big win for anyone doing a podcast with new guests.
Discord Replaces IRC for the Live Show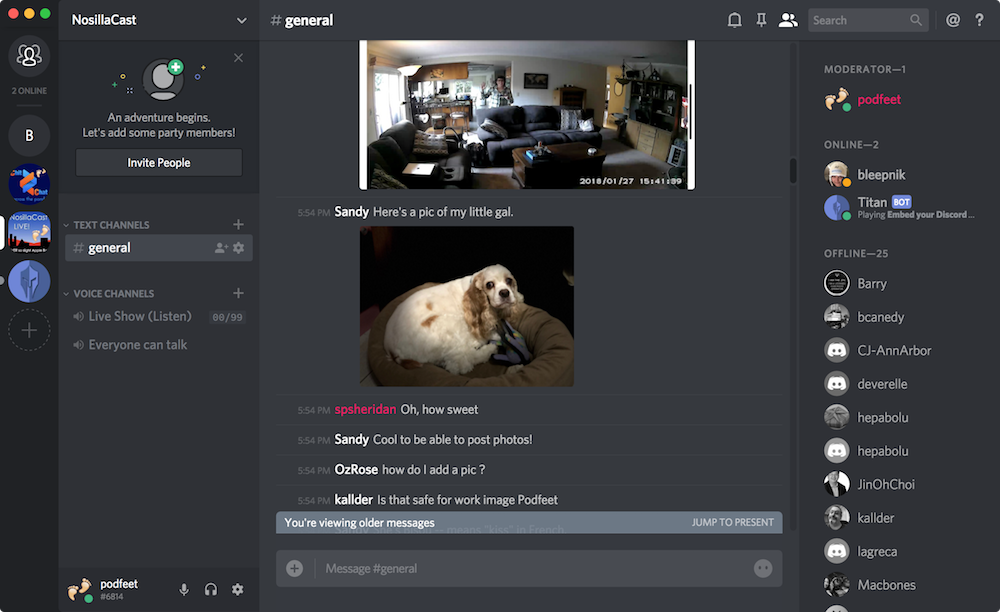 Now let's shift gears to the chat room for the live show. Last Sunday when we did the live show, each time someone came into the IRC chat, I dropped a permanent link (non-expiring this time) to the NosillaCast server on Discord and invited them to give it a try. This was a real acid test, because if it was hard to switch, this could end up splintering the audience.
The NosillaCastaways are more clever and technical than most audiences so I had high expectations, but I have to say the speed at which they adopted Discord was astonishing! Every single person jumped over in mere seconds! Of course I wanted them to be as enchanted with it as I was but it was so much faster and a happier experience than I even hoped.
Here's some advantages over our IRC chat room:
Discord has persistent chat, meaning if you come in 15 min late, you can see what everyone was talking about before you got there. In fact, you can go in at any time and read what people have been talking about all week. I don't know how long they keep the text but I was able to scroll back to the beginning.
Discord isn't just text, you can actually drop images into the conversation! I was talking about the WyzeCam and I was able to drop in an image of it for people to see while I talked. The live audience is a bit silly and they sort of got out of hand as Kevin put in a picture of his batmobile, then Sandy's adorable dog was in the thread, which prompted Steve to put in a picture of us with Tesla and then CJ showed us his Camero (and asked for a wash and wax if he comes to California) and Rose put in a picture of Morticia and TJPK showed us his headphones and Brett with a train. In other words, they had a blast with being able to have images. It also will give you a web preview of links dropped into the chat.
Steve painstakingly keeps a list in Google drive of everyone who has come to the live show. It's great because we put in people's Twitter handles and real names but it is a lot of work. With Discord, you can see everyone who has come in and their status whether they're online or not.
I know Discord is a success, because people have been popping in and out all week long. I've chatted with TJPK, Nik, Kaylee and Joe on and off and it's been great. So far, 26 people have joined the NosillaCast server. Remember I said that with IRC if you met someone you wanted to talk with outside of the chat, you'd have to use another tool? Discord supports direct messages so you don't need another tool.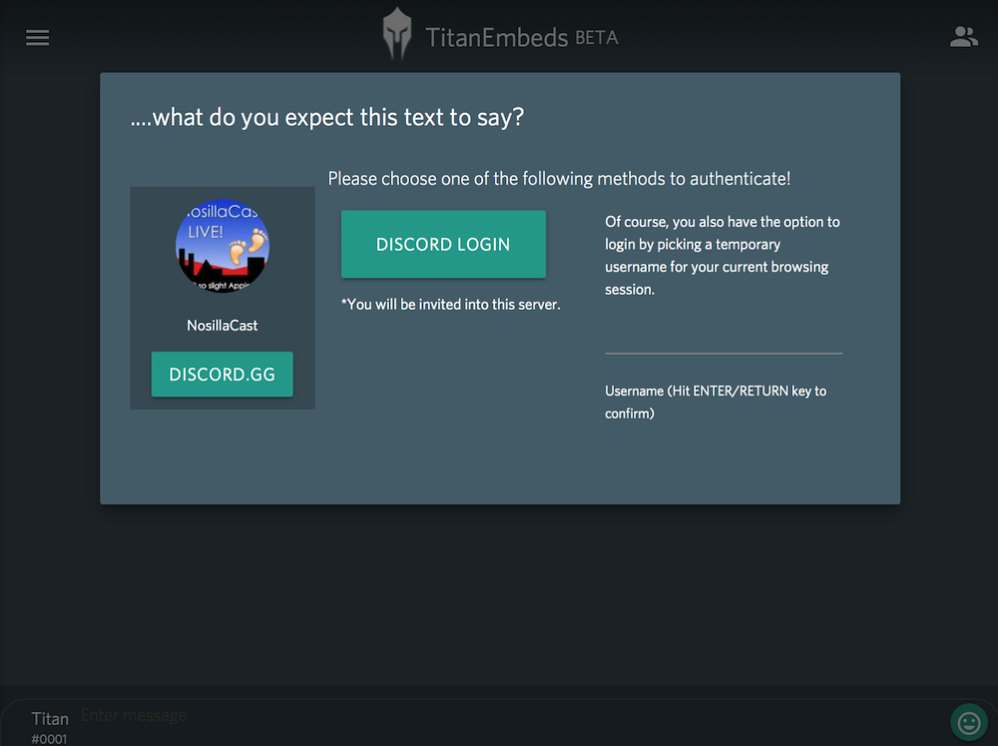 I hunted around for a way to embed Discord into Podfeet.com/live the way I did it with IRC, and I found a way to do it. There's a tool called Titan Embeds that you invite into the server, and then you get an embed code for the Titan Bot. When anyone comes in through the embedded web version, they get BOT in front of their name. Since George from Tulsa cares a lot about anonymity, he loves this option, and being called a bot tickles him.
As of last Sunday I haven't spent any time modifying the podfeet.com/live page other than embedding Titan Bot's version of the NosillaCast server, so it's HUGE on the page right now which makes it hard to scroll up to the video. I can work on that now that it looks like it's such a huge success.
One more advantage Tom Merritt told me about – you can link Patreon to your Discord server, so I can give Patron's special roles. I'm not sure what we'll do with that but at the very least I think it would be cool to give them a special little title honoring them for their patronage.
Discord for Live Audio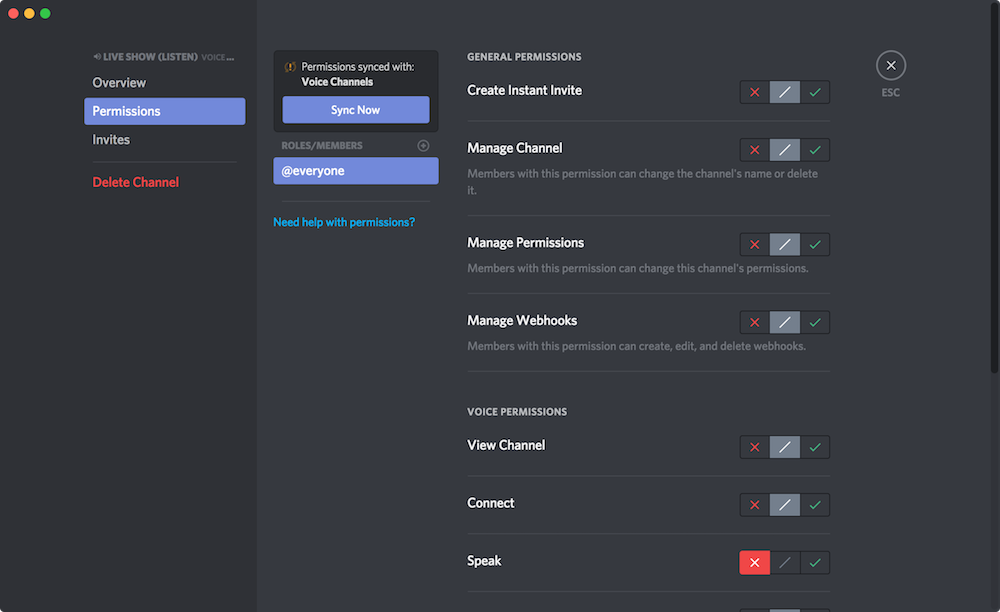 I created a Voice channel in the NosillaCast server and called it "Live Show (Listen)". I was able to create a role for Steve as admin with all of the same privileges as me. Then I set the default for that channel to be that everyone else could go into the channel and listen, but they would not be able to talk. The NosillaCastaways are unruly enough, I don't need them talking too!
But then Joe pointed out that I could create a free-for-all voice channel where anyone can talk, so I set that up too. The cool thing is that you can keep typing and reading in the text channel while you're listening in the voice channel. I love how flexible this tool is and how easy it is for me to figure out how to fiddle with the controls to get it exactly as I want.
In any case, having the voice channel means I can stop using Nicecast, and Bart might be able to eliminate his Icecast server when he gets a few other things off of it so it could save him money too.
Discord for Live Video
The one nut I haven't cracked yet is to replace YouTube Live with Discord. Discord started for gamers, so you can link your account to Twitch.tv and stream to it. I don't know if I can do the video call into Twitch AND be in the chat room at the same time, but early testing with Joe LaGreca suggests it might just be possible.
Bottom Line
I gave Discord a try with VoiceOver and it was pretty darn accessible. The only tricky bit was the icons to switch between servers. They aren't naturally labeled, but either Discord or VoiceOver itself actually did some optical character recognition tried to read the icon. On the NosillaCast Live server button I heard it say, "might say LV". I also asked Scott Howell to poke around and he said the web version was pretty good. Dan and Nuris are regulars in the live chat and they're both VoiceOver users so I sure hope this works for them.
I hope you'll give Discord a try by checking it out over on Podfeet.com/live. I'll be modifying it graphically to make it easier to use the web chat and view the video at the same time. Now remember how I always say, "Everything good starts with podfeet.com/"? Well we now have podfeet.com/discord? Or if you can't remember that, I made podfeet.com/chat which also goes to our Discord NosillaCastaways server. Give Discord a try, it's fun!