This week we dive deep into battery technology to figure out if a high-capacity battery can actually charge a laptop. Warning, you'll learn about Watts Law and other terms so it's a bit of a propeller beanie episode, but in the end you'll have the skills to decide which battery is right for you. We take a battery break by hearing from Knightwise as he brings his butterfly key MacBook Pro in for repairs at the Brussels Apple Store. Then we'll take a look at two portable battery packs, the Jackery Power Bar and the RAVPower Power Station. I'll tell you about their specs and give you the results of my real-world tests.
Hi, this is Allison Sheridan of the NosillaCast Apple Podcast, hosted at Podfeet.com, a technology geek podcast with an EVER so slight Apple bias. Today is Sunday, August 5, 2018, and this is show number 691. We've got a fun-filled, pretty geeky show today that I really enjoyed researching to bring it to you.
Chit Chat Across the Pond Lite
This week's Chit Chat Across the Pond Lite is an interview with good friend Tom Merritt of the Daily Tech News Show, (and co-host of Cordkillers, Sword & Laser and Current Geek) joins us to talk about the importance of the community to his podcast. We explore how he created such a thriving and participative community, what it means to him, what it would be like without it and even the downsides of having a community. It's probably one of my favorite discussions with Tom and I always love talking to Tom. I hope you'll give it a listen in your podcatcher of choice under Chit Chat Across the Pond or Chit Chat Across the Pond Lite, or you can always listen at podfeet.com/…
Clockwise
This week I got to be on the awesome podcast Clockwise with Dan Moren and Mikah Sargent along with John Moltz. We talked about our file organization strategies (or lack thereof), whether it's time to dive into 3D printing, the tech accessories that impress us, and our backup batteries. Plus, embarrassing podcast stories! You can find it in your podcatcher as episode #252 entitled "I'm Not Alone in My Monsterdom" or follow the link in the shownotes to relay.fm/…
Vectornator Pro Video on ScreenCasts Online
I also wanted to tell you that my video tutorial about the free vector-design program for iPad and iPhone, Vectornator Pro is up at ScreenCasts Online. You may remember the blog post I did back in May about Vectornator Pro. In any case, I posted the teaser video so you could see the intro to see if it's something you'd like. Remember you can get a free trial of ScreenCasts Online (without giving a credit card) and see the entire back catalog.
Vectornator Pro for iOS Tutorial on ScreenCasts Online
Blog Posts
Knightwise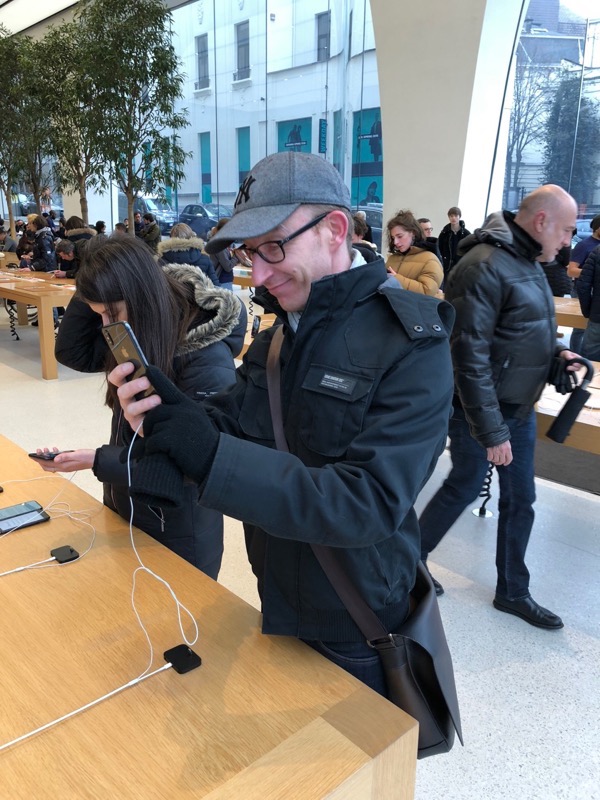 Let's take a break from talking about batteries (don't worry, there's more to come) and have an aperitif. Today for your pleasure, we have a recording from Knightwise, of the Knightwise.com Podcast. He decided to record his observations as he went to the Table of Sadness at the Apple Store in Brussels. In addition to his own thoughts, he also recorded his conversations with the folks at Apple about the dire state of his MacBook Pro with butterfly keys.
=== Insert Audio of Knightwise ===
Thanks Knightwise. I did put a photo for you in Brussels Apple Store when you took us there along with Helma and Peter. Such a good time, but it's hard to imagine that place ever being warm! I had to laugh when you talked about how you only have one Apple Store in Belgium. Talk to Bart – there are ZERO in Ireland!
It was interesting hearing the technician explain what gets replaced when they fix a keyboard problem these days: the keyboard, trackpad, battery and Touch Bar. Now it makes sense why that replacement is $700 out of warranty.
I wanted to tell the audience about some fun I had processing the audio from Knightwises visit to the Table of Sadness. There was a lot of background noise of the crowd in the Apple Store. The good news was that Knightwise did a continuous recording for most of it so there were long stretches where it was just the room noise. I was going to edit those parts out, but before I did, I imported his audio into the free and open source audio editing program Audacity.
Instead of any of my fancy pants paid-for apps, Audacity is my go-to when it's time to remove noise. I did a tutorial on how to use Audacity to remove noise, many many years ago (I know it's old because the screenshots still have the Aqua interface). I'm pretty sure this is my most viewed and commented tutorial on all of podfeet.com. I still get comments to this day about it.
Anyway, I bring it up because it was so easy with a lengthy sample section to allow Audacity to learn the noise that the audio came our really well. I even dialed the noise removal back a bit because it sounded unnaturally quiet. You never would have believed he was at an Apple Store! Audacity can't solve all noise problems, so it's not magic, but when you have just the right kind of noise problem, it feels like magic.
Patreon
I'd like to try an experiment that I'm stealing from Adam Curry, one of the inventors of Podcasting. Very early on in podcasting on his Daily Source Code podcast, he did an advertising experiment. He asked the audience to look around them and to try to take a mental picture of what they saw, right while he said the name of the product he was advertising. He wanted to see if he could imprint that product on the audience's memory such that it was triggered every time they saw that same scene. I'm purposely not telling you the name of the product because three times a week I run on the beach past a sign and I hear Adam saying that product name!
So let's try it here. Whether you're driving, at the gym, doing laundry, washing your car, or using the NosillaCast to go to sleep, I want you to look around you and memorize what you're seeing. If you're blind, maybe there's a smell, or the softness of the chair you're in that you could think about. Ready? podfeet.com/patreon. Roll those words around in your head and think, "Gosh, I'd really like to support the Podfeet Podcasts."
Now every time you feel the softness of your chair, or see the treadmill over which you're sweating, or fold that favorite shirt, I want you to think of supporting the podcasts through Patreon.
Let me know if this works, ok?
That's going to wind this up for this week. Don't forget to send in your Dumb Questions, comments and suggestions by emailing me at [email protected], follow me on twitter @podfeet.  Remember, everything good starts with podfeet.com/. podfeet.com/patreon, podfeet.com/facebook, podfeet.com/googleplus,  podfeet.com/chat, podfeet.com/amazon!  And if you want to join in the fun of the live show, head on over to podfeet.com/live on Sunday nights at 5pm Pacific Time and join the friendly and enthusiastic NosillaCastaways.   Thanks for listening, and stay subscribed.