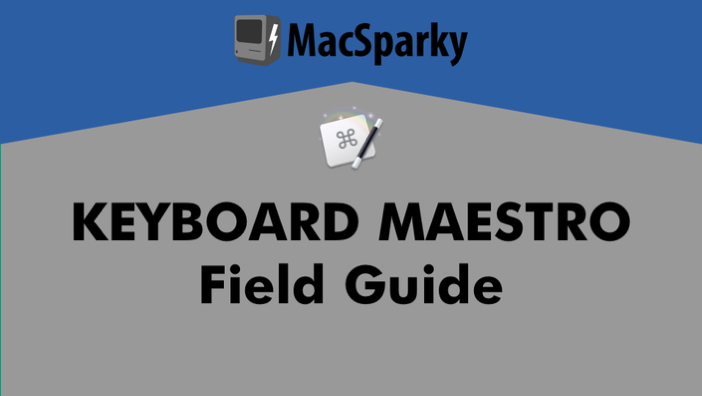 Good friend of mine and great geek David Sparks has created another one of what he calls his Video Field Guides. This one is all about Keyboard Maestro. Keyboard Maestro is really misnamed. It's not just a tool to make something happen when you hit a keystroke. It's really a very advanced automation tool designed to help you be more efficient.
I've been wanting to really learn Keyboard Maestro for a long time, and even with a basics course by none other than Don McAllister, I still couldn't figure out a use case for it.
David's Video Field Guides are much more detailed, and in fact this one is over four hours of video content. He's using a new tool to distribute his Video Field Guides called Teachable. He's able to produce this long-form content into little bite-sized chunks. I don't think any of the sections is longer than 5-10 minutes, and many are only 2-3 minutes long.
This means you can dip in and out of sections you want to learn, or go back to a section to see it again, without having to fish through a 4-hour-long video. If you like to go methodically through a course (as I do), you can mark each section as complete so you can figure out where to pick up the next time you sit down to learn some more.
David's style is always entertaining so I don't even fall asleep when I'm trying to learn. By the time I was 12% of the way through the course, I'd sent myself three notes of things I thought Keyboard Maestro could do to save me time.
One example was I figured out from watching David's Field Guide was that I could have Audio Hijack auto-launch whenever I plug in my microphone. I never use my mic without Audio Hijack so why should I have to go through the tedium of launching the app?
I told David about this usage and he challenged me to create a couple of scenarios depending on what kind of recording I'm doing, and have a picker come up on screen to choose what to do when I plug in my mic. I'm not that advanced yet but he has me thinking!
I'm only 49% through David's Keyboard Maestro Field Guide and I'm looking forward to carving out more time to learn from the master. I know this sounds like an ad, but you know me, if I don't like something I won't tell you it's awesome! After I gushed on Twitter about how awesome his Keyboard Maestro Field Guide is, he offered me an affiliate code.
If you've been wanting to learn Keyboard Maestro, I can highly recommend David's Field Guide as a way to learn. But there is an introductory price of $24 which expires at the end of this week. I think it goes up to $29 after that. But still, 4 hours of tutorial for less than $30 is less than half of minimum wage, right?
If you want to learn more about the course and potentially buy it from David, go to learn.macsparky.com/….