Last year, I wrote a post entitled, Can A Portable Battery Charge a Large Laptop? My goal was to see if there were any chargers that could actually charge a 15″ MacBook Pro. At the time, I tested two batteries that had AC outlets on them, the Jackery PowerBar and the RAVPower RP-PB055. The post was filled with glorious math and electrical engineering so it was great fun, at least for me.
Fast forward to January of this year when Steve and I interviewed Eric Mathiesen from Omnicharge about their power banks. I was intrigued by what I saw and as a result, I recently purchased their Omni 20 USB-C Charger for $169. We're going to talk today about how this new hotness compares to the chargers I tested last year.

I promise I won't go through all of the math but there are a few very salient points of comparison.
The two power banks I reviewed last year had AC outlets, which is exactly what I thought I wanted in order to charge a laptop. But what we learned is that there's around 15-20% loss of efficiency when you convert from AC to DC. This means the batteries themselves have to be significantly larger than the batteries in our laptops to fully charge the laptops. For example, the 15″ MacBook Pro battery has a capacity of 83.6Wh, so even the 99.5Wh RAVPower could only charge the Mac to 90%. All of that extra battery means the power bank was larger and heavier just to make up for the loss in efficiency.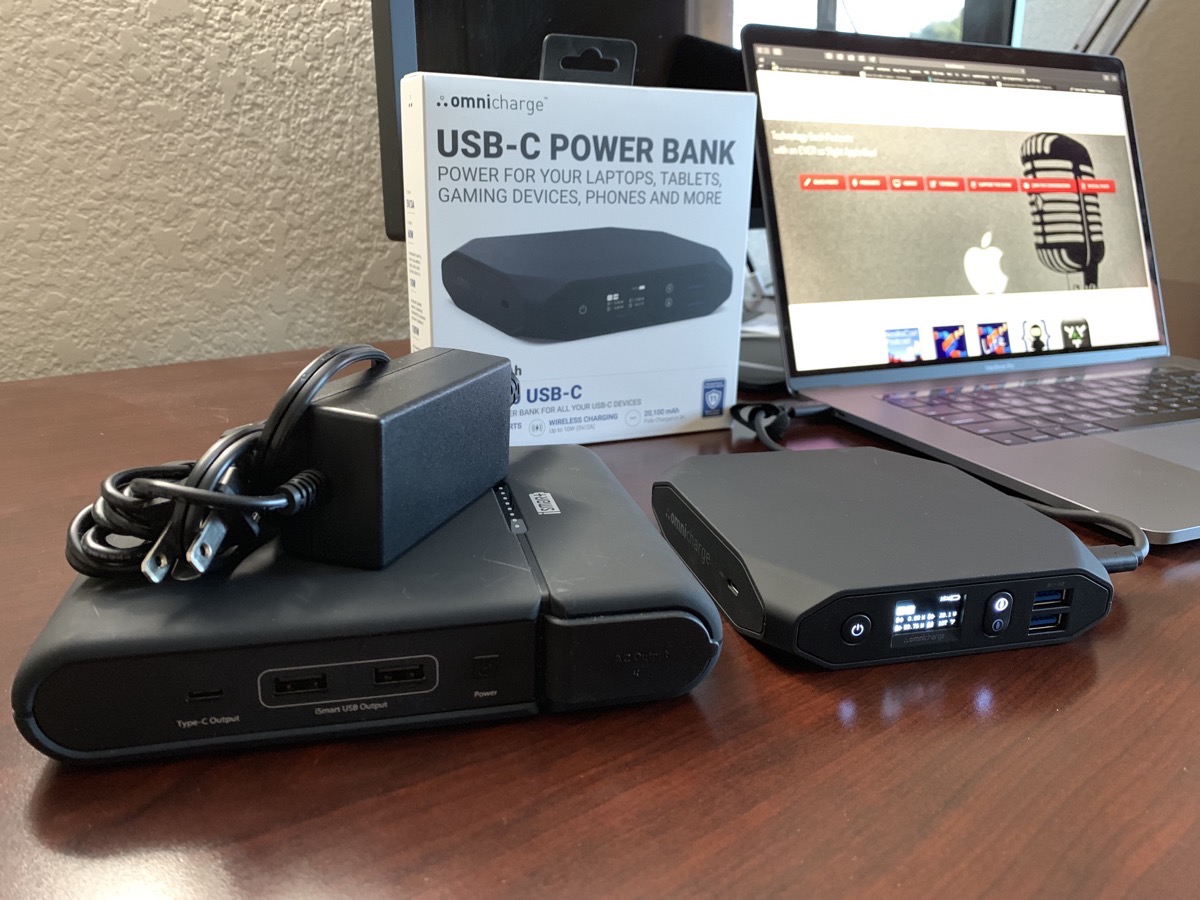 The new power banks from Omni use USB-C charging with the new Power Delivery spec, often abbreviated to PD. This means you can size the power bank closer to one-to-one with the laptop battery you're trying to charge. The Omni 20 power bank has a capacity of 72.3 Wh, which means it should be able to charge the 15″ MacBook Pro to 86%, pretty close to the RAVPower from before.
However, the Omni 20 power bank is far smaller and lighter. The Omni 20 power bank weighs 57% of what the RAVPower weighed (1.1lbs vs. 1.9lbs).  I have been carrying the RAVPower with me on all trips and I'll be delighted to reduce the weight of that monster! But that's not all. To charge the RAVPower, I also had to carry a long power cord with a very large transformer, essentially the size of an old PC laptop charger. That was extra weight I will not miss.
The volume is of course commensurately smaller as well. The Omni 20 power bank is a svelte 5″ x 4.8″ x 1.1″. The RAVPower is 5.3″ x 6.9″ x 1.4″, not counting that giant power supply. That makes the Omni 20 power bank only 52% the size of the RAVPower. And did I mention that giant power supply for the RAVPower?
Ok, so the Omni 20 power bank is small and light, but what else can it do? Well, a LOT. The Omni 20 sports two USB-C PD ports and two high-speed 5V/3A USB-A ports. And, wait for it, it also supports 10W wireless charging for your phone. You can just slap your Qi-compatible phone right down on top of it to charge. The total combined maximum output for the Omni 20 power bank is 100W.
But wait, that's not all. The Omni 20 can also act as a file transfer hub. You can plug your USB-C enabled laptop into the Omni 20 and plug three other devices into the USB-C and USB-A ports and transfer files back and forth to the laptop.

You might be already be sold on the Omni 20 but if not, its informative LED display will push you over the edge. Where the other chargers had maybe a couple of indicator lights, the Omni 20 will give you way more information than you probably need. The Omnicharge website has a picture of an LED display with more than what I actually see on mine, but it's still a plethora of data.
There's a little battery symbol graphically showing what's left, but also the numerical percentage left. It shows the input wattage to the battery when you're charging it and it shows how many watts it's supplying to your devices. The USB-C PD ports will supply up to 60W which is less than the 15″ MacBook Pro can drink (it likes around 85) but it just means it will take longer to charge. With it connected to my 15″ I could see on the LED display that the Omni 20 was supplying the promised 60W.
Remember I said it could shell out 100W? I laid my iPhone on top of the wireless charger while it was also charging my Mac, and I saw the power being delivered climb to 66.2W. Pretty cool. I plugged an SSD backup drive into the Omni 20 and it mounted on my desktop so I verified I can charge my Mac and use the Omni 20 as a hub at the same time, while still using it as a wireless charger for my phone.
I've mentioned a half a dozen times how annoying the big charging block is for the RAVPower, but I haven't explained how you charge the Omni 20. Well, they don't give you a charger at all. I think they assume that if you have devices that can charge over USB-C, you must already have a USB-C charger. They do include a 20″ USB-C to USB-A cable and a 12″ USB-C to USB-C cable.
The specs online say the input on the Omni 20 is 45W and you should be able to charge it from 0 to 100% in 3 hours. I always worry about using a charger that's too high or too low of power, but in the tech specs for the Omni 20 it says there is power overflow protection as well as voltage underflow and overflow protection and charging circuit protection.
I tested charging the Omni 20 using my 87W MacBook Pro charger and in an hour and a half, it went from 0 to 95%! I sure hope that overflow charging protection is kicking into gear because it charged at double the promised speed with my big girl charger.
Now if I were a good little engineer like I keep claiming I am, I would have done exhaustive testing of the charging capabilities of the Omni 20 with every single configuration available, but I didn't.
Instead I did one really mean test. The specs indicate that I should be able to charge my 15″ MacBook Pro to 90%, but that assumes I'm not using it. Well, when the heck is Allison not using her computer AND is able to sit and watch a charge meter to take data?
Instead, I decided to see how well the Omni 20 could charge the 15″ MacBook Pro while I was using it! This is actually a better real-world test for me. I'm more likely to be somewhere running out of battery while I want to keep playing on my laptop than I am to have a dead laptop I can ignore for a couple of hours.
I ran my Mac's battery down to 6% using Parallels ToolBox's Do Not Sleep app while I took my dog for a walk. Then I started writing this review while letting the Omni 20 see whether it could actually add power while I was working.
I'm pleased to say that in 1 hour and 5 minutes, the Omni 20 charged my 15″ MacBook Pro from 6% to 56% while I was using it. In that time, the Omni 20 drained itself from 98% to 13%. That's pretty amazing.
Bottom Line
With the Omni 20, I now have a power bank with essentially the same charging capability as the RAVPower, but at half the weight and volume. I gained wireless charging and a terrific display that will keep me informed on charge levels. I also gained a USB hub as a bonus prize. My tests show I can charge my Mac while using it up to 50%, and I would presume to 90% if I wasn't using it.
I loved the RAVPower for the charging it did of my devices on travel last year, but I have a new love in my life, and it's the Omni 20 Powerbank from omnicharge.co/… My only regret is that while Omnicharge does sell some of their power banks through Amazon, they don't list the Omni 20, so I can't give you an affiliate link!