We've got a new and improved Programming By Stealth Index, I'll tell you about how awesome Night Mode is on iPhones 11, I've got tales of adventure of how I had to learn how to install Python in order to get dashcam video from my Tesla, Kaylee will tell you (in a convoluted way that makes me proud) about her trip to the Table of Sadness, and I'll sing the virtues of the new and improved Photos App in iOS 13.
Hi, this is Allison Sheridan of the NosillaCast Apple Podcast, hosted at Podfeet.com, a technology geek podcast with an EVER so slight Apple bias. Today is Sunday, September 29, 2019, and this is show number 751.
Chit Chat Across the Pond
I had a great idea for Chit Chat Across the Pond this week but my guest can't be on for a couple of weeks so I'm afraid I didn't pull off a show at all. Sorry about that!
New Button for Security Bits on Podfeet.com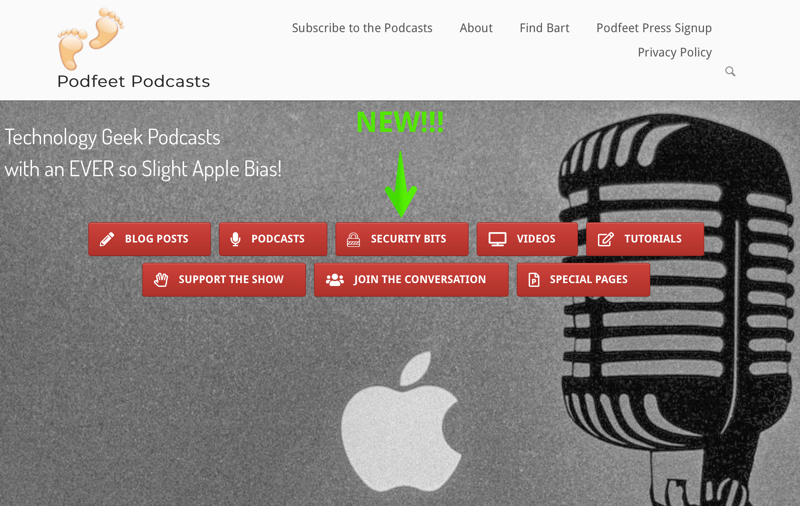 It's really rare that I make a change to the home page of podfeet.com. I resist the urge to glop it up like I did in the old version where there were so many menus at the top level that it was a hot mess. The time has come (and is probably past due) to make a small addition. You know the red buttons in the middle of the graphic that say things like Podcasts, Blog Posts and Support the Show?
I added one this week that will take you directly to Bart's blog posts for Security Bits. I know that it's an important reference for people, and having direct access instead of scrolling through the other blog posts could have great value.
Hope you like it!
PBS Index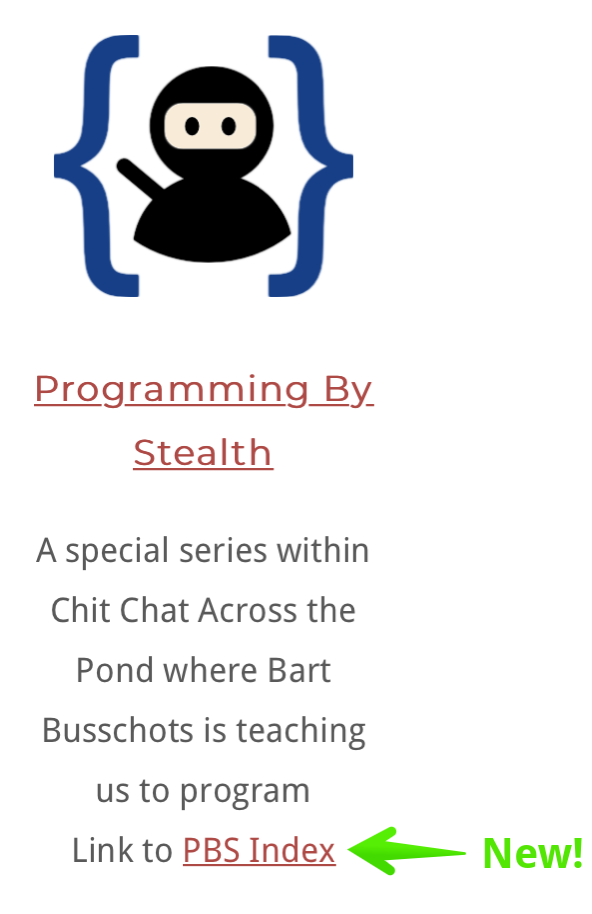 During the newly back from summer hiatus Programming By Stealth, Bart and I extolled the virtues of the fantastic PBS Index created by fellow student, Dorothy, aka @maclurker. I've talked about the PBS Index before but she's really been going to town on enhancing it.
For those of you not taking the programming classes from Bart, I should explain what it is so you can appreciate the awesomeness. Every lesson, Bart introduces us to new concepts and terminology. We often have to refer back to previous shows to re-read what he's taught us. Finding the concepts we want to refresh is really hard using plain-old search on a website.
Dorothy decided, way back at the beginning of Programming By Stealth, to start keeping a little spreadsheet of what she thought was important in each episode. She noted the link to the full tutorial web page, and the concept or term. At some point I suggested this would have value to the rest of the class, so she started exporting what she was creating to an HTML table and we imported it into what's called an iFrame inside a web page on podfeet.com. It was kinda ugly but it got the job done.
The problem is that Bart just keeps teaching. Every lesson the iFrame gets longer and eventually this page was getting out of hand. Now here's the cool part. Over the 80+ lessons, Bart has taught us a bunch of amazing tools that Dorothy was able to employ to build what Bart calls a full-fledged web app instead of a dumb web page.
Dorothy made it pretty using the Bootstrap utilities she learned, in particular the Bootstrap DataTable Library. She also put the data into a JSON file which she was able to access using AJAX to import to the page, all stuff she learned from Bart. She was able to make it a responsive design by using more concepts that Bart taught us.
Now the PBS Index is a gorgeous thing to behold, and more importantly it responds instantly as you start to type a search term, filling the page only with lessons that might be what you're seeking.
Bart and I both decided that it's finally worthy of its own URL. On Bart's site, simply go to bartb.ie/pbsindex, or on mine, go to podfeet.com/pbsindex. And while I was at it, if you go to podfeet.com and scroll down to the icons for the podcasts, under Programming By Stealth I put a link directly to the PBS Index. Now I don't want to hear any excuses for why you can't find something in the Programming By Stealth show notes!
Blog Posts
This week, Tesla offered us an update to the new version 10 of the control software. It includes some nicely terrifying options like "Advanced summons" which lets you have the car drive to you in a parking lot (yikes). But it also added two new features to the dashcam. It now puts the Sentry Mode alert videos in a separate folder, AND it has yet another folder for the rear camera. Not sure why it didn't record that before. I'm going to have to check with the dev on whether they're planning on capturing that video too.
Also, with all the new bandwidth flying around of these cameras, the car says my brand-new thumb drives are too slow. And I just paid nearly $3 apiece for them. Sheesh.
Support the Show
I talk a lot about the value of the Amazon Affiliate Links as a way to help support the show. Did you know that anything you buy at Amazon immediately after following one of my links also helps the show? For example, I could put a link in the show notes to the new Kindle Paperwhite I bought recently and if you click the link but go buy dog treats instead in the same session, a small percentage of your doggie's joy will go to help the podcast. Or maybe you click the link to the Greenies Dog Treats I just bought on Amazon and in that same session you buy a Kindle Paperwhite. Now the e-reader joy will go to help fund the podcast. See the glorious symmetry?
I thank all of you who do your shopping at Amazon through these portals of joy I give to you.
That's going to wind this up for this week. Don't forget to send in your Dumb Questions, comments and suggestions by emailing me at [email protected], follow me on twitter @podfeet.  Remember, everything good starts with podfeet.com/. podfeet.com/patreon, podfeet.com/facebook, podfeet.com/slack!  And if you want to join in the fun of the live show, head on over to podfeet.com/live on Sunday nights at 5pm Pacific Time and join the friendly and enthusiastic NosillaCastaways.   Thanks for listening, and stay subscribed.