Hi, this is Allison Sheridan of the NosillaCast Apple Podcast, hosted at Podfeet.com, a technology geek podcast with an EVER so slight Apple bias. Today is Sunday, October 10, 2021, and this is show number 857.
This week I had the pleasure of being on Bart Busschots's fabulous Let's Talk Apple podcast along with the Mac Cast's Adam Christianson. If you haven't listened to Let's Talk Apple before, it's a long look back at the previous month's news. I say unique because most shows are trying to be the first one to talk about a story and the creators don't have time to take a reasoned view after the dust has settled on a story. Some things turn out to be non-stories, but others turn out to have a much deeper impact than realized on the day they broke. Bart brings the balance to that equation.
In this episode, the four big stores we discussed were the latest Apple antitrust developments in all the courts across the globe, how the European Commission have published a directive to mandate USB-C as a universal charging port for mobile devices (and why we think that's a bad idea), we speed through Apple's California Streaming event announcements with a pause to talk about the iPhone 13 Pro camera, and we wind the show up by reminiscing about our feelings on the day Steve Jobs died ten years ago.
I have one more thing I want to add about this episode. At one point Adam said, "I have one thing I'd like to tell the guys in engineering at Apple." I'm sure you'll be shocked to hear that I called him on the use of the word "guys" to describe engineers. I don't regret calling him on it. However, as soon as I said it, Adam walked through out loud his thinking process, where he said, "I was using guys generically…and I need to try to stop myself from doing that." What I regret is that during that pause before he said he wanted to stop saying it, I jumped on him again. He was clearly working it out on his own and didn't need me stomping on him. I adore Adam and I'm sorry I did that.
You can check out this otherwise fabulous episode of Let's Talk Apple in your podcatcher of choice, or at the link in the shownotes to lets-talk.ie.
I've told you quite a bit about the free and open source app Joplin that Knightwise turned us onto, and I've been so taken with this notebook app that my latest tutorial video for ScreenCastsOnline is on Joplin. I cover how to add notebooks, then add notes and to-dos. I demonstrate how you can add multi-media in Joplin, and how the different views work in the desktop version. I even dusted off my old Evernote database and exported my sushi notebook and taught how to pull it into Joplin and have all of the same information.
I explored tags and search (and searching by tags) and took a quick tour of the vast preferences section. I switched to the iPad and iPhone partway through the tutorial so I could show how to set up syncing through the service of your choice and how the interface is slightly different on the mobile versions. I taught how to link between notes and how to move and duplicate notes.
If you were intrigued by my text and audio description of what Joplin can do, you might find this step-by-step tutorial helpful in getting started. ScreenCastsOnline is a subscription service and you can get a free 7-day trial over at www.screencastsonline.com/…
Blog Posts
Support the Show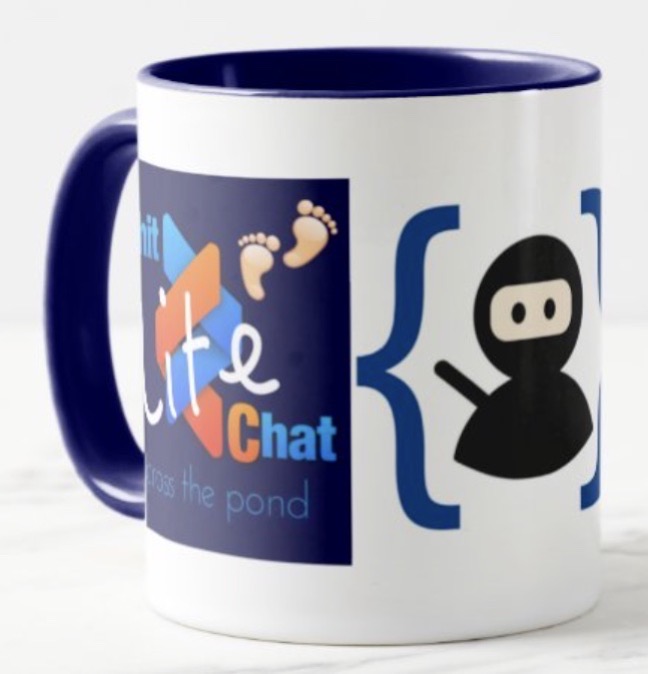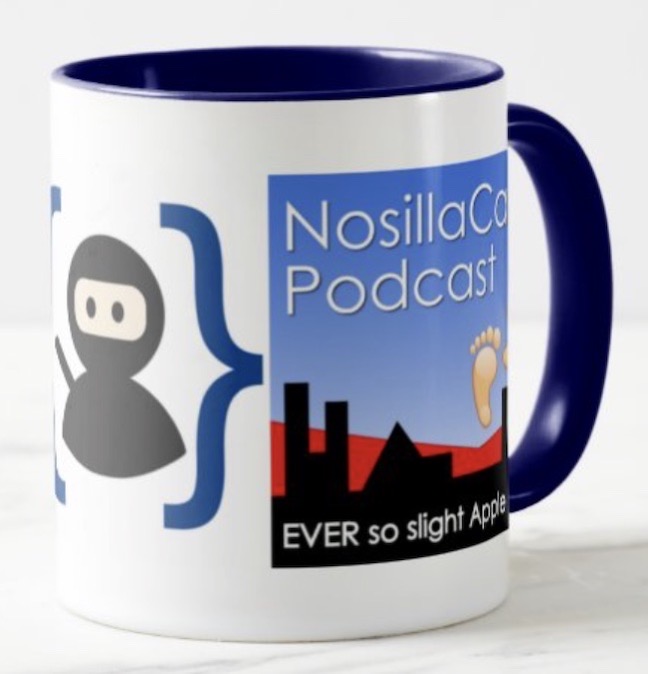 If you're a huge fan of the Podfeet Podcasts, I bet you'd like a fancy coffee mug with logos of the NosillaCast, Chit Chat Across the Pond and Programming By Stealth on it. Steve designed just such a mug for you and it's absolutely gorgeous. The inside of the mug is a dark, rich blue and the handle and rim match that fabulous blue. If you're not a blue person, you can change it to 9 other colors. The red is another great option to complement the NosillaCast logo.
In any case, the mugs are $16.95 at Zazzle.com and there may be a discount code when you go it depending on how soon you look. Show your support for the shows we do here for the Podfeet Podcasts by getting yourself a new mug to delight yourself and to tell others about the show.
That's going to wind this up for this week. Don't forget to send in your Dumb Questions, Everything is Fiddly recordings, comments and suggestions by emailing me at [email protected], follow me on twitter @podfeet.  Remember, everything good starts with podfeet.com/. podfeet.com/patreon, podfeet.com/paypal, podfeet.com/slack!  And if you want to join in the fun of the live show, head on over to podfeet.com/live on Sunday nights at 5pm Pacific Time and join the friendly and enthusiastic NosillaCastaways.   Thanks for listening, and stay subscribed.