A few weeks ago I told you about the simple outlining tool Tree that I use instead of the very expensive industry darling, OmniGroup's OmniOutliner. This week I'd like to tell you about a free diagram/flowchart tool you might want to use instead of the very expensive OmniGraffle.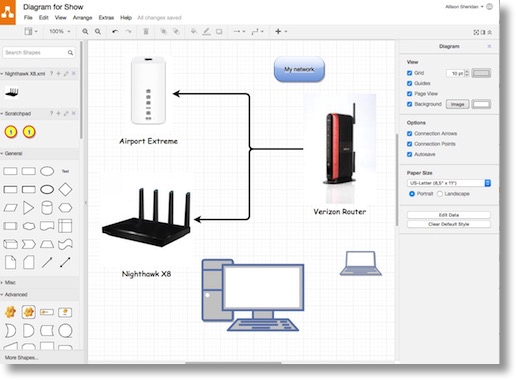 OmniGraffle for Mac is $100…for their standard version. Their pro version is $200. $100 is a lot of money for a casual use program these days. The OmniGroup also sells an iOS version but it's $50 for standard and $100 for the Pro version. So just a casual user would be out $150 to use it on their Mac and iOS devices.
So that's problem one. Problem 1.5 is that even if you do buy OmniGraffle, they do what they call major point releases pretty often (every 1-2 years) and the upgrade pricing is huge. After paying $100 for the standard version of OmniGraffle 5, the upgrade price was another $50! I've done the upgrade dance from 4 to 5 to 6 not because I saw a huge improvement in the tool, but because every single time I opened the app I had to close a window to tell them I didn't want to upgrade. I literally paid them to leave me alone.
This all might be ok if I was in love with OmniGraffle. But I'm not. Problem number 2 to be solved for me is that I find it very difficult to use, I think the menus are confusing and I swear a great deal while I'm using it.
Draw.io is a free alternative that's web-based, and works across Macs, PCs, iOS, Android and Windows Phone. Continue reading "Free draw.io Instead of OmniGraffle for Diagramming"