We all have times where we really wish we could see the screen of someone we're helping on their computer. There are a lot of commercial options like Log Me In, and Team Viewer, but I wanted to tell you about a couple of free and relatively easy ways to do it.
Screensharing with Skype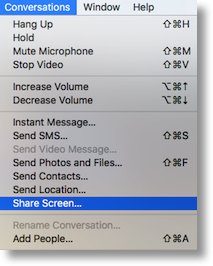 I've been doing a few remote presentations over Skype lately and it's worked out pretty well. For example, we didn't make it to Macstock this year, but with Mike Potter's help, I was able to show my presentation to the crowd and be able to see them at the same time using Skype. I also like to use it when I'm helping someone with a computer problem.
First launch a video Skype call. You don't have to have a video call going to do screen sharing but I wanted to see the person I'm talking to while I talk. I like a little feedback you know? In the menubar for Skype you'll see Conversations. From there, pull down to Share Screen…
Continue reading "Mac and iOS Screensharing with Skype, Messages and QuickTime"