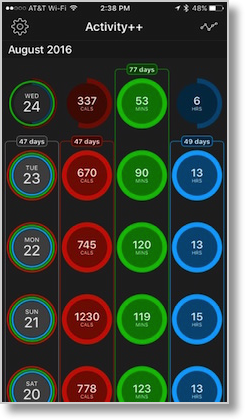 I think that Apple has done a terrific job of getting us healthier with the Apple Watch and the iPhone but it's a miracle that any of us have figured any of it out. Just to start a workout is often six separate steps of tapping and swiping and scrolling. But that's not the hard part. For me the hardest part has been trying to unravel the mysteries of getting data to show up about my exercise.
I've started the writeup for this article four separate times. I keep walking away from it because I realize that I don't fundamentally understand it. I'm hoping that I've finally cracked the code but I fully expect one or more of you to write to me and say, "no dummy, THIS is how it works." I'm going to take a crack at it anyway.
The iPhone has a motion co-processor in it, the function of which is to collect sensor data from integrated accelerometers, gyroscopes, and the GPS. Armed with only an iPhone you can track your health and fitness. But let's not do the easy thing, let's throw the Apple Watch into the mix because it becomes SO much more entertaining to explain.
I'd better start with an end goal here, or some might call it a Problem to be Solved™. My goal is to have an app or apps on my iPhone that will collect metrics of my activity and display them in a graphical way. On the Fitbit app I used to get a nice graph of the week or months step count with a line showing my goal so I could see how often I was beating my goal and how much. So I want that kind of information for the active calories, and my step count as a minimum. Continue reading "Don't Let Your Activity Data Be Held Hostage"