John, AKA NASAnut in the live chatroom sends a spectacular gift to us. We'll talk about a free Mac utility called Typeeto that lets you use your Mac as a Bluetooth keyboard for your iOS devices and AppleTV. Joe LaGreca gives us a review of the secure messaging service, Wire, with full instructions on how to install and configure it. I'll tell you how I made fire, otherwise known as how I wrote an actual Mac application using Automator and bash shell scripts (you can download it here but make sure you read the Read Me!) We're also joined by Bart Busschots for another session of Security Bits.

mp3 download
Hi this is Allison Sheridan of the NosillaCast Mac Podcast, hosted at Podfeet.com, a technology geek podcast with an EVER so slight Macintosh bias. Today is Sunday September 4, 2016 and this is show number 591.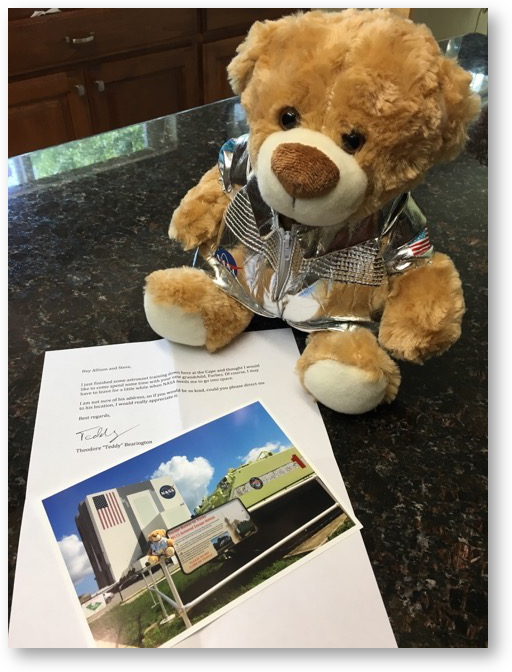 Sometimes when you start a new endeavor, you think you know what you're getting into. Maybe you realize that it's an unknown ahead but you at least have a vision. I went into podcasting because I had something to say and I thought maybe a few people would be interested in hearing my views on technology. That has turned out to be the case, but there was a very unexpected consequence. This podcast has heart. The heart wasn't created by me, but by you. Over the years so many wonderful experiences for both Steve and me have come from the caring and thoughtfulness of the NosillaCastaways.
This week we received the most wonderful gift. John, also known as NASAnut in the live chatroom sent a package to us. There were three things in the package. The first was a photo of the iconic NASA Vehicle Assembly Building. Sitting on the railing in front of the building was a small teddy bear. The second thing in the box was this letter from Teddy:
Hey Allison and Steve,

I just finished some astronaut training down here at the Cape and thought I would like to come spend some time with your new grandchild, Forbes. Of course, I may have to leave for a little while when NASA needs me to go into space.

I am not sure of his address, so if you would be so kind, could you please direct me to his location, I would really appreciate it.

Best regards, Teddy

Theodore "Teddy" Bearington
And the third thing in the box, you've probably figured out by now, was Teddy himself, wearing a shiny silver astronaut suit! He's got the NASA emblem on the front, a Space Shuttle patch on his right arm, and a US flag on his right arm. He's absolutely adorable. I can't believe how thoughtful and kind it was of John to send this on to us.
I am forever grateful for all of the kindness of of the NosillaCastaways, from teddy bears for our grandson to sausage grinders for my mantel. You guys are amazing.
Chit Chat Across the Pond
This week on Chit Chat Across the Pond, Bart is back for installment 20, where we take our first baby step outside of his JavaScript playground. He shows us how using the Console in any modern browser, you can change the way a browser page looks to you (not changing the original content. It's great fun and an easier one of his lessons!
I want to give a shout out to Daniel El Travis who tweeted that he was inspired by Bart Busschots' and my Taming the Terminal series. He posted a video of how he used the terminal to query a giant database from the Missouri Department of Corrections. He's in there grepin' and using regular expressions and everything. It's awesome! I put a link in the shownotes to his awesome video on youtu.be/…. He even says in the video that he's not a not a computer programmer and that he's pretty proud of himself for doing this. THAT'S the power that Bart is giving us with demystifying these things. Thanks Daniel, that was so cool!
Blog Posts
Secure Messaging with Wire from Joe LaGreca
Next up let's listen to a listener review from Joe LaGreca about the secure messaging system Wire.
The text of Joe's reviews including instructions including screenshots are available at: docs.google.com/…
I installed Wire per Joe's instructions but I tested to see if I could do the installation of Wire without giving up my cell phone number. Turns out you can, so I registered instead with just my email address. I don't give out my cell number but obviously my email address is everywhere. It's an interesting platform, and I'm curious to see if it will take off. I'm in there so if you want to chat, see if you can find me by email!
Security Bits pre-correction
Before I play Security Bits, I want to make an adjustment to something you'll hear me say. Bart highlights a Naked Security article about a paper presented at the Usenix conference by researchers from the University of North Carolina. In their paper they describe how they were able to use publicly available photos from social media sites to create 3D renderings of faces in order to spoof facial recognition software for logins. When Bart tells me about it, you'll hear me say that I wondered about the Windows facial recognition (called Windows Hello) that Rod Simmons showed me.
I posted the Naked Security article in the SMR Podcast Facebook group and Joel Rushworth said that this technique wouldn't work on Windows Hello because Microsoft uses infrared sensors in their solution. I decided to do some digging. I followed the link in the Naked Security Post to the original research paper and on page 509 I found this paragraph:
Infrared Illumination: Microsoft released Windows Hello as a more personal way to sign into Windows 10 devices with just a look or a touch. The new interface supports biometric authentication that includes face, iris, or fingerprint authentication. The platform includes Intel's RealSense IR-based, rather than a color-based, facial authentication method. In principle, their approach works in the same way as contemporary face authentication methods, but instead uses an IR camera to capture a video of the user's face. The attack presented in this paper would fail to bypass this approach because typical VR displays are not built to project IR light; however, specialized IR display hardware could potentially be used to overcome this limitation.
So when you hear Bart and me saying facial recognition can't be trusted, we were wrong in the case of Microsoft Hello. Very cool to hear and be corrected in our thinking!
Security Bits with Bart Busschots
Important Security Updates
Reminder – Apple have released iOS 9.3.5 to patch a trio of bugs that were being exploited in the wild through a malware toolkit that is for sale to governments (Allison covered the story very well last week) – arstechnica.com/…
RELATED – Apple have pushed out security updates for OS X 10 (Yosemite & El Capitan) and Safari to address three 'Trident' bugs patched in iOS 9.3.5 last week – arstechnica.com/…
Important Security News
Notable Breaches
Suggested Reading
That's going to wind this up for this week. Don't forget to send in your Dumb Questions, comments and suggestions by emailing me at [email protected], follow me on twitter @podfeet. Check out the NosillaCast Google Plus Community and our Facebook group at podfeet.com/facebook. If you want to join in the fun of the live show, head on over to podfeet.com/live on Sunday nights at 5pm Pacific Time and join the friendly and enthusiastic NosillaCastaways. Thanks for listening, and stay subscribed.