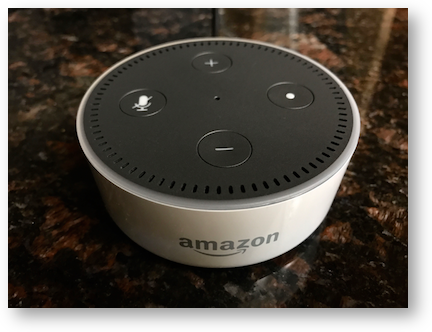 A little while back I bought an Amazon Echo Dot. For some reason, I haven't really taken the time to learn what it can do yet. Sure I can ask it the weather and to play a song, but not much more. This is not for lack of Amazon trying to motivate me, though. I get emails every few days suggesting I teach Alexa some new skills. If I would just open the Alexa app on my iPhone, surely I would find happiness there.
Nobody does marketing better than Amazon. This week on Cyber Monday, Amazon sent out an email specifically for Echo owners. The deal was pretty cool. If you used your Amazon Echo to order one of the things on their list using your voice, you'd get 25% off the purchase price and a $10 Amazon gift card.
This was too good to pass up. I went to the kitchen where I have the Echo Dot, and called out her name. The little blue / turquoise ring floated around the top to let me know she was listening. I said, "Order a Fire Stick." She said, "it's not in stock right now, but will ship on Thursday. The price will be $29.99 plus tax. Do you want to order it?" I said, "yes".
It was the most frictionless purchase l've ever made. Now think about what Amazon accomplished here:
They got me to buy something
They taught me how to use what I'd already bought to buy more things
The thing they got me to buy was a device to help me buy and rent video content from them
They gave me a gift card… so I could buy more things from them
And they taught me to like it