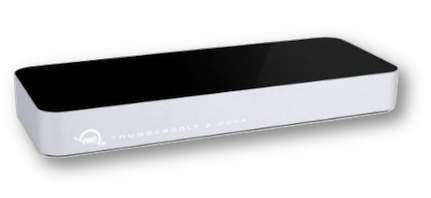 Hello Allison and NosillaCastaways. Trevor from Australia with a short review of a product that has helped breath new life into my 2011 iMac and could be the ultimate dongle for the new range of MacBook Pros.
With more Macs coming with fewer ports to connect your external devices, adding an additional monitor, external hard drives, other USB-based gear, or legacy Ethernet or FireWire peripherals can become a bit of a problem. My 2013 MacBook Pro only has USB 3 and Thunderbolt ports and the newly released MacBook Pros only have USB-C ports with Thunderbolt 3 connectivity.
Enter OWC's Thunderbolt Dock which might just be the adapter you didn't know you needed. It seamlessly adds lots of useful ports to your Mac.
The Thunderbolt Dock has a very useful five USB 3 ports, two Thunderbolt ports, one port each for Ethernet, FireWire 800, HDMI, microphone and headphone, making 12 ports in all. There is also an external power supply which allows the two high powered USB 3 ports on the side to charge your iPad or any other device, providing power even if the computer is off.

I have been using the Thunderbolt 2 Dock. The requirements for this device are an Apple Mac with a Thunderbolt port and OS X 10.9.4 or later (Windows is not supported with this version, more later). There is software that must be installed if you want to use the Apple SuperDrive, Apple Keyboard, and for charging an iPad 1, 2, or 3 with this dock.
I purchased the OWC Thunderbolt 2 Dock to speed up data transfers as my 2011 iMac only has USB 2 ports and I was finding that cloning a new 1TB drive takes many hours. My newer 2TB USB 3 drives will be taking longer to backup or clone as they fill up hooked up to a USB 2 port. I am a very strong believer that you cannot have enough backups, on site, off site and in the cloud, consequently I have a lot of external drives permanently hooked up to my iMac and others I connect as required.
I have been using FireWire daisy-chained drives and a Targus 7 port USB 2 hub for many years so the OWC Thunderbolt 2 Dock was a welcome addition. My collection of external drives hooked up to my iMac are a combination of USB 2, USB 3 and FireWire 800 drives. Two for my on-site SuperDuper clones, two for my Air Video Server HD media files (thanks Bart), one a backup, one for Time Machine, two for my duplicated archive of music, software and other miscellaneous collections and the last one for a USB 3 dock for inserting bare disk drives.
The OWC Thunderbolt 2 Dock connects to my iMac via one of the Thunderbolt ports. My iMac only has Thunderbolt version 1 but it works seamlessly. I have not done scientific tests but from running SuperDuper to clone a drive I would estimate it was done in a third of the time using USB 3 drives compared to the old USB 2 connection on my iMac.
The Thunderbolt Dock will also come in useful when using my MacBook Pro to connect to other people's Ethernet or FireWire devices to help them sort out there problems.
If you are considering purchasing one of the New MacBook Pro's and you have a few legacy devices then you may need to put the OWC Thunderbolt 3 Dock on your shopping list too.
OWC have just announced the Thunderbolt 3 Dock for delivery in February 2017, which has a similar collection of ports but these are enhanced over the version 2 and now includes a SD card reader, S/PDIF optical audio and Windows support. The downside seems that you may need a Mac or PC with a Thunderbolt 3 port, but perhaps a Thunderbolt 2 to Thunderbolt 3 adapter may suffice.
See the links here: OWC's Thunderbolt 2 dock on Amazon
The OWC Thunderbolt 2 Dock has been reviewed in more depth on another couple of NosillaCastaway's websites, checkout their links below.