I've not traditionally done "top holiday gift" guides but I'm inspired by a few little products this year. If you've been following along, you've heard of all of them, but I think it's of value to hear what products I'm still using long after the shine of a new gadget has worn off.
I'd like to focus on a few stocking stuffers, but that title comes with questions. If you stuff stockings with candy canes and oranges, this is not the right list. It's more of a list of things that would technically fit in a stocking. I'm going to keep the price under (and sometimes well under) $50US.
My Favorite Lightning Cables
What Apple geek doesn't want more Lightning cables? Either you don't have enough, you've broken the good one, or they're too expensive to buy from Apple. Whatever the excuse, my top pick is still the RadTech ProCable UHD. These are super heavy duty, come with a life time warranty and I've personally tried to break them without success. Better yet, they cost less than the ones from Apple.
The ProCable UHD comes in 18″ for $12.95, 6ft for $16.95 (Apple's is $29!) or a giant 10ft long cable for $24.95.
My Favorite Headphone Cable Manager
You know how wired earbuds (especially Apple earbuds) always get tangled in your bag or pocket? I think the problem is that it's basically three wires connected at one point, so they're always a mess. I'm sure you've tried all kinds of techniques but RadTech has the least expensive, least annoying, and lightest solution.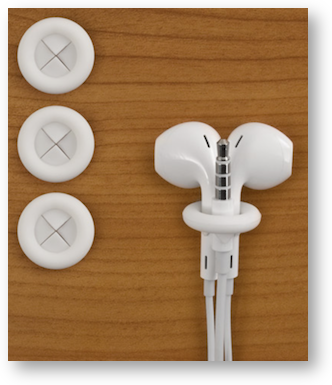 It's called StopKnot, and it's basically a little rubber gasket with a slotted hole in the middle. You slide the headphone jack end into the StopKnot and pull it all the way up to the earbuds. Then take the headphone jack and slip it into the gasket again. This makes the three separate wires that seem to love to do the tango in your bag into one big circle instead. A circle is much harder to tangle than three separate wires. It sounds super goofy and I'm sure I'm not describing it well, but I pull my headphones out, give them a little shake and they're never tangled.
The only problem with StopKnot is that you get four for $10. That's a problem because while $10 is a great price for solving this problem, but you only need one because they last forever. I've had mine for over four years, moving it from headphones to headphones, even using it with my Lightning headphones now, and it never wears out. So here's the deal, put one on your earbuds, and give the other three away to your friends. StopKnot is available at radtech.com/…
My Favorite USB-C Adapter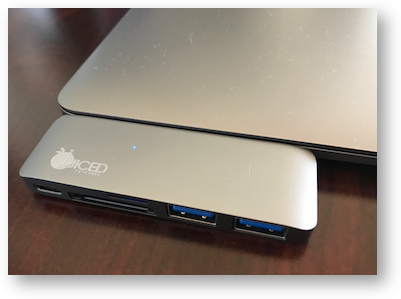 When I got my 12″ MacBook, the first thing I needed was a USB-C adapter with an SD card reader. I figured while I was at it I should get one that gave me USB-A as well. I tried a couple of adapters, one of which failed completely and one that got the job done but was really ugly and clunky.
The one I've kept using and still love is the Juiced Systems 5-in-1 adapter. It has two USB 3.0 Ports, 1 SD card slot, 1 microSD slot (think GoPro), and it has a pass-thru USB-C port so you can charge your computer while using the other ports.
But that's not the main reason I recommend this adapter. It's because it is not a dongle, and by that I mean it doesn't dangle! Instead, the Juiced Systems adapter plugs into the USB-C port in such a way that it sits flush against the side of the Mac. It even comes in colors to closely match the MacBook and MacBook Pro. It's sleek and convenient and it's definitely my favorite adapter.
The Juiced Systems 5-in-1 Adapter is $44.99 on Amazon right now. It's not cheap, but the cheap one I got didn't work. And this one would fit nicely into a stocking.
Apple iPhone Lightning Dock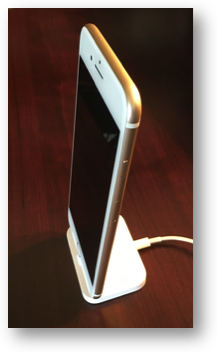 More than a year ago Steve bought me the iPhone Lightning Dock from Apple. I thought it was kind of silly and unnecessary at first because if I've got a lightning cable hanging off my Mac or display anyway, how is a dock any better?
But as is the theme of this article, I find I use it every single day. When I sit down at my desk, whether I need to charge my phone or not, it's very pleasing to just drop the phone onto the dock to keep my desk tidy.
The Apple dock is simplicity itself. It's a small rounded rectangle (you're shocked I'm sure) with a lightning adapter sticking up out of it. Most importantly the lightning adapter is slightly raised on a little bump. Because of the bump, even with a relatively thick case, the lightning connector still makes contact inside the connector so the phone can charge. This design also means you can use it with any Lightning iPhone of any size.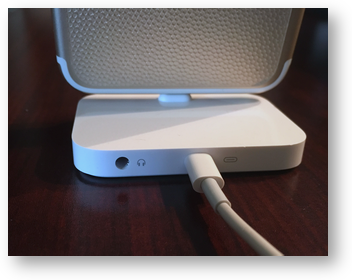 If you've got a new iPhone 7 or 7+ and you really wish you could charge your phone and listen to music or podcasts at the same time with your own gosh-darned audio jack headphones like the universe intended, the Apple dock has you covered here. On the back of the dock is a standard headphone jack just for you.
The only downside to this accessory is that it does not come with a Lightning cable, but you'll already have the ones I just told you to buy from RadTech, right? Now here's the funny part. It comes in white for $39 but if for some reason you have to have black, silver, gold, space grey or rose gold to match your phone, it will cost you $10 extra! My USB-C adapter simply must match my MacBook but I can live with white on my iPhone dock.
My Favorite Laptop Sleeve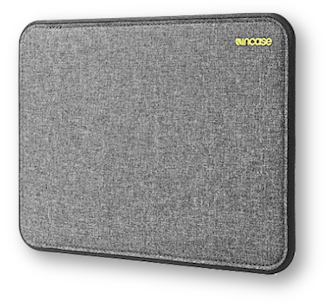 Geeks love bags and cases. We're obsessed with them. We buy them like other people buy shoes. But there's always one that we gravitate back to, and for me that's the Incase ICON Sleeve for my 12″ MacBook. This sleeve has super strong edges and corners to protect your precious baby. Incase calls this hard material "Tensaerlite" whatever that is.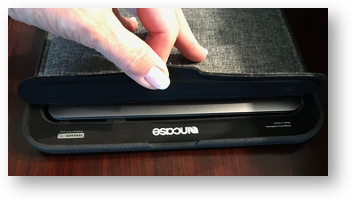 Inside, the sleeve is custom-sized to exactly fit your MacBook, cuddling it with squishy but not terribly thick foam. The end snaps shut with a little magnet as the laptop slides in. Mine is in Heather grey/black, and Steve has the solid black one for his 13″ MacBook Air and we both think they're the best sleeve we've used.
I don't see the Incase ICON sleeve available yet for the new 2016 MacBook Pros but I'm sure they'll have them out soon. You may have to get an IOU in your stocking for now. The Incase ICON Sleeve for the 12″ MacBook is $39.95 and 15″ MacBook Pro Retina is $45 with options for other sizes and models as well. Beautiful, functional, not too thick, and will protect your precious Mac.
My Favorite Small USB Charger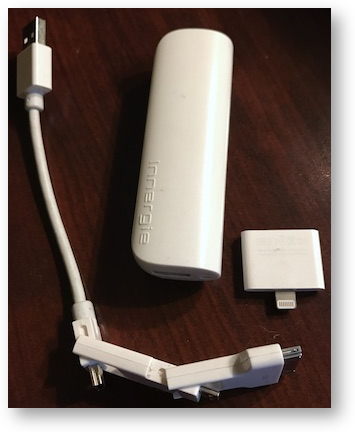 I'm going to sound like a broken record on this one because I've told you about it a zillion times before, but I'm still in love with the Innergie PocketCell charger. You can find bigger chargers, you can find chargers with more features, you can find more mAh, you can find different form factors, but I still like the 3000 mAh Innergie PocketCell the best.
Here's the main thing – according to Amazon, I bought Lindsay one of these in November of 2013, which means I got mine way before that, and we both use ours all the time and they're still working great. This little 3000 mAh, 2.1A charger is less than the size of two thumbs, so it slips into a purse or pocket with ease. I'm rabid about not carrying any unnecessary weight in my purse. I get rid of slips of paper immediately. I have a nearly two-dimensional wallet. But I carry the Innergie PocketCell in my purse all day every day.
The other day my 12.9″ iPad Pro was running low on juice on the way home from San Diego and I really wanted to keep working on something. Would you believe I was able to power the iPad Pro from this tiny device? What I don't understand is how Innergie was able to make a battery that still holds a good charge after nearly five years of use!
Lindsay and I both have tons of stories about how we saved other people because we carry the Innergie PocketCell. Lindsay's favorite is when she was on the train one time and this young woman was distraught because she realized that her train ticket was on her phone but her phone was dead. Lindsay whipped out her Innergie PocketCell and saved the woman some serious embarrassment.
The Innergie PocketCell comes with what they call their "Magic Cable Trio".  This is a cable with a USB-A plug on one end and on the other, in series, is an interchangeable micro USB, mini USB and 30 pin iPod Dock connector. That does tell you how long this product has been around, but you can make it a 4-1-cable by adding a 30-pin to Lightning adapter. Or, just use one of the Lightning cables you have lying around.
The same Magic Cable flips around so you can charge the Innergie PocketCell via Micro USB into any USB power plug. The Innergie PocketCell comes in bigger sizes but I still like the 3000mAH for $28.99.
Hope you find some fun tech goodies in your stocking this year!