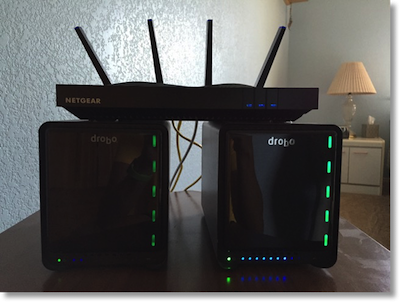 Steve Davidson posted a great question on podfeet.com on my post about the Netgear Nighthawk X8 router:
Allison, now that Apple has end-of-lifed the AirPort Extreme (my device of choice until now), I'm taking another look at the Netgear Nighthawk X8 (your endorsement has to be worth $$$ to Netgear). Besides the obvious reasons to use an Apple access point/router (e.g., quality, auto-notification of firmware updates, etc.) is the fact that I can plug two USB drives into it (via a USB hub) and it provides great Time Machine backup destinations for my home systems.

So the big question is: Do you know if the Netgear Nighthawk X8's USB ports can support over-the-network Time Machine backups (to AFP+ drives)?
Great question, Steve. The short answer is yes, you can do this and it works. But short answers aren't the theme of the NosillaCast, are they? Netgear does have a really old "how to" on setting up Time Machine to work with their routers, but lets walk through it ourselves. Continue reading "Time Machine Backups from the Netgear X8 USB Port"