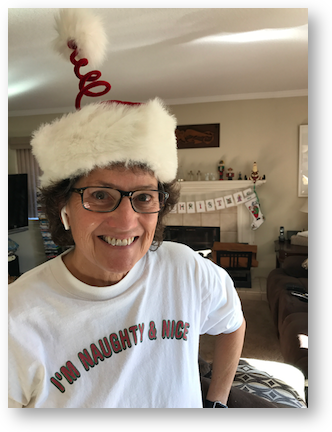 I've mentioned many times that I got really lucky in the husband department. Last week highlights that. Steve gets up pretty early (especially for a retired guy) and when the AirPods went on sale early one morning, he immediately ordered me a set before the ship dates moved out to January. They arrived a day early, on the 20th and he didn't make me wait till Christmas to open them.
The promise of the AirPods is many fold. One aspect is that they're supposed to make pairing much easier. Let's see if Apple really got rid of this major annoyance. We'll start with the first experience of opening them up.
Packaging and Setup
People seem to be getting disenchanted with Apple in some ways but it's indisputable that they do packaging like no one else. The AirPods come in a very small plastic case that acts as the charger. I was really surprised at how small it is, It's about 2 x 1.5 x .75 inches. It looked a lot bigger in the photos I saw ahead of time. Remember the case itself charges the AirPods, so It has a Lightning port on the bottom.
The top of the case flips open and closed with the most delightful magnetic click. Seriously, you'll find yourself opening and closing this obsessively. Continue reading "Apple AirPods – Bluetooth With Less Fiddling?"