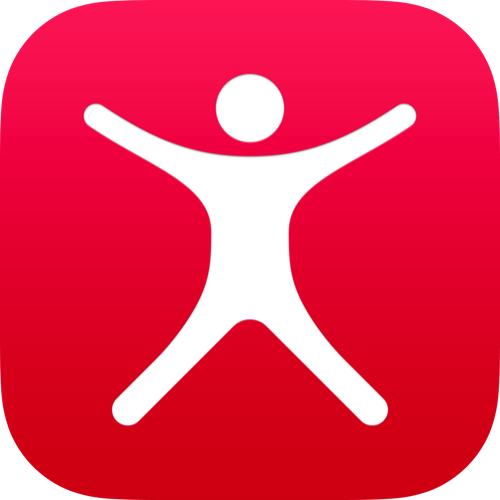 Apple does a great job of collecting workout data from the Apple Watch, but it could present the information back to you in a more detailed way. Last August I told you about an app called Activity++ from plusplusapps.com that shows your progress in a more meaningful way. With Actiivty++ you can see your calories, minutes of exercise and stand credit in a pretty table by day and you even get confetti when you've been on a good move streak. The developer also has an app called Pedometer++ that shows you your step count.
Recently the developer, David Smith, came out with a new app called Workouts++. Based on how much I enjoyed the other two apps that he gave us for free, I immediately shelled out the $4.99 for Workouts++. Even if it did nothing I wanted, it was a way to pay him for the other two apps. The good news is that Workouts++ is a fantastic app and is totally worth $5.
Workouts++ has awesome graphs, allows you to control what you see on your Apple Watch while working out. From the iPhone app you can granularly control what you see on your Apple Watch. When you first launch Workouts++ on your iPhone, it's going to explain that you have to go into the Health app and give Workouts++ permission to read and write to Health. You can choose one or the other but picking both has significant advantages that I'll explain. Before I tell you about Workouts++, I want to warn you that it's so new the App Store hasn't indexed it yet so you may not be able to find it, so I've littered the blog post with links to it.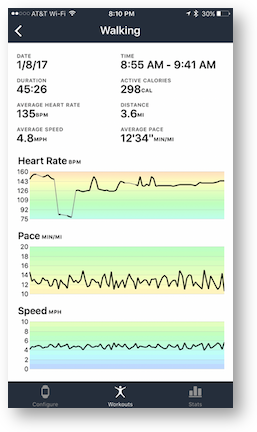 Let's assume you've been doing workouts for a while and you just want to see the data displayed in a way that gives you more information. If you allow Workouts++ read access to Health you can do just that. In Workouts++ on the iPhone, the center tab gives you a list of your workouts by day, listing the day and time you started, the time you spent on the workout, the active calories burned and the type of workout. When you do a workout, you set a goal, so the entry for each workout has an indicator of whether you met your goals or not. The edge is blue if you met or exceeded your goals, yellow if you got close and red if you didn't even bother. One of my elliptical workouts was 44 minutes and 59 seconds, but I got a yellow because I had set the goal to 45 minutes!
If you turn workouts on a lot, like Barry Fulk who gets workout credit when he plays Pokémon Go, your list of workouts will be overly plentiful. Workouts++ lets you filter the list to longer workouts, longer than 5 or 30 minutes or an hour. You can also filter to see just your runs, or walks, or pilates or stepper workouts and more. You can filter to see several categories all at once. You can sort by Date, duration, distance, or active calories. I enjoyed filtering by walks longer than 30 minutes and sorting by active calories because I was able to see the 10K I walked at Disneyland where I burned 560 calories rise to the top.
If you tap on a workout, you get access to some really nicely formatted data. The best part is you get beautiful graphs representing the data. For example, on a walk you can see a graph of your heart rate, pace and speed. It's interesting on a few levels. You can see where you stop and take a photo (if you're me) because the pace goes WAY up (it's minutes/mile) and the speed goes way down.
The heart rate graph is really interesting because it shows you that the Apple Watch sometimes struggles to keep track of your heart rate. You'll see this perfect looking graph with perfectly normal looking numbers, say around 135-145 bpm while on a speed walk, but it will also show that it was 79 for a big chunk. I don't blame Workouts++, because the graphs are only as good as the data they're fed. Now that I think about it, if, like Lindsay and Denise, you have had trouble getting good data out of certain kinds of workouts , this might be a good way to check to see if the watch isn't reporting heart rate correctly.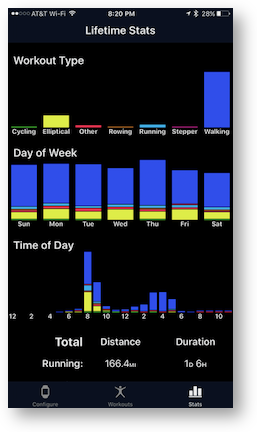 In addition to the pretty graphs, you can see your average heart rate, average speed, and average pace, along with the regular data Apple reveals like total distance, calories and time. Oddly Workouts++ doesn't show you your step count. Activity++ doesn't either, only Pedometer++ does and I've never figured out why that data isn't aggregated into the other apps.
The third tab over shows you lifetime stats since you started tracking workouts with your Apple Watch. It's not something you need to view every day but it's fun to see a bar graph showing how much of your workouts have been cycling, elliptical, rowing, etc, and stacked bar charts by day of the week (evidently I slack off on Wednesdays). You can see the time of day (I'm a machine at 8am and again at 4pm).
Workouts++ even shows totals by workout type. According to Workouts++ I've walked 1966 miles for a total of 31 days of walking. That's 69 miles short of walking from my house to Chicago! To put it in European terms, I've walked farther than from Portugal to Poland. I've walked more than double the length of New Zealand, counting both islands. It's 50% more than from Melbourne to Brisbane in Australia. Ok, you get the idea, metrics are fun to look at.
I haven't even started to show you some of the power of Workouts++, because it's not just about stats after you work out. If you allow write access to your Health data, Workouts++ can initiate workouts from your Apple Watch and dramatically change what you see on your watch while you're working out.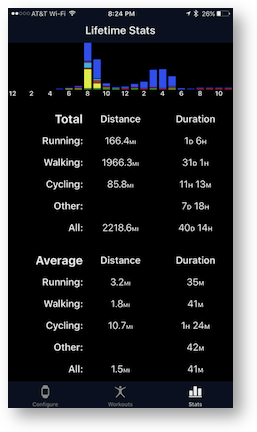 The first tab in Workouts++ on the iPhone lets you customize your watch screen during a workout that's initiated by the app. You can customize it from showing you only one single number to showing six at a time and they can even be graphs instead of numbers!
First you choose the workout type. I noticed that Elliptical wasn't an option so I wrote to David. He explained that on the first page where you choose the workout for which you want to customize the face, there's a + button to add types to modify. Then for each workout you want to see, you choose indoor or outdoor. While writing up this review I noticed that you can change the order of the Workouts too, and this changes what you see on the watch. Now I can have walking and elliptical up at the top and the highly improbable but not impossible run at the bottom. Very cool.
Interestingly, Workouts++ has options which the standard Workouts app doesn't have, like Strength and Pilates and Yoga, but it's missing the indoor and outdoor swimming options. In the help section, David explains that adding swimming workouts is a high priority now that the Apple Watch is water resistant.
Once you've selected your workout type, swipe through to choose a layout for your watch screen. Let's say we want five metrics showing while we work out. Tap on that layout and you'll get to the really good stuff. You get to pick five from the following: Energy, distance, duration, heart rate, speed and pace all as numbers, plus three graphs for heart rate, min/mile and miles/hour. You'd think a graph would be hard to read while you're exercising but stay tuned for more information on that in a minute.
Not only do you get to configure what metrics you see, you get to set their colors. I like the beats per minute to be red, you know, like a heart, and the calories green because most of the time I'm trying to get to a calorie goal so I want to that to jump out at me. You've got 9 colors to choose from so you can really make this garish if you like!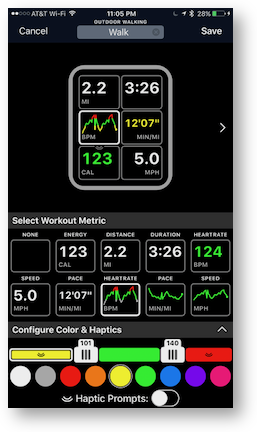 Let's get back to heart rate. When you're working out, you might want to make sure your heart rate stays above a certain number, but you don't want to push it too hard and have it go too high. Workouts++ lets you set a lower and upper limit for each metric by dragging a little slider. Two things happen when you set these limits. By default the graph you see real time will be green but if it goes too high it goes red and if it's too low it turns grey. You can even set those colors too – I changed my lower limit to turn yellow if I'm going too slow and my heart rate isn't getting up where I want it.
Maybe you're super focused when you're working out and don't look at your watch constantly. You can turn on haptic prompts so the watch taps you when you go too high or too low. I can't think of anything David hasn't thought of in configuring the look and feel of this app. So much better and more information than the stock Apple Workouts.
On the Apple Watch app, you can set complications for your watch faces. If you're nuts about working out (and let's face it, you're still paying attention to this so you must be), you can put Workouts++ right on your watch face for easy access.
The only thing I miss in the Apple Workout app is how easy it is to start a workout with different types of goals. For example, when I walk Tesla in the afternoons, I use an open outdoor walk. We mix it up, sometimes going out for an hour and three miles, or if I've worked out pretty hard in the morning, it might be a leisurely mile or two walk in the afternoon. When I walk in the morning on the beach, that's my speed time, and I have to meet Steve back at our origination point so I do a specific time limit that tells me when to turn around and come back.
While Workouts++ does allow you to set goals, switching between say a time goal and a calorie goal, for the same kind of workout, requires using the iPhone interface and diving into the configuration tool. With the built-in Workouts app I can just raise my wrist and tell it what I want to do next.
Every once in a while I accidentally start a workout, maybe my grandson taps the complication for example. When you end a workout with the Apple app, you get the option to save or discard. Workouts++ doesn't appear to have that option. But here's the good news. 99 times out of 100 I want to keep my workouts but every single time I have to hit that save and done button. With Workouts++, I don't have the option so it's not in my way as much as the Apple Workout app.
Another problem with the Apple Workout app is that it's hard to get to the stop screen because fingers are often sweaty after a workout. David solved this problem in Workouts++ by adding the ability to finish a workout by simply rotating the Digital Crown. How cool is that?
If there's one final thing I can say about Workouts++, it's that every time I dig into it, I find more it can do. I was telling an Apple Senior Advisor about it on a support call and I kept uncovering new features. For example, Michael, the Apple guy asked whether the data written from Workouts++ shows up in the Apple Activity App. If you're sharing your workout data, you know how important it is to get credit. I checked and not only is it in Activity, it's called out specifically as having been collected by Workouts++.
Can you tell I'm a fan of this app? Check out Workouts++ at plusplusapps.com/.