Lately I've run into a slew of tech problems, finding bugs in just about everything, hardware and software. This has given me the "opportunity" to compare reactions of companies when I tell them about the problems. I would normally write a huge diatribe about those that didn't meet my expectations, but instead I'm going to tell you about the gold standard in support. That company is Rogue Amoeba, the makers of Audio Hijack.
I've talked about Audio Hijack quite a bit on the show, but to bring everyone up to speed, it's the absolute center point to how I create the podcast. Audio Hijack, as the name implies, hijacks the audio on your Mac, allowing you to route it in interesting ways.

I create the podcast recordings completely without a complicated hardware mixer. With Audio Hijack I can capture the audio of a Skype call and my voice on two separate tracks, add effects like an equalizer and a compressor. I can route the audio back to my headphones so I can monitor my own voice for any problems along with that of my partner on the show. I can also send the audio to a recorder to capture an uncompressed audio file. Audio Hijack is essential for the creation of the Podfeet Podcasts.
Last week Rogue Amoeba pushed out update 3.3.3 of Audio Hijack. I know, I should read the release notes on something so critical to my process before installing an update, but I find that I rarely understand what developers say they've done anyway, so I always just blindly hit update.
On Friday afternoon, Bart and I jumped on Skype to do a recording of Programming By Stealth. Immediately, I told him that his audio was horrible. It was clipped and over modulated, like having shards of glass driven into my ears. Ok, that last bit might be a bit of an exaggeration, but trust me, it wasn't what you'd have wanted to listen to.
I asked him to check all of his settings first. When doing this kind of recording, there are so many different places your audio gets controlled. On his end, at the very least his input volume and mic selection was controlled by the macOS sound preference pane, and Skype has duplicate controls that have to be checked. Skype also has a "feature", and I put that in air quotes on purpose, that automatically amplifies your volume randomly without warning. We made sure that feature was shut off. We did a screen share so I could see what he was fiddling with but the audio was still awful.
We both quit and restarted Skype, which often clears many ills. No joy. I quit Audio Hijack and restarted it. Restarted both Skype and Audio Hijack. I even restarted my Mac. Still no joy. Finally I tried quitting Audio Hijack but staying in the Skype call, and suddenly Bart's audio was perfect.
It looked like we had narrowed the problem down to Audio Hijack as the root cause. But to be sure it wasn't something weird in my complex Audio Hijack setting, I created a completely new recording session in Audio Hijack, with just Skype into my headphones and into a recorder. Turned it on, and the over modulation to Bart's voice was back.
By now an hour had passed. Bart always does a backup recording, so we decided to rely on his version using Call Recorder. If you listened to Programming By Stealth, you heard beautiful audio.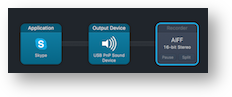 Later that day, Steve and I sat down to do some more experiments. I wanted to 100% eliminate Bart's setup from the equation. Steve and I got on a Skype call and with Audio Hijack in the simplest configuration, his voice was over modulated just like Bart's. I installed SkypCall Recorder (from Ecamm Networks, a delightful little recorder) and was able to record both sides of our conversation without issue.
My final test was to eliminate my version of Skype as the root cause. I tried to record a FaceTime audio session with Steve using Audio Hijack 3.3.3 and the audio wouldn't even flow through the session so there was nothing to record.
Through these controlled tests, I had definitely proven that something was amiss with the recently released version of Audio Hijack.
By now you're wondering why I said at the beginning that Rogue Amoeba is the gold standard. First of all, every software application has bugs. Every piece of hardware has problems. It's all in how you're treated when something goes wrong.
My biggest complaint with many software vendors is that after I do vast experiments to be sure I'm right, and I produce videos and screenshots showing the where the problem is, they soooo often write back with pablum like, "uninstall and reinstall the application", or "I didn't bother to view your video." It happens All. The. Time. And that's when they even respond. They also often take a really long time to respond.
Let's now talk about what the gold standard is like.
First of all, Audio Hijack 3.3.3 was released in part to fix another bug I'd found. It wasn't a critical one, but some of my Audio Hijack session windows refused to be resized. Rogue Amoeba fixed that in 3.3.3, so I call it the "Allison session resizing" version.
On Friday night at 5:30pm I wrote to Rogue Amoeba describing the problem I'd found in detail, and explaining each of the steps I'd taken to replicate the problem. I fully expected that since it was Friday night, I wouldn't hear from them until Monday.
Surprisingly, the awesome Chris Barajas from Rogue Amoeba wrote back to me at 9:22am on Sunday. Only 36 hours have passed, on a weekend and Rogue Amoeba was on the job. Chris had clearly checked out the audio file I'd attached so he could hear the clipping, and he'd seen the visual aid I'd provided showing a screenshot of the squared-off waveform that had been recorded. Just the fact that he paid attention to what I'd sent was a breath of fresh air!
I answered his questions at 11pm Sunday night. On Monday morning at 8:19am, Chris wrote back with the most wonderful response. He explained that they'd included a new audio capture backend in release 3.3.3 and a quirk in it (I'd have said bug, but let's not quibble about that) was causing the problem.
So far Rogue Amoeba is ahead of everyone else by a) reading/watching/listening to my tests, and b) acknowledging and finding the root cause.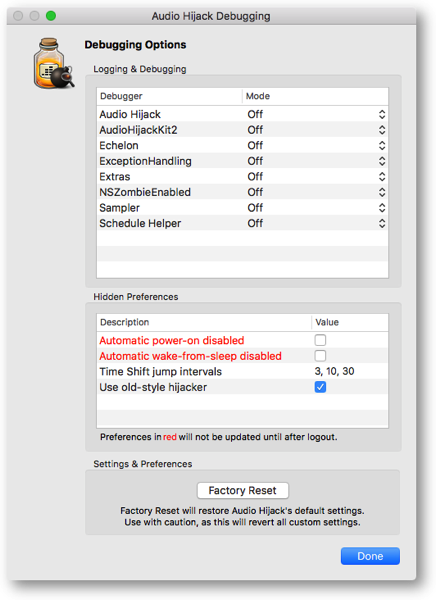 But he also included in his note a way to disable this new backend audio engine! He said I could launch Audio Hijack with the option key held down and that would reveal the debugging window. In the "Hidden Preferences" that come up, you can enable "Use old-style hijacker". I felt so special having this secret menu!
I tested out the fix and sure enough reverting to the old-style hijacker gave me beautiful audio from Skype. Not only did Rogue Amoeba acknowledge the problem and find the root cause, they gave me a bandaid to hold me over. I posted a screenshot of the explanation and solution to the Facebook groups for the NosillaCast and Mac Geek Gab just in case someone stumbled into the same problem. Remember that bandaid solution was at 8:19am on Monday morning.
Well, I needn't have posted to the Facebook groups so quickly because by 1:40pm on Monday Rogue Amoeba had released Audio Hijack 3.3.4, reverting the engine back to the old-style hijacker for everyone. Interestingly they did this by shipping that version with the old-style hijacker selected in the secret menu.
Total time elapsed from when I wrote to Rogue Amoeba until the problem was fixed: 68 hours, including 48 hours of a weekend. They acknowledged my email, asked questions, determined the root cause, sent me a temporary fix, and reverted their code to fix the problem for everyone. Unbelievable.
I wrote to Chris and told him that Rogue Amoeba is the gold standard, and he showed utter humility at what I'd said. He wrote, "Thanks for bearing with us, and for the positivity even when we're at less than our best. We'll work towards a smoother set of updates going forward."
Sure it would have been awesome if they hadn't made a mistake in the first place, but mistakes always happen. My real happiness here was how well they took care of the problem. That comes from a culture built from the top down in a company.
I can't compliment Rogue Amoeba enough. I better mention one thing – Rogue Amoeba is not a paid sponsor and never has been.
Rogue Amoeba doesn't just make high-end recording apps, they've probably got something you need. Check them out at rogueamoeba.com, and also check out also Airfoil, Fission, Loopback, Nicecast, Piezo and SoundSource. Ooh, what's SoundSource? I'll have to go check that out!