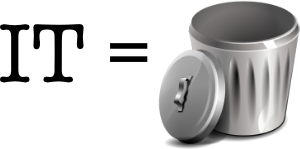 Tim Jahr wrote a comment on the blog after listening to Bruce Wilson and me on a recent Chit Chat Across the Pond. I'd like to read his comment to you for a couple of reasons. First that I agree with most of what he said, and I'd also like to clarify with the context I should have added. During the conversation with Bruce, I referred to IT as waste. Here's what Tim wrote:
I was bummed to hear you throw out the old line about IT being "waste".

I do understand that it does not in and of itself generate a profit, but the filing of things like IT and Maintenance as waste or some kind of financial drain, to me, contributes to the mindset that we see in many executives (and employees of other departments) where IT and these groups are viewed as unimportant or not worth listening to. It's how we get into the very scenarios you referenced where something like WannaCry is released, and is able to do huge damage because things like patching servers or having good backups are "waste" generated by the IT department.

Not to mention that most companies would have a hard time making their products if they had no Internet access, no network, no security in place, had to build their own computers, etc. I know "support" departments like IT aren't what directly make the profits, but without them, it'd be pretty difficult to run your company or make a profit.

There's a healthy balance to strike of doing what's necessary to help engineers and sales people do their job, but not letting them have whatever they want if it's going to open up your company to ransomware, having their email servers blacklisted, or having no backups for when an engineer or salesperson "accidentally deleted a whole directory worth of critical data".

I can't speak for every IT person, but I personally don't need to be championed or celebrated, or really even publicly acknowledged for doing my job. I actually kind of enjoy the anonymity and keeping the things running that everyone expect to always run. But when we're called waste, or a "cost center", or even just encounter the attitude that we're trying to prevent others from doing their job, it's really disheartening.
I'm so glad Tim wrote in regarding my flippant comment about IT being waste. His points are spot on and I do not disagree with anything he said. IT is a critical service to the success of any company. It's not enough to hire capable network and security engineers, they must be adequately funded and supported by management to be able to succeed at securing the company's assets. No better example of that is Yahoo, where from what I understand they had a competent staff, but they were not only not supported, but mocked by management. They were referred to as "the paranoids". With a culture like that, it's not surprising that Yahoo was hacked and lost 1 billion user accounts.
I spent 24 of my 35 years of gainful employment providing IT services, so I absolutely understand the problems with looking at IT as waste, and especially seeing it as a cost center. Now let me explain the context that I should have included in my "waste" statement.
Many years ago I took a Six Sigma class where we learned many techniques to evaluate the value of steps and processes in our business. We were learning to identify waste, in order to streamline our operations. Anything that did not add value to the end product was waste.
In that class, I asked a clarifying question about something specific my IT function provided, and the instructor answered me by explaining that everything my organization did was waste. My reaction was exactly as Tim describes here, and I began to argue with him, and basically derailed the class for about 40 minutes (of a 4 hour class).
At the end of that 40 minutes, I was bought in hook line and sinker that IT does not add value to the end product and thus is waste.
I think I can explain by a real life example. Back in the day, let's say a program needed a server. The engineer would work with our system admin to determine their need in terms of RAM, CPU, disk space and network connectivity. The engineer would communicate these requirements to their organizational coordinator to ensure funding was available. That coordinator would circle back to us, the IT organization. We would contact the hardware vendor and get a quote for the product.
We would then generate a purchase order for the hardware. The hardware would be built and shipped to us, where shipping personnel would move it to our lab. Our system admin would unpack the boxes, set up the hardware and install the operating system and required software.
Now let's look at how someone gets a server today. In the outside world at least, you can go to a site like Digital Ocean or Linnode, use some pulldowns to choose how beefy you need your hardware, choose to have them install the OS or you, and about 6 minutes later (accounting for 3 minutes to find your credit card), you're working on your new server.
It's hard to look at the work that was done in the old school example and say it wasn't waste, isn't it? If in an ideal condition, the work didn't even have to be done, then that work is waste.
Unless IT is part of the actual product you're selling, the work done by IT doesn't make your end product faster, more accurate, have better features, lighter, or stronger. Again, if your product includes IT services, like say a cloud component and servers that house that cloud service, then the IT part is not waste. But if IT is there to help your employees go faster, make products less expensive, maintain your company's intellectual property (see Sony hack), and maintain the privacy of your employees' health and social security data, then it IS waste.
I absolutely know how hard it is to get this concept, but once you own the concept that everything you do is waste, it frees you to think of ways to not just speed up or streamline your processes, but rather find ways to work yourself out of a job. Scary thought, isn't it?