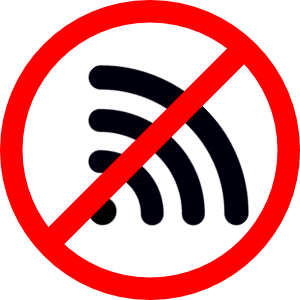 As you probably know by now, this past week Steve and I went on a big adventure to Grand Teton and Yellowstone National Parks. It was a glorious trip that we'd been planning to do for literally decades with our friends Diane and Bill.
There was one thing for which I was unprepared, and that's that we would have nearly zero Internet on the trip. We traveled 750 miles in 7 days, and for about 80% of that we had no cell service at all on AT&T. Diane and Bill have Verizon and it was much better, but still around 50% of the time they had nothing. Oddly sometimes we'd see four or five dots of cell service, but they'd be hollow instead of filled, and the signal would say 4G. What do empty dots mean anyway? I can tell you they don't mean you can post to Facebook, that's for sure.
Our hotel claimed that it would have WiFi in the common areas, but they were just lying about that on their website. There was no WiFi at all.I found it ironic that we had so little access on this trip, when we had really good cell service while in Peru! Heck, when we hiked the 6 miles up to the ancient Incan city of Machu Picchu, we had great cell service! Steve did post a photo while on the top of that mountain. Odd that in the United States we couldn't get a tweet out to save our souls.
While it was really frustrating when we saw a Grizzly Bear momma and her two cubs and get crazy good photos of them and not to be able to show them to anyone but each other, there were odd things that we couldn't do that were pretty interesting. Let's talk about what you can't do without Internet when you live in the Apple world.
Maps – we had to use paper maps like it was 1972. Luckily the parks had pretty good maps and I think I learned a lot more about the area because I was forced to study them and really pay attention to signs and distances. Bill is a crazy map guy so he was in heaven and was quite proud of my attention to the maps, so it was actually pretty fun.
Apple Music – You know that I don't listen to music under normal circumstances, but it would have been great on a trip like this. The four of us have iPhones and all of us have access to Apple Music. The SUV we rented (a GMC Acadia) had Car Play. We were super excited to give it a try. I plugged my phone in, and I only had one album that was downloaded from the cloud (West Coast Cool). They liked the album but 30 minutes later we were done with my phone. I could have sworn that I downloaded some songs locally, more than the one album, but evidence suggested I was wrong. I plugged in Steve's, and oddly he only had a half dozen songs locally too. Confused, we plugged in Diane's phone. Diane had done a lot of work on Apple Music to ensure she had downloaded many many songs from the cloud to local storage, but none of the songs were there. Bill doesn't use Apple Music normally, but evidently he and connected at some point to the shared account he has with Diane, because all of his music was gone from local storage too. Now you could assume I'm an idiot and didn't do my music correctly, but how could Diane, Bill and Steve all done it wrong too? I would suggest that four grown up people with seven engineering degrees between them not getting Apple Music to work is a truly bad interface.
Communications – It seems obvious, but communications between our the two couples was really hard without Internet access. For example, at one point Steve and I wanted to go on this three mile hike along the cliff above Yellowstone canyon, and down 328 stairs down to Tom's Landing (and back up) to get a good view of Lower Yellowstone Falls. Diane and Bill were less enthusiastic about the idea, and decided to drive to the other end of our hike and meet us partway down the trail. Sounded like a great plan. Except when they got to the other end and parked the car and walked back to start the trail, it was closed at their end! They had no way to get in touch with us at first. Eventually as we hiked along, their attempted Telegram message did squeak through to us so we knew where to meet up.
Odd Message Behavior – Speaking of messaging, once I did have a tiny smidgeon of cell service on that hike, suddenly Bart was able to start telling me all about the WWDC Keynote. It was surreal to be hiking in the wilderness with a spectacular waterfall in front of me and be learning about drag and drop coming in iOS 11! But here's the real weirdness. He was sending me these message over Telegram and they came in on my Apple Watch which was great. But when I dug out my iPhone, they were not there in Telegram. I have no explanation of how this could be, since the Apple Watch only gets its information from the iPhone. There's no cellular radio in the Apple Watch. So how could it get a message that the iPhone hadn't received? If there had been just a little lag in display on the iPhone it might have made sense, but hours later the phone still didn't have the message. They eventually rolled in but it was still very weird.
Siri – I know Bart says he just can't bring himself to talk to his devices, but with the Apple Watch I love using Siri to tell my phone and watch to do things for me. Guess what you can't do without an Internet connection?

You can't ask Siri to set a wakeup alarm. Yup, even though the clock is right there on the phone, she's unable to do this without Internet.
I've really started to love saying, "Hey Siri, start an open outdoor walk".  All it has to do is open an app and select the appropriate workout. But no Internet connection means tapping away on the watch.
Did you know you can't even make a phone call to someone in your contacts if you use AirPods? You can only use Siri with AirPods and she's too dumb to find a contact in your actual phone without an Internet connection.
In the Keynote at WWDC they talked about how they are going to have on-device machine learning. My first two requests are that Siri learn how to look up a phone number and set an alarm. Do you think they have the engineering talent to do that???

Bison, not Buffalo

Access to Information – Without an Internet connection, how do you find out whether the beasts you're seeing in Yellowstone are buffalo or bison? (We figured out they're bison when we got Internets but I had to rename a LOT of photos). We saw a giant herd of bison and oddly it appeared that they were all boys, even the ones shepherding the calves. Then Diane thought, what if girl bison have horns? We had no way to look that up.

It reminds me of when Dr. and Mrs. Garry went with us to King's Canyon and we had no Internet. We played a game all week that we called "Making Stuff Up". In the normal world if you say something totally wrong or ridiculous, someone can look it up and challenge you. But when you have no Internets, you can make up anything you want, no matter how absurd and no one can prove you wrong. We played a lot of Making Stuff Up in King's Canyon.

There's also critical access to information. Because they got 600 inches of snow in Grand Teton this year and because they're having an early summer, they're starting to have flooding in the valley. It didn't affect us but as we were leaving there were roads about to be washed out and campgrounds closed as a result. We also smelled a fire one night in Yellowstone, and we had no way of finding out if it was something minor that had been dealt with or the start of some giant forest fire. Steve saw the sky turning very red at sunset while he was out, and the hotel staff didn't seem to be sure what was going on. Would have been swell to have access to park information.

Affinity Photo for iPad – While we were gone, Tracey Baucells tweeted to me about the release of Affinity Photo for iPad. I have been waiting for this app for ages, thrilled about its release. But I couldn't buy it because it was a miracle I even got Tracey's tweet. But it gets worse. At the airport I had enough WiFi to download the app. As we waited for our flight (we got to the airport about 3 hours early) I started to watch the video tutorials that are embedded in the application. It was great! We got on the plane and after we got the green light to turn on our electronic devices, I tried to play a tutorial…and couldn't because it required an Internet connection.
After that litany of things we couldn't do because we didn't have Internet, there's one upside. We couldn't follow politics for almost a week.