Steve Sheridan compares two Bluetooth headphones, the new PowerBeats 3 against the older Jabra Sports, not as much on sound quality but on fit and Bluetooth connectivity. We've got our last interview from NAB 2017, with Yi about their 4K+ Action Camera (the guy called it a GoPro killler). I'll tell you why I think sleep tracking is dumb and Bart will tell you how an Anker 2 port USB charger solved his problem. Joe Dugandzic of Smarter Home Life will tell us about the new offerings from Ikea in affordable smart lighting. Bruce Wilson tells us about the Plantronics Blackwire C435 headset he used for our interview on Chit Chat Across the Pond this week. We'll finish up with two dumb questions from me to Bart about clicking unsubscribe links in emails and shortened links in Twitter. I learned something new from his answer.

mp3 download
Hi this is Allison Sheridan of the NosillaCast Mac Podcast, hosted at Podfeet.com, a technology geek podcast with an EVER so slight Apple bias. Today is Wednesday May 31, 2017 and this is show number 630. As promised, the show is coming out way early this week because Steve and I are off to see Grand Teton and Yellowstone National Parks with our good friends, Bill and Diane. Some of you are shaking your heads with wonder that we announce when we're going to be away from home. We feel confident doing that because we have a TSA agent staying at our house when we're away!
We've got some great content for the show thanks to listener contributions. If you meant to send something in and just didn't get around to it, please go ahead and send something in. Next week we don't get back till Thursday so I'll have to put the show together in just three days! I'd love some more recordings from you guys.
Chit Chat Across the Pond
This week's Chit Chat Across the Pond was absolutely fantastic. A while back on Tom Merritt's Daily Tech News Show, he told us about some research that was being done by the Oak Ridge National Labs on an ultrasonic clothes dryer. I thought it was really cool so I tweeted out the story. I was delighted to find out that NosillaCastaway Bruce Wilson is actually the Chief Technology Officer for IT at Oak Ridge. He's a chemist by schooling who moved into IT. So he understands how cool the work they're doing at Oak Ridge is but he can also explain it to normal humans. I decided that this qualified as a Lite episode of Chit Chat Across the Pond because we're all nerdy enough to follow along. Bruce is funny and engaging and fabulous guest. Subscribe to Chit Chat Across the Pond or Chit Chat Across the Pond Lite in your podcatcher of choice to get this fabulous episode.
Blog Posts
The first person to jump in with a review to help me out is none other than Steve Sheridan.
One of the great things about AirPods coming out was learning how many people can't wear them. I always thought Steve was just being finnicky when he said Apple's headphones fall out of his ears. Now I'm more sympathetic. You might be wondering why he got his Father's Day gift so early – the PowerBeats3 were on a pretty big sale so he bought them for himself for Father's Day!
Let's listen to the last of the NAB 2017 interviews:
Steve and I have the 4-port Anker USB charger and love it. One thing Bart didn't mention. Anker has what they call PowerIQ. This technology dynamically detects and adapts to your device's unique charging protocol. I haven't done any testing on this myself, but they say you'll save a lot of time charging with their charger blocks.
I also have the 9-port Anker USB hub/charger for my desk. 7 are data ports, while the other 3 are power only with PowerIQ.
One last thing – Bart mocked the name, but that's just the name it has on Amazon. Companies put all that glop in so that searches for iPhone 6 or Galaxy S8 will find their devices. The name Anker gives it on their site is simply "PowerPort 2 Wall charger".
Patreon and Amazon
I'm really encouraged by how many of you have chosen to become Patrons of the Podfeet Podcasts (that's fun to say). I especially like when people from whom I've never heard pledge their support, like Thomas Maddock did this week. When you do a podcast, it's easy to forget how many people are out there listening so just hearing from you is awesome.
If you'd like to be awesome like Thomas, head over to podfeet.com/Patreon and pledge any amount you feel represents the value you get out of the show. If your family can't afford it, please don't donate. Tell your friends about the show, buy your Amazon purchases through the affiliate links in the shownotes or just smile at your podcatching device when you're listening. Thank you all for your support.
Joe Dugandzic from Smarter Home Life on new Ikea Smart Lighting
I asked Joe Dugandzic from Smarter Home Life to come on and tell us about the news coming from Ikea on affordable smart lighting .
Joe mentioned the video he did of his diminutive home (396 square feet!) The video is so awesome – not just really cool what he's done in smart home design but it's also nerdy and funny. I put a link in the show notes to it.
Bruce Wilson on Plantronics Blackwire C435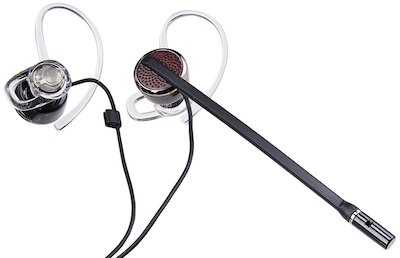 You may remember Bruce from Chit Chat Across the Pond this week. Not only was he our guest, he also sent in a review!
I normally really dislike the sound of headset mic but the Blackwire C435 Headset sounded really good to me. And of course there's a link in the show notes!
Dumb Question Corner – Security
I asked Bart if he'd consider coming in and answering a couple of dumb questions on security that are actually from ME. We don't have shownotes for Bart's answers but here's the questions:
Q1:
We're told all the time not to click links in email, and at least the NosillaCastaways are probably pretty good at obeying this rule. But why aren't we ever told not to click on links in Twitter? It's sort of the backbone of Twitter to click links, right? Aren't they just as dangerous?

Perhaps the answer is that the links can't be obfuscated, but that means we should very carefully read their origin, doesn't it? And what about URL shorteners like Twitter's own t.co?
Q2:
It's easy to get signed up for newsletters without asking for them, be it from a retailer or a conference you attended. If it's a reputable company, they usually have an unsubscribe link somewhere buried near the bottom of the newsletter. Just this week in a quest to rid myself of the volume of email coming from NAB vendors, I started going through the emails clicking away on those unsubscribe links.

My question is, wouldn't unsubscribe links be a fantastic attack vector? I know not to click links in emails and I just did it about 20 times.

Along those same lines, Apple surfaces the unsubscribe link for us on iOS with a button right at the top of newsletter emails. Is that safe?
That's going to wind this up for this week. Don't forget to send in your Dumb Questions, comments and suggestions by emailing me at [email protected], follow me on twitter @podfeet. Remember, everything good starts with podfeet.com/. podfeet.com/patreon, podfeet.com/facebook, podfeet.com/googleplus, podfeet.com/amazon! There will NOT be a live show on June 4th. You'll have to wait until June 11th to head over to podfeet.com/live on Sunday nights at 5pm Pacific Time and join the friendly and enthusiastic NosillaCastaways. Thanks for listening, and stay subscribed.