This week I'll tell you about how much fun I had on In Touch with iOS and The Mac Quadcast and Programming By Stealth. Then I'll tell you the secrets of the math behind the Apple Activity Competitions (and how to win). I've decided that Slack is our new home with the demise of Google Plus. I figured a lesson on how Slack works was in order so I'll walk you through the interface. We have a permanent link to join at podfeet.com/slack. In Dumb Question Corner, Rush asks everyone to answer his question on how you choose an Activity goal in Apple's health apps. Then Bart is back with Security Bits where we talk about the Google Plus data breach, a vulnerability in SSH, vulnerabilities in WhatsApp and D-Link routers, and Apple's new privacy portal.
Hi, this is Allison Sheridan of the NosillaCast Apple Podcast, hosted at Podfeet.com, a technology geek podcast with an EVER so slight Apple bias. Today is Sunday, October 21, 2018, and this is show number 702. Steve and I are really excited because our son, Kyle is getting married this Saturday to Nikki. We adore Nikki and couldn't be happier. Now you might wonder why I'm telling you this. We've got the rehearsal dinner on Friday, the wedding on Saturday and the goodbye breakfast on Sunday, and I'm just guessing it would be hard for me to have the show ready for you on Sunday night. So we will have a one day slippage, with the live show at 5pm on Monday night instead of Sunday. I hope you will all survive waiting that extra day!
I've been busy being on other people's podcasts in the last couple of weeks and I wanted to tell you about them.
In Touch with iOS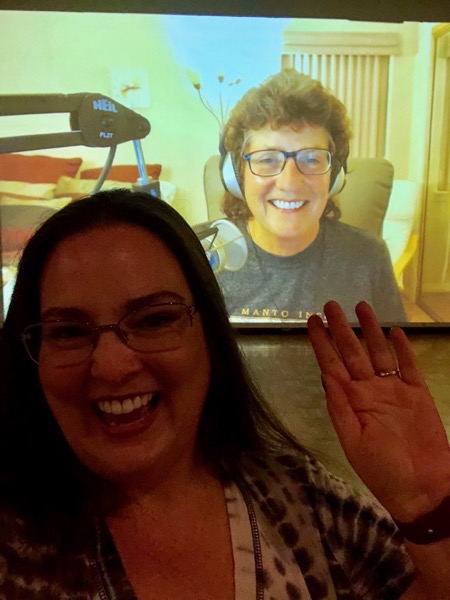 Last week I was a guest on In Touch with iOS, which is a podcast by Dave Ginsburg and Melissa Davis. Melissa has been dealing with some house issues lately (I can sympathize) so I snuck on with just Dave. We first met Dave at Macstock Expo in Chicago a few years ago and after watching him speak on the main stage, I asked him why the heck he wasn't already doing a podcast. Evidently I wasn't the only one to suggest it. He's a natural and knows SO much about iOS I learn from him every time we get together. I was on episode 37 where we talked about iOS 12 tips (mostly him teaching me) and a lot about Apple Watch and fitness. It was great fun and I hope you'll check it out at intouchwithios.com/…
When we were at Macstock Expo this year, Bob Wood of the Tucson Mac User's Group (aka TMUG) cornered me and talked me into doing a talk for TMUG. I did that this week over Skype and to my surprise, Melissa Davis was there!
I guess the moral of the story is, don't go to Macstock Expo or you'll get tricked into podcasting and presenting and meeting fun people and making new friends.
The Mac Quadcast
The other podcast I got to be on this week was with a whole new friend. Darren Carr does a show called The Mac Quadcast. Darren is a quadrilpegic, paralyzed from the neck down and on life support. That doesn't seem to slow him down one bit. He's got a cool format for his show. Right now he's interviewing Mac luminaries (Dave Hamilton, Dan Moren and Adam Christianson among others preceded me). He has a stock set of questions but of course having varied guests means the show takes different turns with each guest.
He asks for our favorite piece of Apple hardware of all time and our favorite iPhone of all time. In software he asks either for our most useful OR biggest time wasting/service on the Mac. I claimed I waste NO time on my Mac and instead answered with my favorite software. I cheated again and listed three instead of one. On iOS he let us pick our most useful or wasteful apps as well. He asks if there's any accessibility features we use.
My favorite question is, "If you could control Tim Cook via Siri for a day, what hardware project would you initiate/increase investment in?" That can go just about anywhere with different guests. I bet you're thinking right now how you would answer that question.
I don't want to spoil the show so I'll stop describing it and encourage you to go over to The Mac Quadcast at www.themacquad.com/… and look for Episode 12 featuring me! Of course you can search for The Mac Quadcast in your podcatcher of choice. By the way, he's got a giveaway going on for the note taking app Bear in the episode I'm in so you have even more incentive to listen.
Chit Chat Across the Pond
Chit Chat Across the Pond this week was Programming By Stealth installment 65 of X. This time Bart takes us through Bootstrap Input Groups. These are really cool. Think about a form that has information you have to fill in, but you're never sure what they're asking for. If they ask for money, what currency do they mean? Are you supposed to include the numbers after the decimal or not? With Bootstrap input groups you can put little symbols or words before or after the input field to make it obvious. As with all things Bootstrap, it's not something that can't be done in HTML, but it's so much easier to make them pretty and elegant without being a designer.
Bart and I always have a good time together but for some reason we were particularly gleeful during this episode. Even when I got lost at one point (as I often do), it was fun and interesting and we laughed a lot.
Remember you can start Programming By Stealth at any time, like John Tiftickjian who's on Installment 24 right now. It's evergreen content so it's waiting for you.
Check out Programming By Stealth in your podcatching app of choice, and it's also available in the full Chit Chat Across the Pond feed.
Blog Posts
Dumb Question Corner – Rush Asks What's a Good Activity Goal?
Speaking of Slack, Rush Sherman sent an audio Dumb Question to us. This one is interesting because there isn't a definitive answer, it's a matter of opinion. And he doesn't just want my opinion, he wants your opinion too. Let's have a listen:
Rush asks how you choose your activity goal. If you can meet it for 100 days, does that just mean it's too low? I would love it if everyone with an opinion on what they think the best way to figure out a good Activity goal is for Apple Watch and iPhone. If you have an opinion, you can email me your answer at [email protected], or send it in our Facebook group, or better yet put it in our Slack over at podfeet.com/slack.
Patreon and Amazon
I didn't talk about any hardware products this week, but if I had, I would have told you how you can buy them at Amazon. Maybe you know this already, I might have mentioned it in passing, but if you buy Amazon products from the links I provide in the show notes, a small percentage of what you spend will go to help the show. It's about as painless of a way to support the show as you could hope for. So the next time I mention my Heil PR40 microphone, or my Logitech c920 webcam, or my Samsung T5 external SSD, know that buying through those links keeps the NosillaCast and all of the fine shows at the Podfeet Podcasts ad-free. Thank you to those who do it already and in advance to those about to start.
That's going to wind this up for this week. Don't forget to send in your Dumb Questions, comments and suggestions by emailing me at [email protected], follow me on twitter @podfeet.  Remember, everything good starts with podfeet.com/. podfeet.com/patreon, podfeet.com/facebook, podfeet.com/slack,  podfeet.com/chat, podfeet.com/amazon!  And if you want to join in the fun of the live show, head on over to podfeet.com/live next Monday 29 October at 5 pm Pacific Time and join the friendly and enthusiastic NosillaCastaways.   Thanks for listening, and stay subscribed.