Hi, this is Allison Sheridan of the NosillaCast Apple Podcast, hosted at Podfeet.com, a technology geek podcast with an EVER so slight Apple bias. Today is Sunday, September 22, 2019, and this is show number 750. Do you realize we've done three quarters of a thousand podcasts together? That's kinda cool.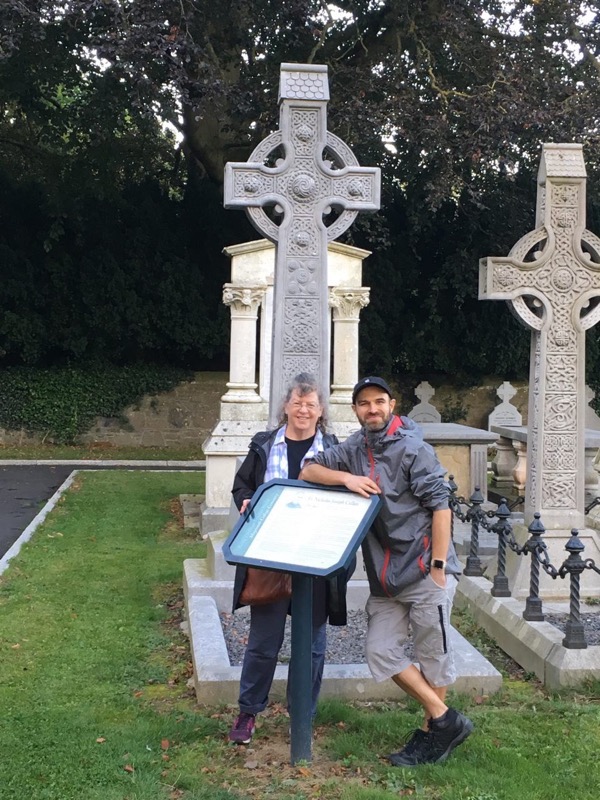 This past week has been lonely for me, because my gym buddy and Programming By Stealth programming buddy Dorothy has been on vacation. But guess where she went? She went to Ireland and got to meet up with Bart!!! She sent a photo of the two of them together that positively warms my heart.
I often talk about how I never could have predicted how my life would change because I picked up a microphone in 2005, and this is a perfect example. Seeing my worlds collide like this is just awesome. They both look so happy (even though Dorothy had been up for about 22 hours) and it's just the best thing ever.

Chit Chat Across the Pond
In Chit Chat Across the Pond this week, Programming By Stealth is _finally_back from hiatus. I teased Bart that he took a summer "vacation". In reality, summer is the hardest time for a sys admin at a university because it's the only time the students are away and all system upgrades and maintenance must be performed. In any case we dove back in with the best part of JavaScript promises, two newly added core JavaScript keywords, async and await.
We also chatted a bit about Dorothy's amazing new version of the PBS Index. She's been applying all of her newly-acquired programming skills from PBS to the PBS Index. She's now using Mustache templates, Bootstrap styling utilities, and even AJAX with JSON. The result is a beautiful thing to behold, giving us immediate results as you start to search and more. It's so lovely that Bart has now made a permanent URL for the PBS Index: bartb.ie/pbsindex. Even if you're not following along with Programming By Stealth, go check it out to appreciate how cool it is. Bart says it's officially not a web page any more, it's a web app!
Check out this episode of in your podcatcher of choice under Programming By Stealth or the full Chit Chat Across the Pond feed, or you can always listen over at CCATP #609 – Bart Busschots on PBS 82 of X – Async & Await.
Blog Posts
After Denise say the price is now $2 LOWER than she quoted, the Reafoo WiFi Smart Bulbs are only $11.99 not $13.99.
Support the Show
So you know how Denise told us about the Reafoo WiFi Smart Bulbs and Pat told us about the Griptight ONE Micro Stand? When you go look at their blog posts, you'll notice that there are links to these products. These links go to the products on Amazon. And the Amazon links are Podfeet Amazon Affiliate Links. That means if Denise convinced you that you need to make your house spooky at Halloween and you want an inexpensive way to do it, you can use those links and a small percentage will go to help fund the podcasts. Likewise if you're an iPhone or GoPro or 360 camera fiend, maybe Pat's description of the Griptight ONE Micro Stand compels you to buy one to slip in your pocket or throw in your purse, use the Amazon Affiliate Links again to help fund the show. If you're too lazy to click through, try using podfeet.com/amazon to find all of your electronic goodies.
That's going to wind this up for this week. Don't forget to send in your Dumb Questions, comments and suggestions by emailing me at [email protected], follow me on twitter @podfeet.  Remember, everything good starts with podfeet.com/. podfeet.com/patreon, podfeet.com/facebook, podfeet.com/slack!  And if you want to join in the fun of the live show, head on over to podfeet.com/live on Sunday nights at 5pm Pacific Time and join the friendly and enthusiastic NosillaCastaways.   Thanks for listening, and stay subscribed.