Tom Merritt asked his co-hosts to join him for a Daily Tech News Show bonus show for us to talk about our home audio/video setups. He's thinking if we shared our setups, it might help people who are suddenly working from home for the first time to get some ideas for their own audio and video streaming.
My first move was to share a link to Tom of my live show setup documentation. This was purely for the comedy because it's pretty insane. Each time I get things stable, I think up some new, cool thing I can do. If you doubt me, see last week's post about how I'm trying to figure out how to broadcast live Memoji video of me instead of my real video for when my hair gets too long without a haircut for months.
Then I found out there will be a pretty big group of people on the show so if I get even 5 full minutes to talk it will be a miracle. I also thought, even if I had a lot of time would that level of complexity really help someone who is working from home for the first time?
I sat back and looked at my tools and thought about what makes the process easier, more comfortable, and actually improves the quality of my end products, and but doesn't cost an arm and a leg.
Big-girl Microphone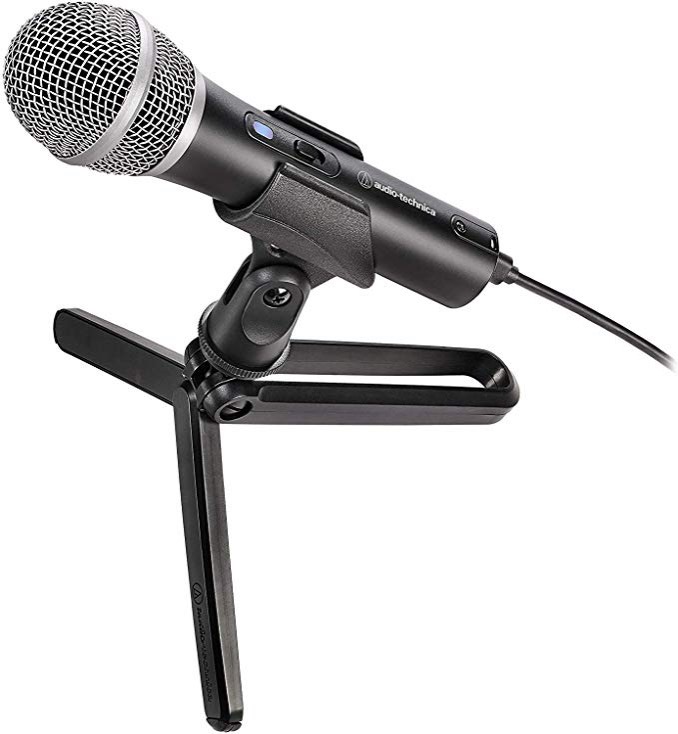 Alex Lindsay once said that the single most important thing about video is audio. That sounds counterintuitive but I think podcaster and catholic priest Father Roderick Vonhögen put it best many years ago when I heard him speak. He said, "Bad audio is fatiguing." You can resonate to that, right? But do you really need a $350 Heil PR-40 microphone to sound pretty darn good?
I did a shootout a long time ago between the inexpensive Audio-Technica ATR2100 and that Heil PR-40 I mentioned and for the money, the ATR2100 performed really well. If you like Bart's voice on his shows and mine, you're listening to an ATR2100. It's not only a great-sounding mic, it can connect via USB to your computer, but can also connect via XLR when you're ready to upgrade to the next level with an audio interface.
The price of the ATR2100 fluctuates quite a bit, sometimes it's as low as $60 but the retail price is generally $99. I went to Amazon to pull a link to give to Tom (one of my Amazon Affiliate Links of course) and I was positively shocked to see it on Amazon for $225. Sometimes you'll see this when a device is no longer being produced, and the ATR2100 has been around for ages, but I looked over on B&H and it was listed at the normal retail price of $99.
I love me an Amazon Affiliate Link but I am not going to recommend something for more than double the price just to make a couple of percent commission! The good news is that when I went back to grab a screenshot for this article, the link to the jacked-up price had been removed. Amazon also has now listed the ATR2100x which is the same mic but with improved on/off switch and it's listed again back to the normal $99 price. It looks like Amazon caught up with those folks and shut them down.
Boom Arm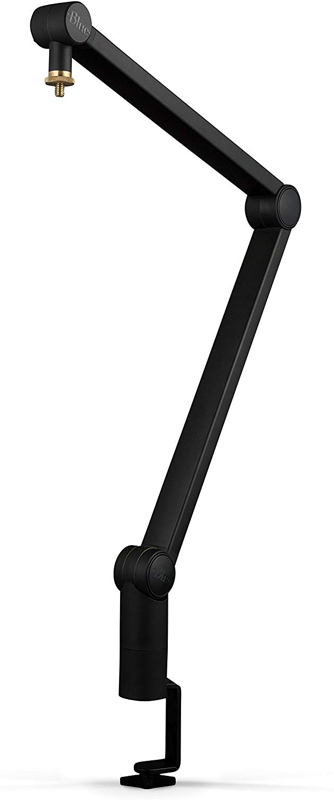 Probably one of the most useful things I've added to my studio is a boom arm to hold my microphone. If you're working from home and that work area is dual-use, it's important to be able to clear it quickly. Having my mic on a boom arm allows me to swing it out of the way when I'm not recording or streaming. When I am recording, I still have my desk in front of me clear.
Up to a limit, the closer you are to your mic, the better the audio will sound. If you're even a little far from the mic, it will pick up lots of room sound. With a mic in a stand on your desk, you'll always be fighting it to find a position where you can be right up on the mic and yet still get to your keyboard and mouse or trackpad. A lot of people go for the Blue Yeti (which I don't recommend because the USB cable is hard-wired into the mic and is easy to break, rendering the mic useless). When it's not broken it's a capable mic and comes built into a stand, but it's super heavy and annoying to get out of the way. If it's on a boom it's right where you need it but only when you need it.
You can spend a fortune on a boom arm, but the Blue Designs Compass boom arm is only $100 on Amazon or direct from Blue. The Blue Compass has nice cable management to hide the mess and has pretty smooth operation.
Comfy Headphones
One thing a lot of people don't think to do when on a conference call is to wear headphones. If you don't wear headphones and instead let the audio come out of external speakers, that audio will feed right back into your microphone to the people you're talking to. It makes for one of the worst experiences. In my opinion, this makes headphones mandatory.
If you're going to be on a lot of conference calls and other streaming situations, you'll want a pair of headphones that are really comfortable. Maybe you can wear earbuds for 6 hours a day and be happy but most people can't. I prefer to wear over-the-ear headphones. 13 years ago I tried on a pair of Bose wired headphones at an Apple Store and they felt like I was putting on a pair of expensive, soft leather gloves for my ears. I didn't care about the audio quality but the comfort sold me on these.
After about a decade the glorious ear cups started to disintegrate but Steve was able to find replacements, so that investment has lasted me a long time. Bose sells the QuietComfrot 35 Bluetooth headphones which might work well, but they do cost $275. If you can deal with a wire, the Bose QuietComfort 25s are a bit less at $190.
Again you definitely do not have to buy Bose or even over-the-ear, but think about comfort and don't skimp on this accessory.
Webcam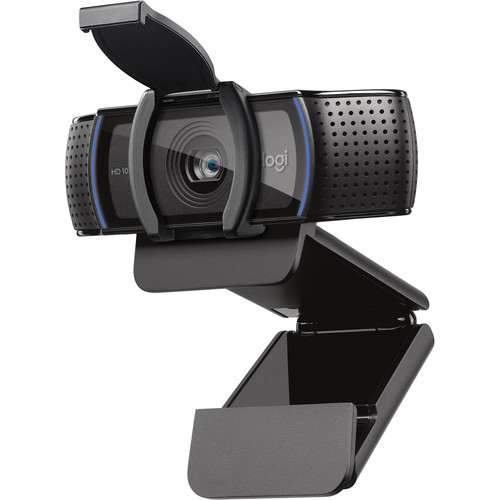 Webcams come built into a lot of computers but they're often not great quality. If you're using a laptop, the angle at which the screen is comfortable might not be an angle that's flattering for the camera. I highly recommend the Logitech c920 webcam. It's 1080p resolution and gives a nice wide angle view and gathers a lot of light.
As of the time of this writing, all of the links to the Logitech c920 on Amazon are seriously price gouging, running anywhere fro $250-330. Based on my other research, I expect that Amazon will crack down on these as well, but we can still buy from other sources. You can buy it directly from Logitech for $79, or for only $70 at Best Buy.
Another option is the Logitech c920s, which is the same camera but with a privacy shutter which could be really nice especially since it will be in your home. Let's spread a little love to B&H Photo, as they have the Logitech c920s for $70 right now.
If you're on Windows, the Logitech cameras come with a capable driver, but they don't ship a Mac driver. The cameras will work out of the box but if you want more control I can highly recommend Webcam Settings from Mactaris, available in the Mac App Store. Webcam Settings allows you to adjust the white balance, zoom in to hide the clutter from the wide-angle lens, and turn off autofocus. By default, the c920 enables autofocus and as long as you stay perfectly still it works ok, but if you move around just a little bit, you'll notice your image goes out of focus and back in which is very distracting to your viewers.
Light
You know how if you try to take a picture without enough light, the image will be blurry if your subject moves even a little bit? turns out the same thing happens with video. If you don't have enough light on your face, your image will look blurry and smeary to your viewers. Make sure to have light in front of you. You can add some backlighting which also helps, but try to set up your work area so you always have light on your face.
You don't have to have a fancy LED light panel, but just make sure you have front lighting. With Webcam Settings or the built-in driver for the Logitech c920 you can change the exposure time so you get the crispest possible picture.
I haven't used this one yet, but I bought the Niulight desk lamp on a boom arm with a ring of dimmable LEDs for Steve for his birthday for his studio lighting. Shhh. don't tell him!
Bottom Line
I hope in a few months we can get back to trusting the first price we see online. Last week I tried to buy some sparkling water for $13, thinking at the last minute to check that price, and found out the going retail price is more like $3! Before you buy any gear, check around to make sure the price isn't inflated by unethical profiteers.