Hi, this is Allison Sheridan of the NosillaCast Apple Podcast, hosted at Podfeet.com, a technology geek podcast with an EVER so slight Apple bias. Today is Sunday, March 29, 2020, and this is show number 777.
I'm sad to say that this is the last week of CES interviews. I want to thank Steve yet again for his tireless work putting these together. He not only happily does the recording during the convention:
He exports just the audio portion to a folder on our Drobo so I'll have it for the show
He edits the videos adding the graphics and music
He looks up the contact information to make sure he has the person's name called out properly
He looks up specific information from the vendors about the products & figures out their Twitter handle
He posts it all to YouTube and adds all the tags
He checks to make sure YouTube has auto-generated the captions, and if it hasn't for some odd reason, he pipes the audio out to otter.ai and generates the SRT file for closed captions and imports it to YouTube so the hearing-impaired can read along
He Tweets it, puts it in our Facebook group and posts it to our Slack community
He updates our Airtable database
And you know what I do? I drag the audio file into Hindenburg. Yep, the first few months of the year are so very relaxing for me. I can concentrate on programming, I can work on my ScreenCastsOnline videos, I take longer dog walks and even watch a little TV at night.
But that gravy train is over for the year after this show.
Chit Chat Across the Pond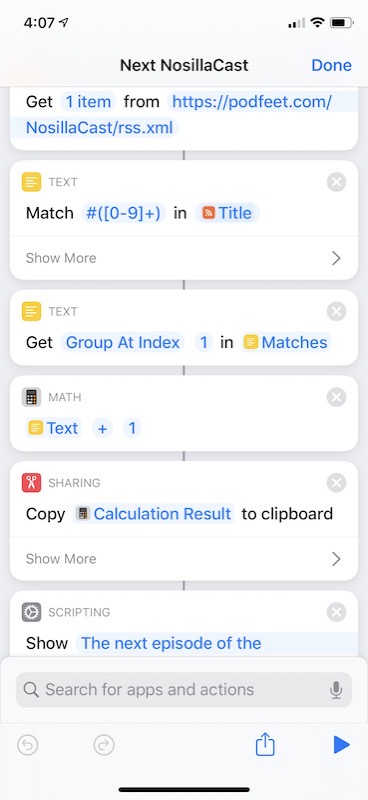 This week's Chit Chat Across the Pond is the brilliant Rosemary Orchard . Rosemary is the author of the Take Control of Shortcuts book and co-host of the Automators Podcast with David Sparks at relay.fm/automators. I asked Rosemary to come on the show because I absolutely love automation (maybe not as much as her) but I have never figured out a single Shortcut that was actually useful to me.
I asked her to come on let me play the recalcitrant child saying "Shortcuts are dumb!" and she would play the part of the patient teacher and show me how to do some useful things. We had an absolute blast talking. It's sort of a hands-on episode where she actually creates some shortcuts live while we're talking.
After the show, I chatted with her about a few other things I thought Shortcuts could do and before I could even try to make one, she'd sent me the solution. You know how I'm messing up the episode numbers because evidently adding 1 to the previous episode is beyond my skill set? She created a shortcut for the show to solve this. All I have to do now is say, "Hey S-Lady, Next Chit Chat Across the Pond" and she'll tell me the number. Isn't that awesome?
She did it by grabbing my RSS feed, grabbing the last episode, and then parsing the episode number using regular expressions like we learned about in Programming By Stealth and then adding 1 to the latest number. Brilliant. I did kinda want to do it myself but I am definitely not skilled enough (yet) to have pulled it off. The good news is that I'll never say the wrong episode number again. 🤣
As always, you can find this episode in your podcatcher of choice by looking for Chit Chat Across the Pond Lite or you can listen right over at podfeet.com.
Blog Posts
I thought the Tanvas touchscreens were crazy cool. It's definitely in the far future category but it was really fun to see that future.
After I wrote this up, the Logitech c920 disappeared again at normal prices. I still think it's worth waiting for and I bet Logitech is going crazy trying to make them as fast as they can.
Support the Show
Last week I explained that I wanted you to stop your Patreon contributions if you're in any way affected financially by the current situation in the world. One listener, Lewis Butler did just the opposite, he became a patron of the Podfeet Podcasts. This is completely unexpected and I really appreciate it. But seriously, folks, we'll be fine here if you feel you have to stop for a while.
If you're looking for a non-financial method of supporting the show, maybe write a review in whatever iTunes is calling itself now – is it the Podcasts app maybe? Or go over to our Slack group at podfeet.com/slack and contribute some thoughts. Add deals you find into our deals channel. Or maybe give some encouragement to NosillaCastaways who post in nc-show-off, a channel designed for the community to show off cool things.
I love this channel because it gives members the invitation to show off things they're excited about. Bart posts there when a new episode of Let's Talk Apple or Let's Talk Photography goes up. Allister posted an article he wrote as a follow on to the DxO PhotoLab 3 review he did last year. He demonstrates in that post before and after images on how much better sharpening and clarity he gets with DxO over Luminar. The Mac Quad posts whenever he's live-streaming his music channel on AudioReverb. And Dorothy just posted some stunning photos of tulips using the new Olympus Macro lens she got for Christmas.
The community is so important to me, I hope you'll join in the fun and leave your wallets to better endeavors.
I've been in touch with the Matias folks and they're going to send me one of their keyboards to try out so a review will be along soon after.
And now, for the finally CES 2020 interview, which Steve very carefully chose for just this honor.
That's going to wind this up for this week. Don't forget to send in your Dumb Questions, comments and suggestions by emailing me at [email protected], follow me on twitter @podfeet.  Remember, everything good starts with podfeet.com/. podfeet.com/patreon, podfeet.com/paypal, podfeet.com/facebook, podfeet.com/slack!  And if you want to join in the fun of the live show, head on over to podfeet.com/live on Sunday nights at 5pm Pacific Time and join the friendly and enthusiastic NosillaCastaways.   Thanks for listening, and stay subscribed.