Hi, this is Allison Sheridan of the NosillaCast Apple Podcast, hosted at Podfeet.com, a technology geek podcast with an EVER so slight Apple bias. Today is Sunday, June 5, 2022, and this is show number 891. Remember if you're planning on watching the WWDC Keynote, all the cool kids will be hanging out in the Podfeet chat at podfeet.com/chat at 10 am Pacific Time on Monday. Steve and I won't be talking over the show; we'll be like everyone else texting away saying, "Wait, what price did she say for the new AR goggles?" In any case I hope you can join us along with the friendly and enthusiastic NosillaCastaways.
Ask Me Anything … About Security with Bart Busschots
In a future episode of Chit Chat Across the Pond (hopefully 11 June 2022), security enthusiast Bart Busschots would like to open up the floor to answer your security questions. Think of it as an Ask Me Anything … about security.
This is your chance to ask the "Dumb Questions" that have been bothering you for a long time. These are the questions you think everyone else knows the answers to, but I guarantee you we don't. While Bart and I tend to talk primarily about Apple products, your security questions can be much broader than that.
Maybe you have a question about opening ports on your router to access your PLEX library outside of your home network. Maybe you want to know how often to apply patches to your Windows computer and how to tell when it's no longer getting patches. Maybe you want advice on how to talk to your brother who you know is not as secure as he could be but he hasn't listened to your advice in the past. Maybe you want to know why a dedicated password manager is any better than using the password management built into modern browsers like Microsoft Edge and Firefox. Maybe you've been hearing a security acronym or jargon and you don't know what it means.
If you'd like to be referenced by name, please tell us how you'd like to be addressed. For example, "Steven from Canada asks…" If you don't tell us how you'd like to be addressed, we'll assume you would prefer to be anonymous.
The sooner your question gets to us, the more likely it is to be answered because Bart will have more time to formulate his answer. If we get enough questions, we'll be recording the answers on the show scheduled for 11 June 2022. If we get too many questions to answer in one session, we'll do another show at a later date.
Please send your questions to [email protected] and I'll share them with Bart. We're looking forward to hearing your questions.
Update on PIA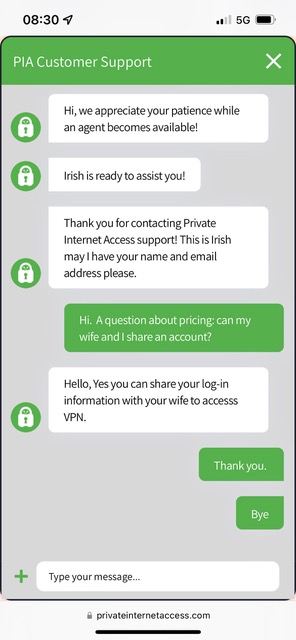 In last week's show, I gave you a marathon talk about how Consumer Reports had evaluated a lot of VPN services, and narrowed it down to 4 recommendations. I then walked you through how I made my decision to choose PIA (Private Internet Access) as my VPN. I missed something pretty major and I slapped my forehead when Steve Davidson pointed it out to me. Remember one of my decision criteria was whether there was any kind of family plan? While I asked that question of some of the other candidates, I never asked the folks at PIA. Luckily Steve did.
He contacted PIA customer support through text and asked them whether he and his wife could share an account. PIA answered, "Hello, Yes you can share your log-in information with your wife to accesss VPN." He even captured a screenshot of his conversation to prove it. I've included it in the shownotes for you to see. Remember that PIA is $12 if you buy month to month for 5 devices, and significantly cheaper if you get one of their annual plans. I'm not quoting exact pricing because they're still fixing their pricing pages but it gets as low as $2/month.
Now here's the bad news. I read Steve Davidson's email after Steve and I each bought 2-year plans! Oh well, if you haven't purchased PIA yet, at least you know now that you can share your plan. Thank you so much, Steve, for bringing this to all of our attention.
I want to also thank the 14 people who used my PIA referral link to sign up. After they cross the 30-day threshold of paying for PIA, they get a free 30 days and so do I. That means I might get an entire extra year, how cool is that? If you'd like to use it too, look at the bottom of your podcatcher to find the link to sign up for PIA.
And one more thing. If you tried PIA on an iPad and were annoyed like Steve Davidson and I both were to find out it only works in portrait mode, I have a very easy fix for that. It turns out it's only the initial login screen that's in portrait mode. Tap the login button, and it will stay in portrait mode. As soon as you're logged in rotate the iPad to portrait and back to landscape and then it will work in landscape mode like nature intended!
Blog Posts
This has been a very good week for people supporting the shows we do here at the Podfeet Podcasts. We have a new patron named Scott Kelsey. Scott went to podfeet.com/patreon and signed up to pledge a dollar amount that was right for him and showed the appreciation he has for the knowledge he gains and the entertainment he receives. Not to be outdone, existing patron Graham Kelly increased his pledge!
In a moment of delightful comedy, Martin Stein sent me a note explaining in distress that his credit card had expired on Patreon but that he had corrected the issue and that he hoped this would put him back in my good graces. His message came just in time because I was about to forward the issue to our NosillaCastaways Membership Card department to begin revocation procedures.
Do you remember me singing the praises of Bill Reveal, the man nearly solely responsible for the speed increase of podfeet.com? He worked tirelessly with me for hours and hours moving and cleaning my database of those pesky encoding problems and rebuilding podfeet.com from scratch. Do you know what that man just did? He sent me a one-time donation via podfeet.com/paypal. I couldn't believe it. He's got credit in the bank with all of us for the next decade and then he does a fool thing like that. Of course I graciously accepted his donation.
That's going to wind this up for this week. Did you know you can email me at [email protected] any time you like? If you have a question or a suggestion just send it on over. You can follow me on Twitter at @podfeet. If you want to join the conversation, you can join our Slack community at podfeet.com/slack where you can talk to me and all of the other lovely NosillaCastaways. Remember, everything good starts with podfeet.com. You can support the show at podfeet.com/patreon or with a one-time donation at podfeet.com/paypal.  And if you want to join in the fun of the live show, head on over to podfeet.com/live on Sunday nights at 5pm Pacific Time and join the friendly and enthusiastic NosillaCastaways.   Thanks for listening, and stay subscribed.