Hi, this is Allison Sheridan of the NosillaCast Apple Podcast, hosted at Podfeet.com, a technology geek podcast with an EVER so slight Apple bias. Today is Sunday, October 2, 2022, and this is show number 908.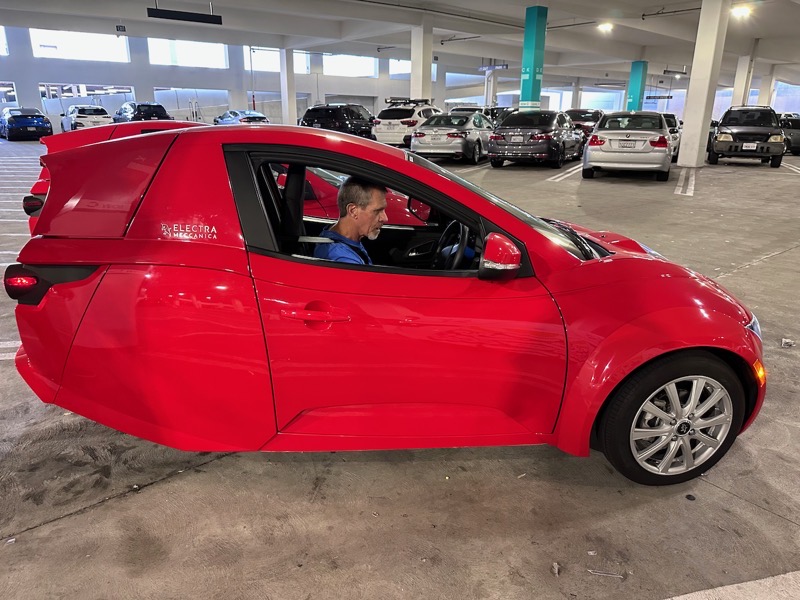 About a week ago our buddy Ron saw a three-wheeled electric vehicle driving near where we live. He figured out that it was the Electra Meccanica Solo. I got curious about the car and went to the website and discovered that they had the Solo at my local mall and I could even test drive one. Of course, I immediately told Bodie Grimm of the Kilowatt Podcast about it. The Solo is actually starting more production right near his house so he also could do a test drive. We made a pact to both do the test drive and then get together on his show to talk about it.
I'll do a tiny bit of a spoiler here. this vehicle is not for everyone, but at $18,000US for a single-person car that you can charge overnight on a 110V outlet, it's pretty intriguing. Steve also drove the Solo and we both thought it was super fun.
I highly recommend you check out the Kilowatt Podcast in your podcatcher of choice, and look for the episode entitled, "Electra Meccanica Solo Test Drive" (or just follow the link in the shownotes).
Articles
You know who's awesome? John Murray. John heard me say that you can make one-time donations via PayPal, so he went to podfeet.com/paypal and chose a dollar amount that demonstrated the value he gets from the shows we create here at the Podfeet Podcasts. Not only that, he wrote a lovely note to go along with it. He wrote:
Thank you for another quarter of great shows and sharing your expertise. Even when you were on vacation, the shows kept going. Thank you and the rest of the great hosts!
He made my day, and it made me happy that he recognized the contributions that Bart and Allister make to keep the streak alive. If you'd like to be cool like John, consider a one-time donation to show your appreciation.
That's going to wind this up for this week. Did you know you can email me at [email protected] any time you like? If you have a question or a suggestion just send it on over. You can follow me on Twitter at @podfeet. If you want to join the conversation, you can join our Slack community at podfeet.com/slack where you can talk to me and all of the other lovely NosillaCastaways. Remember, everything good starts with podfeet.com. You can support the show at podfeet.com/patreon or with a one-time donation at podfeet.com/paypal like John Murray.  And if you want to join in the fun of the live show, head on over to podfeet.com/live on Sunday nights at 5pm Pacific Time and join the friendly and enthusiastic NosillaCastaways.   Thanks for listening, and stay subscribed.