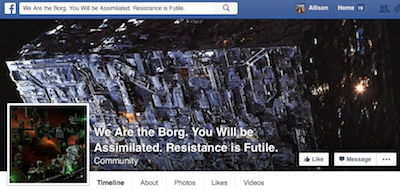 When I started this podcast it was all for the love of tech, but over the years it has become something much more than that. Steve and I have developed life long friendships with people across the globe because of the NosillaCast community. I don't take for granted all the friends we've made, many of whom we've never met in real life.
Several things make the NosillaCast community strong. If I just had an email address or blog comments where you could contribute, all conversations would be many to one; e.g. from you to me. When I started the live show, I had no idea that it would create friendships between NosillaCastaways that had nothing to do with me. I was a little bit jealous at first but then I realized that this thing is much bigger than me.

A while ago I read an article in Wired about how in the old days people got together to play bridge (they probably still do) and that it wasn't about bridge, it was about getting together on Friday night and having cocktails and singing and maybe playing a bit of bridge. The live show is kind of like that – it's a gathering place for friends. My contribution has reduced in importance, in fact I'm often referred to as "that annoying woman talking in the corner" by the folks in the chatroom during the live show, but I'm cool with that.
Then we expanded to have the Google Plus community (podfeet.com/googleplus). That's more of a technical conversation over there, but I have loved watching the NosillaCastaways helping each other every day. Google Plus really is designed with communities in mind so it works really well for us. There are things I would improve, and their recent user interface overhaul made it harder to use, but the NosillaCastaways community is still a really great place to get help, ask questions and maybe even show off a little bit.
But then there's Facebook. I really don't like Facebook but I feel like resistance is futile. I feel like it has so much gravity now that I can't stay out of it. I also fear that if we opened a community in Facebook, we would ADD to that gravitational force! I also worry that it's hard enough to participate in one community in G+, having to pay attention to two communities would be even harder. But on the other hand, if the global population is any indicator of our population, expanding to include Facebook would encourage more people to play.
On the other other hand, there are a fair number of NosillaCastaways who wouldn't join Facebook if you held a gun to their heads: Bart, Dorothy, and George from Tulsa to name a few. I couldn't and wouldn't kill off the G+ community because it's already so much fun that wouldn't make sense. It's growing every day so I know people like it.
On the 12th hand, every time I post an article or a podcast, I already post it to what I think is a Facebook fan page so I could kill that off and replace it with a Facebook Group. The current Facebook fan page is really not designed for interaction so it's not very fun. I want you guys to be able to talk to each other, not just to me!
As you've probably figured out, I've been having this argument with myself for quite some time and I really really don't want to create a Facebook group but I bet if I did it would be super fun and people could help each other and it would be awesome.
What do you think? If you've never joined the NosillaCast G+ group, was it because you don't "do" G+ but you would participate in a Facebook group? Would you think less of me if I created a Facebook group? Should we give it a try and see what happens?