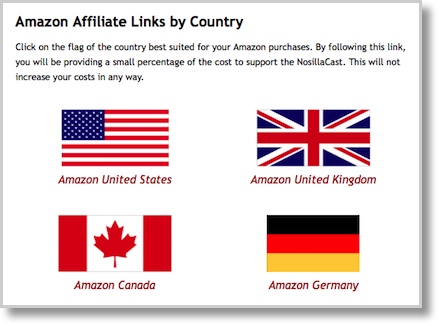 I'm one of the luckiest people around to have the NosillaCastaways as my friends and supporters. One way many of you have shown your support is by using my Amazon Affiliate link to buy your gadgets and sundries and such.
A lot of you live outside of the US and have been asking me for a long time to come up with affiliate links for the Amazon stores for your countries. This week the most awesome Roger Nash suggested I get it in gear and make one for the UK. He was just about to make some big purchases and he wanted to help the show with his purchases.
Well, I am pleased to announce that we now have Amazon Affiliate links for the United Kingdom, Canada and Germany! I'm so excited to have this done! I created a page called Amazon Affiliate Links By Country and if you go there you simply click on the pretty flag for your country. Steven Goetz found the flags for me (and pushed me to get this done so many thanks to him).

I also put a form on this page where you can request a country to be added and I'll consider it. If I get enough enthusiasm for a country I'll definitely get it going. You can also get to this page by looking under the giant Amazon logo on podfeet.com and clicking the link to the by-country page.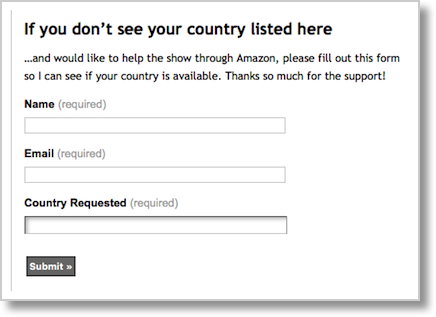 I'm rather proud of my page of flags because I used the Flex Box Model Bart taught us in Episode 9 of Programming By Stealth, so no tables were harmed in the making of this web page. Ok, to you it just looks like a table, but I walked around with my chest puffed out with pride that I used Cascading Style Sheets with HTML to make this look so good.
Now that I've made the big announcement, let me tell you about how the sausage got made to get these affiliate links going. It turns out that every single Amazon Associates program is operated independently by country. That means that for each country, I have to sign an agreement, set up a payment method and supply my tax ID information.
While that's a bit of a pain, it gets harder than that. In each country you have a choice of whether to get paid by Amazon gift card, direct deposit to your bank, or by check. Gift card sounds awesome … but it's only for that country's store, so I'm not allowed to use them. Ok, direct deposit would be great. Except that while they have lots of countries to choose from for the bank location, the United States isn't in the list.
Ok, well check it is. Unfortunately, there's a $15 fee for every check they clear AND they only pay you after you get up to a specified amount of money. To minimize the impact of the $15 check fee, I set every country to be the equivalent of $100US. As an associate, I get paid a small percentage that varies by what you guys buy, but it grows over time. When I first started out it was at 3%, but some stuff gets me 6% on the US store now. It looks like each country is starting me back at the 3% line. That's cool, but it means that you guys will have to spend over $3000 in each country before I'll get paid my first check for $85. That's cool though, now that it's done it's no work to maintain going forward.
There were more interesting complications to this whole thing. When I signed up for the UK, they had a page where I could just click radio buttons next to a bunch of other countries including Spain, Germany, France and Italy. I thought I was knocking off 5 countries in one. Instead they each sent me emails asking me to set up my payment method and Tax ID…but they sent the emails to me in their native languages!
So now I've got Helma who has asked for the German store to be turned on (she's in the Netherlands but the German store is the best one for her), but do I dare guess whether I'm answering the right questions when I fill out the forms? The websites LOOK close to the same, is it safe to guess where my Social Security Number goes?
I was going to enlist Claus Wolf's help to translate at least the German state for me but then I remembered that Google will translate pages for you. I pasted the link to the German Amazon Associates page into Google translate and it worked quite well. Every time I moved to a new page though, I had to click translate again. Finally Google said, "Hey, if you'd just open this page in Chrome I'd translate continuously for you!" Moved over to Chrome and it worked perfectly. With the exceptions of the buttons that graphically had german words on them, everything looked 100% as though it had been written in English by a native speaker.
Like I said up front, I've gone through it for Germany, Canada and the UK and if you think you'd use it for your country please let me know. I'm going to rest for a bit now, I hope you guys will remember podfeet.com when you go shopping on Amazon.