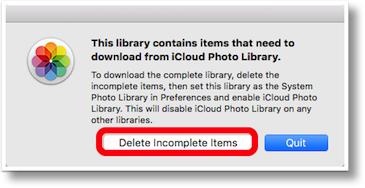 So now that I've got my shiny new Samsung T3 USB3 external SSD, let's see if I can figure out how to use this for my real Photos library. Since not everyone uses Photos, let me explain some details of how this works. Photos, like its predecessors iPhoto and Aperture, can handle multiple libraries. But one library is special and it's called the System Photo Library. The System Photo Library is special because it's the only one that can be shared via iCloud Photo Library. I have a few little photo libraries but I'm going to move my big System Photo Library that syncs across with my MacBook, two iPads and an iPhone.Now that I have a copy of my library over on the external T3 SSD, I need to tell the Mac to open that library instead of my internal library. As with most Apple applications, you simply hold down the option key when launching Photos and it allows you to select a different library to open. It normally shows you the ones you have internally but it also has a button for "other library" which allowed me to open the new one over on the T3.
Next came a VERY terrifying message. It said,
This library contains items that need to download from iCloud Photo Library. To download the complete library, delete the incomplete items, then set this library as the system photo library in Preferences and enable iCloud Photo Library. This will disable iCloud Photo Library on any other libraries.
The only option is to Quit, or Delete Incomplete Items. The message was too cryptic to understand what it meant, so I went to the Apple discussion boards to see if someone else had cracked the code. I found tons of people asking the question and speculating on what it meant, but no clear answer. After a day or two I went back, closed my eyes, and clicked Delete Incomplete Items. Nothing bad happened.
After just a few seconds, my Photos library on the external T3 opened up without issues. Whew! Next I opened up Photos Preferences as instructed, and under General, clicked the option to Use as System Photo Library. And that's when I saw a message that was too scary to keep going without adult supervision. It said,
Switching the System Photo Library will turn off iCloud Photo Library. Any photos and videos that have not been fully downloaded will be removed from this Mac. Turn on iCloud Photo Library for this new System Photo Library in Preferences.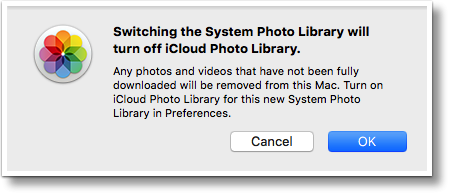 Yeah, I wasn't going to push OK on that one until I was sure what it meant. I wanted to talk to Apple anyway because I wanted to see if there was going to be a path where all of my photos wouldn't have to stream up to the cloud and back down again. With a library this big, even with good bandwidth it takes literally weeks for the photos to travel round trip to the cloud and back down to all of my other devices.
I rang up AppleCare and got my little friend Erica on the phone. Erica was awesome. She was knowledgeable and fun and knew exactly what was going on here. She explained the process I was going to go through. The warning about removing items not fully downloaded is intended to let you know that if you don't have the originals locally, the optimized images will be removed. That makes sense when you think about it. If you only have optimized images, and you're switching libraries, under normal circumstances those would be completely different photos so you'd need the old ones removed. In my case though, she assured me that my local originals would be intact after pushing OK.
Before letting me proceed though, she suggested we go to iCloud.com and verify that my most recent photos are really up in the cloud. Would you believe I had no idea I could see my photos in the cloud? Since I have this giant library, it was going to take a while for it to prepare the photos to show me, so I tried to entertain Erica as long as I could in hopes that it would finish.
Even though I showed her my website and told her about the podcast and vamped as long as I could, it was taking too long to keep her on the phone. She told me that when it finished I should verify my most recent photos and gone up to the cloud. If the most recent were up there, then the process she was about to give me should work.
She said to first select the new System Photo Library which would turn off iCloud, but then immediately I should turn iCloud back on with the new library. She assured me that it would switch over quickly and that Photos would not re-upload all of my photos again.
I had another thought I ran past her. It would be super cool if I could move this new little external SSD back and forth between my two Macs and have it be the System Photo Library on both. I asked her if by any chance that would work. She said absolutely it would work. She said she helped a photographer do that very thing a few days back. I was delighted.
Erica made sure I had backups of my library before she'd let me go. I told her that I was afraid and that I wanted her to hold my hand, but she said, "You got this, girl!"

I followed her instructions and sure enough I was able to reenable iCloud Photo Library on the new library. But you know what happened, right? You can see it coming a mile away.
The photos started streaming up to the cloud. Seriously. "Uploading 61,498 items". Good grief.
I called back to AppleCare and got my little friend Alex. Luckily I had opened Clarify and took screenshots of every step as I followed Erica's instructions so when Alex did a screenshare with me he could see step by step exactly what I'd done. He told me that Erica's information was correct and that he would have told me to do exactly what I did. He didn't understand why it was uploading all those files again.
He spoke to a senior advisor, and the advisor told Alex that I should have command-dragged the library to the other disk so that it moved, instead of copied the library over to the external drive. He said had I done that, it would have worked as we'd hoped. That actually makes sense to me, because Photos wouldn't be looking at a copy of the library, it would be the same library it had always been looking at.
Since the copy only takes a half hour or so, but the upload takes weeks, I told Alex that I'd like to try again and start over. But of course that opens up the question of whether it would bork my library if I stop halfway through this upload, right? I also asked Alex whether I have now used 800GB of my iCloud storage instead of 400GB? Alex decided at this point my questions were getting too hard and he'd send me off to a senior advisor.
Unfortunately Alex handed me off to an advisor I can only call Charles. Charles was no help at all. Evidently he wasn't the advisor who suggested moving rather than copying the library, and he said that the other advisor was wrong about that. He tried to convince me that the photos were not going up a second time. I showed him the iCloud window showing status that said, "Uploading 61,485 items (4.39GB of 325.73GB)". I showed him the graph in iStat Menus for my network that showed lots and lots of spikes of traffic that coincided with the uploads shown by iCloud.
He ignored these rather scientific, fact-based metrics and instead had two things to back up his opinion: 1) he knew someone who did this with their library once, and it didn't duplicate all of the photos, and 2) he was watching my item count on iCloud Photos and it wasn't going up while we were talking. Yup, he used anecdotal evidence to support his claim and wouldn't admit that my facts were, perhaps, more compelling.
I'm not 100% certain he's wrong in spite of his idiotic way of getting there. While Photos has been running for 20 hours as of the time of writing this, most of the time it says "Adding items", and only occasionally does it say "Uploading". When it says uploading, I can see the traffic, but when it says adding, there's very little network traffic. the only thing I can figure is that it's going through every single photo and checking to see if it's there, and somehow some reasonably large percentage of the photos had not actually ever been uploaded. After 20 hours, my library is 11% done.
It looks like I'm in this for the long haul … again.  Just like I was hoping to avoid.
---
Update
After 40 straight hours of uploading, Photos showed 191GB of 199GB uploaded. When I came back to the house about 8 hours later it was finished. I suspect it was just about done at 40 hours.
I remain baffled as to why it did any uploads, why it uploaded only half the volume of data, and how it got it done so quickly. However, my Macs my iPhone and my iPads again have all of my photos and are updating as I add more, so all's right with the world.
Now do I feel lucky to try using the external SSD with my MacBook?