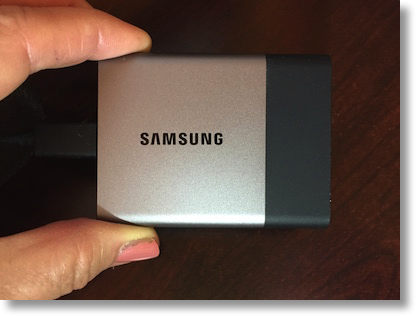 I mentioned a few weeks ago that I'd decided to move my giant photo library of doom (tm Donald Burr) off of my Mac and onto an external drive. I didn't want to sacrifice any speed, so I bought the Samsung T3 1TB USB 3 drive with USB-C connectivity to accomplish this goal. As I'd hoped, this drive is wicked fast. Let's go through some stats, shall we?
The drive is spec'd out at 450MB/sec. We all love the free Blackmagic Disk Speedtest, so we'll take a look at that first. Blackmagic showed reads of 421MB/sec and writes of 365MB/sec. I think that's the closest I've ever seen a drive perform to its rated specs!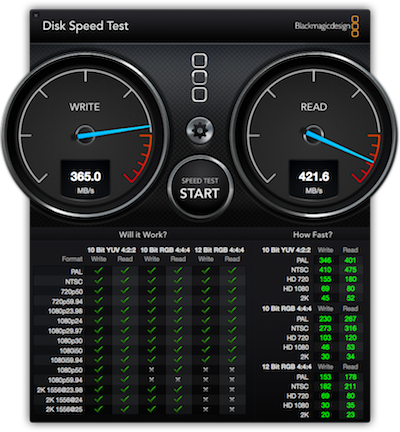 Remember that the Blackmagic test is designed to test your drives to see if you can use it for real time video editing, not editing photos so this isn't a perfect test but it's still interesting. The T3 did perform quite well for all but the highest level video editing which was pretty cool.
But let's look at a more practical application for most people listening. I moved my 400GB Photo Library over to the drive, and it started in the high 200s, then peaked at 398MB/sec, and at the very last few minutes of the copy it dropped back down a bit under 200MB/sec. The entire 400GB moved in a little under 34 minutes. That's amazing, isn't it?
I can definitely say that I recommend the Samsung T3 1TB USB 3 SSD. As a reminder from last week, that will run you $428 on Amazon right now. They have the 500GB model going for $218 and 250GB for $130 if you aren't as much of a disk hog as I am.