Last week the company Smile announced big changes to their software TextExpander that were not well received by their customer base. Smile co-founder, Greg Scown, was my guest on Chit Chat Across the Pond to talk about it. Before he came on the show, I decided to send him my outline of what I would be asking. In that email I explained that I was planning on being hard on him, and challenging their new direction. I told him that while I respected him and his company, I had serious problems with their decisions. After reading my email, Greg still agreed to come on the show.
When we finished recording, as hard as I was on him, he actually thanked me for having him on the podcast. After the podcast aired, I got a lot of kudos for not going easy on him. The sentiments against their decisions were nearly unanimous. Out of probably 50 comments on the blog, Facebook, G+ and Twitter, only two people who responded were in support of Smile's decisions.I made a point at the beginning of the recording to say that Smile is not a sponsor. I did that to make sure everyone knew it was an unbiased interview. Pointing that out had an unintended consequence. I got feedback saying I was a much better podcaster/reporter because I didn't pander to Smile in my interview, and suggestions that other podcasters fell short.
This made me do some soul-searching. How would I have conducted such an interview had it been Bluemango Learning, makers of Clarify and ScreenSteps, who had misstepped according to popular opinion? Could I have been unbiased and tough on them? I suggest to you that I could not. I think at best I would have posted saying something to the effect that I shouldn't comment because it would be biased. I would like you to consider that when judging other podcasters who do have Smile as a sponsor. No pedestal is warranted for Allison here, ok?
Now let's get back to Smile, because I want to sing their praises. A company that never makes a mistake is a wonderful, but very rare thing. A company that makes a takes a misstep with their customers and then changes their direction because of overwhelming customer feedback is perhaps almost as rare.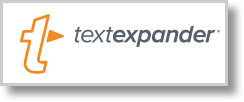 This week Smile, because of the feedback they received from so many of you, decided to continue selling their standalone version of TextExpander. They recognize now that a pretty loud percentage of us do not have a desire or requirement to share our snippets, and we want to keep our snippets encrypted.
They also recognized that the price hike to go to the subscription model was more than the perceived value to existing customers. Because of this feedback, they decided to modify their subscription pricing for existing customers to be a 50% discount for life, or $20/year, which is much more in line with what existing customers feel is the value of the product.
As of right now they don't have encryption at rest on their subscription service, but I know that they heard this concern as well. I hope they will find a satisfactory technical solution to this but we'll have to wait and see.
Before Greg ran the idea of these changes by me, I was preparing to give you a trade study of the alternative products to TextExpander. When he went public with the announcements, I deleted my spreadsheet and trashed all of the applications I had begun testing.
Smile has shown itself to be a company with leaders who have integrity, are willing to listen to their customers and even change their path given the right feedback. I feel good about having taken part in this process, and I remain a loyal and paying customer of Smile because of it. As Rose from Tasmania would say, "Good on ya, Smile."