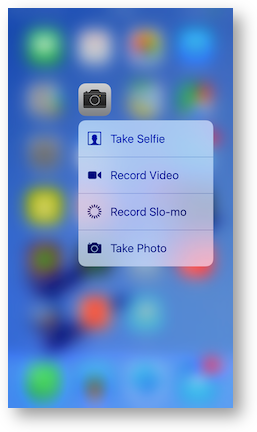 If you've got an iPhone 6s or above, you have access to a technology called 3D Touch, not to be confused with Force Touch on the newer MacBook trackpads. I think 3D Touch is one of those things Apple puts into devices that requires some effort to see if it has any value to you. When it was first introduced, apps had to be rewritten to give you information with 3D Touch. This means that if you tried it early on, you likely gave up on it as a silly gimmick. My goal in this article is to reveal how useful it actually is now. Hopefully this will convince you to give it another try and if you don't have a 6s or above, maybe you'll have some renewed excitement about the newer models. We'll see if I succeed.
First of all, let's try to define 3D Touch. You know how you press and hold to get the icons to jiggle so that you can move them around or delete them? Well once you have 3D Touch it's really hard to get into that mode. When you press and hold lightly, the icon highlights and all the others get blurry but the little x doesn't come up and none of them jiggle. Press harder and you'll activate 3D Touch. You know you're in 3D Touch because you'll get some haptic feedback along with a pop up over a nice light grey background. Maybe I'm just unskilled and uncreative on how to do it, but for the life of me I can't delete or move apps any more. Oh well, 3D Touch is the new hotness!
I have 158 apps on my iPhone 7+, and because I'm a giver, I took one for the team and tested 3D Touch on every single one of them. If an app doesn't have 3D Touch support, you simply get the option to share the app to your pals. Luckily for you (and me), only 62 of my 158 apps had 3D Touch support. Let's take a look at what 3D Touch can do.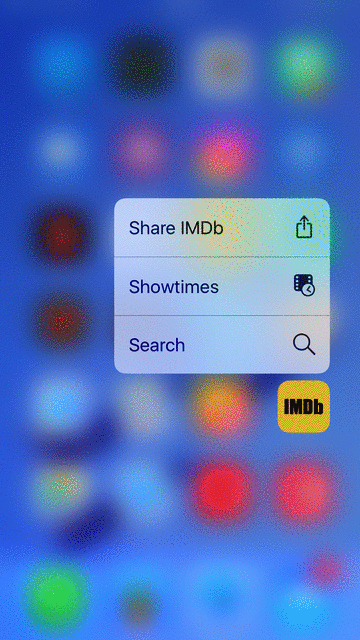 Apple Photos lets you choose to jump right to your most recent photos, your favorites, or those from one year ago. That last one is kind of weird but it's part of Apple's strategy to reveal fun and interesting albums. Speaking of fun, Photos in 3D Touch also showed me an album called Together (which was all photos Steve and me). Another album it revealed was called On the Water, which as you might expect were water photos. The weirdest one was of precisely November 25-26th of 2010 (???) and what Photos decided were Best of the Year. Kind of an eclectic set, don't you think? And of course I pressed them and lost a bunch of time enjoying my photos which I suppose is the point. I'm not sure those were things I needed at my immediate fingertips though.
Messages seems much more in tune with the immediate need. 3D Touch reveals New Message, or a list of the three most recent people you've messaged. That seems super useful.
Calendar is just as useful because it gives you an instant glance at your upcoming calendar events and a button to add a new event. Quick and easy.
I find the App Store one of the most annoying apps I can't live without on my iPhone. I always want to go right to search. Well, with 3D Touch you can jump straight into Search! You can also redeem a gift card which is silly to have so easily available because how often does that happen? It also lets you jump to Purchased items which could be handy.
I'm definitely going to use 3D Touch on the Phone itself. It presents your first four favorites so I can talk to Steve, Lindsay, Kyle or our local pizza parlor really quickly! You can also create a new contact, and if you're forget who you are, there's a Show My Info button.
Another app that I love and yet irritates me is the built-in Camera app. I'm sure you have the same problems as me: you open the Camera and no matter what you want to do with it, it's set to something else. Want to do a video? It will be on Slo-Mo. Want to take a regular photo? It's set to the Selfie camera. You're with me, right? With 3D Touch you can jump right to Take Selfie, Record Video, Record Slo-mo, or Take a regular Photo. Once I found this option in the Camera app, 3D Touch became my new best friend.
Apple Maps has some functions but they're really dumb. In my test at least, it gives me options to Mark My Location, Send My Location and Search Nearby. Certainly nothing to get excited about. Google Maps was slightly more useful, it showed options for Directions to Home and Work. Waze does even more. Along with drive home and work, it realized I didn't have a work address identified and offered to add one for me. I respectfully declined but it was a nice offer. Waze also lets you search addresses and send your location. In the last few days Steve and I did quite a bit of driving and I have to say being able to pop right to drive home within Waze from 3D Touch was really efficient.
Another app that's great for sending your location is called Glympse. We've talked about it a few times here. It lets you send an email or text to people with a defined destination so they know when you're going to arrive. They can see you get stuck in traffic and make appropriate plans. A recent enhancement was the ability to save favorite people and associated locations. With 3D Touch now, I can press on Glympse and instantly tell Lindsay, Nancy, Jennifer and Merlee that I'm on my way.
One of the dangers of Facebook is that you get sucked into it, and 3D Touch will only make this worse! You can jump immediately to write a Post, upload a photo or video, or take a photo or video. If you're going to get sucked into Facebook anyway I guess doing it efficiently is a good thing?
I'm a huge fan of the messaging app Telegram. With 3D Touch I can bother the top three people I talk to the most because they're revealed to me automatically with 3D Touch or I can start a new message to someone else.
I'm skipping apps that don't have enough in them to be interesting, but I have to call out Apple themselves for the dumbest 3D Touch. If you use it on the Apple Watch app, your only option is to pair an Apple Watch. Seriously, you do that once, maybe twice a year, right? I suppose if you have a gold, a ceramic and a play Apple Watch, maybe you need to flip back and forth between them but for normal people this is just silliness.
You know I'm an exercise fanatic, so I love the Activity app on iOS. Nothing better than watching those little rings go around. With 3D Touch you can send your activity rings to a friend, but it's kind of lame. It doesn't show the goal or anything, just the rings themselves. You can also hop right into Sharing or Workouts or History. I suppose that could save a tap but probably not something I think to do often.
1Password lets you add a new password, jump right to Favorites, or right into Search which is probably the most valuable thing in there for me.
Pocketcasts is my podcatcher of choice on my iPhone. They've implemented 3D Touch as well. Not sure it's super useful though. You can find new podcasts with a search button (which I don't do often), or go to the main page of your podcasts (which is the default you get if you just tap the icon). You can go straight to New Releases, which is a feature I didn't ever notice in Pocketcasts so that's cool. But the most useful option is to just hit play on the last podcast to which you were listening. That I might use.
I've only just described the first page of my apps and I realize this is going to be too long for one post. I think I'll take a break now and come back to this maybe next week. There are so many unique ideas developers have come up with for 3D Touch. I think it's interesting to see what they've come up with and how maybe 3D Touch is more useful than you thought it would be.