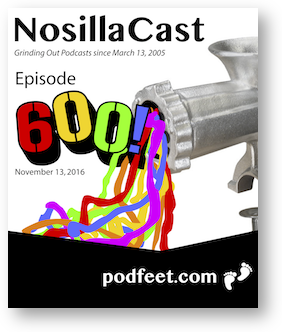 On this 600th episode of the NosillaCast, I included the same audio from Chit Chat Across the Pond, which was the dramatic reading of a letter from my father to his family during World War II. Then we'll discuss why I think the printer is a lie, and I'll try to convince you that 3D Touch is more useful than you might think. Bart is back with Security Bits.

mp3 download
Hi this is Allison Sheridan of the NosillaCast Mac Podcast, hosted at Podfeet.com, a technology geek podcast with an EVER so slight Macintosh bias. Today is Sunday November 13, 2016 and this is show number 600. Wow, 600 episodes. It's not as exciting as 100, or nowhere near as cool as 500, but hey, 600 is pretty fun too.
George from Tulsa had a cute poster made to commemorate the show, but I think he snuck in an editorial comment into it. You see it's a picture of the meat grinder Kevin sent to us in honor of how often the live chat room gets to see the sausage get made, and being grinding out is the number 600. But the 600 and resulting grindy bits are definitely in the Google color scheme! I also want to call out Chris, aka CalMiKy on Twitter and the live chat room. I looked back at show #300 and in the comments he said, "Just listened to #300 and congrats. I plan to be listening to the promised next 300 shows which will take you to November 20, 2016!" Well even waiting a week we got to 600 a week ahead of schedule so I sure hope Chris is still listening!
Chit Chat Across the Pond
This week's Chit Chat Across the Pond is very different from anything I've done before. This story took place on September 16, 1945. On that date a horrific typhoon hit the island of Okinawa, Japan during World War II. My father, Ensign John Paul Moorhead, was serving as Chief Engineer aboard the LST 965 and was in that typhoon. He wrote a letter to his parents and my mother describing the harrowing experience of living through that typhoon.
I thought about reading my father's letter aloud to you, but it didn't sound right in my voice. I asked my dear friend and noted voiceover artist Ron David to read the letter to you instead. You may recognize Ron's voice from Raise The Titanic on National Geographic and Wings on the Discovery Channel.
I'm so excited about this episode, I've decided to play it for you in the NosillaCast as well. If you've already heard it, just skip ahead 15 minutes.
Before we hear the letter, I'd like to give you a little background. The ship on which my father served was an LST, which stands for Landing Ship, Tank. LSTs were amphibious ships designed to bring cargo and troops to unimproved shorelines.
I remember my father explaining to me that the LSTs were never expected to last long enough to come back home, because they were designed and assembled in such a hurry that they weren't likely to survive for very long. I read online that the contracts were let to build the ships before a single test ship had ever been completed. This is not the kind of ship you'd choose to be in, in a typhoon.
The typhoon you're about to hear my father describe reached winds of 150 miles per hour, beached 122 ships and small boats, sank five others and killed or injured hundreds of American service personnel. Since this week is Veteran's Day in the United States and Remembrance Day in Canada, I thought it would be an appropriate day to bring you this very special Chit Chat Across the Pond.
I've included the full text of my father's letter in the blog post along with a few snapshots of the ships aground after the typhoon. If you want to know more, I've included a zip file of four news articles my father kept that you can download.
Blog Posts
Patreon and Amazon
I'd like to take a moment to thank the 28 patrons who have signed up to pledge a little bit of money each week to represent the value they get out of the NosillaCast. I really appreciate this support. Patreon makes it easy to support your favorite shows, by setting up a donation amount for every new show that comes out. I figured the math would get really hard if I did it for both the NosillaCast and Chit Chat Across the Pond, so the only show that triggers a Patreon payment is the NosillaCast. If you find value in the show and would like to demonstrate your support, head over to podfeet.com/patreon and sign up to help the show.
Security Bits
Followup
Important Security Updates
Important Security News
Notable Breaches
Suggested Reading
That's going to wind this up for this week. Don't forget to send in your Dumb Questions, comments and suggestions by emailing me at [email protected], follow me on twitter @podfeet. Remember, everything good starts with podfeet.com/. podfeet.com/patreon, podfeet.com/facebook, podfeet.com/googleplus, podfeet.com/amazon! And if you want to join in the fun of the live show, head on over to podfeet.com/live on Sunday nights at 5pm Pacific Time and join the friendly and enthusiastic NosillaCastaways. Thanks for listening, and stay subscribed.