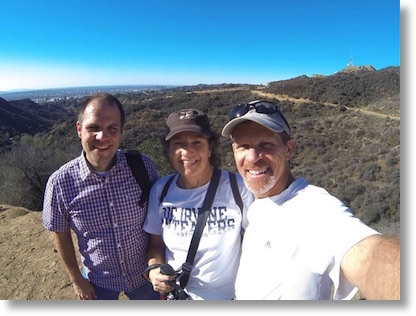 This weekend, long time NosillaCastaway Claus Wolfe from Germany flew from his home in Frankfurt to the United States for a short vacation.
He wrote to us a while back to tell us he'd be passing briefly through Los Angeles and wondered if we could get together. We talked about everything WE thought he might want to see in the area, but he told us he really wanted to do a hike and it looked like there was a nice one up to the Hollywood sign.
That sounded great to us, because we like to hike, Tesla could go with us, we'd get to see Claus and even though we've lived in LA for over 40 years, we'd NEVER hiked to the Hollywood sign! He happened to arrive in LA for possibly one of the most spectacular weekends of all time. It was really warm (81F/27C), and I don't think we've ever seen the skies more clear than they were that day.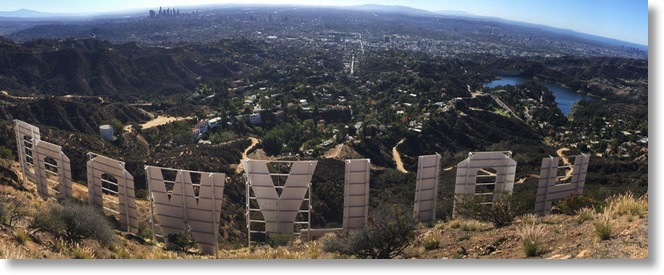 I'm not telling you all of this just tell you what a terrific guy Claus is, though he is funny, brilliant, clever, fun to argue with and even laughs at my jokes. While we were on our hike we got into a conversation about the NosillaCast community and how much it means to all of us.
He suggested that part of the reason it thrives in its current form is because I do open myself up to you guys, telling you about Steve, Lindsay, Kyle, and our dog Tesla, the Podmom and many other joys in my life. When I started the podcast, I never pictured that sharing my personal life would help you to connect with me. Because I do talk about my real life, I find that the NosillaCastaways feel comfortable doing the same.
In the live chatroom and in the podfeet.com/googleplus community, people share their triumphs and tribulations. Kirschen tells us when "her sweetie" has a bike race. Rose tells us about the best Chardonnay to be found in Tasmania. Jim Sewell recently asked us for help in finding a tech solution to help watch over his elderly mother and allow her to stay at home with him. George from Tulsa shares pictures of his cat "Claws of Satan". Mark Pouley lets us have a peek at his wonderful grandson. Steven Goetz shows us his world through photography. Allister shares his walk along the Wellington Harbor. Kevin Allder shares his beautiful children with us and tells us how much he hates hot weather. We talk about sports scores and what we're making for dinner and how much we love our geek gear.
Because of these connections, Steve and I have gotten to meet people in person from Germany, Australia, New Zealand, Canada, Belgium, England, Switzerland and even the United States. And that doesn't even include the people we consider dear friends that we just haven't yet met in physical space. I could go on and on about all of the lives we've been able to touch together because we know that the NosillaCastaways are a very welcoming bunch.
I don't take this for granted at all, you've been with me during my mother's last years, virtually holding my hand during some of the harder days and sharing in our joys as well. As a fellow NosillaCastaway I'd like to say that we have something unique here and I thought what better time to say how much I appreciate all of you than during Thanksgiving week. I guess I'm just trying to say, "I love you, man."