Announcing a new site design for podfeet – go kick the tires at https://podfeet.com/beta2. My Affinity Photo 1.5 tutorial is up at ScreenCasts Online. We hear from Anker about their new Nebula projected displays, Nonda talks about their connected car devices, I explain more about how cool our network is now that we've folded in the TiVos with MoCA. Then we hear about the C-me Selfie Drone, and the Fly Sport Earbuds from Braven. Finally I wrap up by telling you my tales of adventure with offsite backups and why I've moved from CrashPlan over to Backblaze.

mp3 download
Hi this is Allison Sheridan of the NosillaCast Mac Podcast, hosted at Podfeet.com, a technology geek podcast with an EVER so slight Macintosh bias. Today is Sunday February 12, 2017 and this is show number 614. We've got a huge show today. We're going to hear from Anker about their new Nebula projected displays, Nonda is going to talk about their connected car devices, I'm going to explain more about how cool our network is now that we've folded in the TiVos with MoCA. Then we'll hear about the C-me Selfie Drone, and the Fly Sport Earbuds from Braven. Finally I'll wrap up by telling you my tales of adventure with offsite backups and why I've moved from CrashPlan over to Backblaze. That sounds like enough to talk about, right? Let's dig in!
Podfeet Redesign is Finally in Beta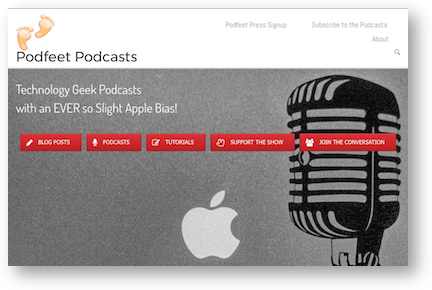 Last April I did a survey of the NosillaCastaways asking you what you really care about in the podfeet.com website. I did this in anticipation of a site redesign. Being a good little nerdlet, I spent about four months playing around with different WordPress themes but I didn't find anything I liked. So of course I added in some big doses of procrastination.
Eventually I started up my search for themes again and finally I came across one that met my needs. I was trying to find a theme that would give me a more modern design, would let me do some custom modifications but wouldn't require me to do too much hard coding on my own. I also wanted minimum Bart time so I could keep gaining my independence.
I finally found a free theme SiteOrigin North. It comes with some really cool plugins that let me do some pretty nifty drag and drop kind of design. It has a visual editor so I can just click on something and change it right on the live page and see what changes about it. Bart has been teaching us CSS, which is the language that lets you change the look and feel of elements on a web page, but I'm not too good at it yet. This theme from SiteOrigin lets me use a GUI editor to change things, and then actually creates the CSS for me.
One of my main goals was to get rid of the clutter. Every time I think of something new I want you to be able to find, I cram it into the header menus.
One thing that creates a lot of visual noise is the list of tutorials. But I love my tutorials, and it turns out you do too. So do strangers. I get so much gratification out of people who stumble across one and send me a happy comment about how I saved them. But dagnabbit they look awful on that indented list that I can never get to work properly.
Another goal was to let you clearly get to the podcasts. I have been carefully categorizing them for a long time in anticipation of this. I figure that there are people who like just the NosillaCast, all of Chit Chat Across the Pond, and some who would like to get to just the lighter versions of Chit Chat Across the Pond without the heavy lifting tech stuff.
The other thing that has always given me fits is how bad search is on my site. I don't even use it it's so bad. It's made by Google but for some reaosn it can't find what I'm looking for. The workaround I use is a traditional search where I follow the search term by site:podfeet.com. This narrows the search just to that one domain. So a better search on podfeet.com was definitely something I was hoping for.
Now for the good news. This week I actually put a version of the new design on line so you can go kick the tires. It's at podfeet.com/beta2. The content isn't live, so it's a bit old but you'll be able to poke around and check it out.
I really want feedback, especially on whether it's hard to find the stuff you used to do there. I created a little feedback form (using Google Forms btw) that you can use if you like. I put a link in the show notes to it: Podfeet Redesign Feedback Form . Of course I'll accept thoughts about it any way you want to send them to me. I gave you 3 leading questions that I hope will stimulate some thoughts.
I sent an email out to the people who've signed up for the Podfeet Press (a newsletter that goes out when I post a new show and when anything interesting like this comes up telling them about the new beta site and about the comment form. I also told the Facebook and Google+ groups about it. They've been great about providing feedback through the form, sending emails, writing in Facebook and G+. I love all the feedback. So if you have an opinion, I'd love to hear it. I don't guarantee I'll make the changes you want but so far nearly every idea I've seen has had merit.
Working on the beta and chatting with Bart about it, we've figured out that the way my snazzy new theme works, I won't be able to gracefully migrate the changes to the live site. I can move the theme over but I'll have to push a LOT of buttons before it looks just like the beta site. That means I'm motivated to do the switchover sooner rather than later. So if there's something you really hate, I hope you'll tell me this week! I'm itching to finally get this going while I have momentum.
By the way, even though some people might say the site redesign is long overdue, the last time I changed the site was 6 years ago, and since the show is 12 years old this year, I say I'm right on schedule.
Chit Chat Across the Pond
This week on Chit Chat Across the Pond, I asked Bart to come on for a special episode for him to explain IPv6 to me. If you haven't the term before, it's a networking thing all the cool kids are talking about (and the global Internet is using). Bart was worried he didn't know enough about it so in true Bart fashion, he decided to learn about so he could explain it to us. He really did want to know about it himself so technically I did him a favor since he really wanted to understand it anyway.
ScreenCasts Online – Affinity Photo 1.5

I'm super excited to announce that my Affinity Photo 1.5 video is live on ScreenCasts Online. I did two Affinity Photo tutorials before for Don's show. The first one was explaining the extensions for Apple Photos, and the second one was a deep dive into the full Affinity Photo. This one shows off the massive update 1.5.
You can now edit 360 photos, record macros of tasks you do often, do batch processing of images (Including using your own macros), you can take macro photos with very shallow depth of field and then merge them into one perfectly focused image, they added HDR and Tone Mapping too. It's a giant update and it was super fun to teach.
Don's ScreenCasts Online podcast is one of the few subscription-based podcasts but he has a free 15 day trial which gives you unlimited access to all of the back shows. Check it out at screencastsonline.com/….
Blog Posts
Patreon and Amazon
I want to take a moment to thank Steve Baker for signing up to support the show on Patreon. He went over to podfeet.com/patreon and pledged a dollar amount – either per show or per month to demonstrate the value he gets from the shows here. I continue to be overwhelmed by how many people are showing their support through Patreon.
That's going to wind this up for this week. Don't forget to send in your Dumb Questions, comments and suggestions by emailing me at [email protected], follow me on twitter @podfeet. Remember, everything good starts with podfeet.com/. podfeet.com/patreon, podfeet.com/facebook, podfeet.com/googleplus, podfeet.com/amazon! And if you want to join in the fun of the live show, head on over to podfeet.com/live on Sunday nights at 5pm Pacific Time and join the friendly and enthusiastic NosillaCastaways. Thanks for listening, and stay subscribed.