Chris Ashley from the SMR Podcast was our guest on Chit Chat Across the Pond talking about the new Microsoft hardware and OS announcements this week, I did a deep dive into Finder modifications on ScreenCasts Online, and Bart Busschots had his debut on the Daily Tech News Show. We've got two NAB interviews. We talk with Lacie about their 2big Thunderbolt 3 doc with capacity up to 20TB. Then we learn about the Brother head-mounted HD monitor that allows videographers to be comfortable while their camera is in weird positions. I go on a bit of a rant about how Google has seemingly lost interest in supporting Android phones that they're still selling. Then I'll tell you about how I found out that the keyboard for my iPad Pro has a secret recall and how I found out.

mp3 download

Hi this is Allison Sheridan of the NosillaCast Mac Podcast, hosted at Podfeet.com, a technology geek podcast with an EVER so slight Apple bias. Today is Sunday May 7, 2017 and this is show number 626.
Chit Chat Across the Pond
Chris Ashley of the SMR Podcast joined me this week to talk about all of the big announcements coming out of Microsoft. We'll try to understand where the new Surface Laptop fits into their lineup of mobile devices (as usual Microsoft's naming conventions make that harder than you would think), and then we'll shift gears to talk about the new line of Education devices. These devices from many manufacturers will be running the new Windows 10S, a streamlined version of Windows that Microsoft hopes will compete with Chromebooks, especially in schools. We also talk about Chris's dream of a world where he only has to carry his phone and can dock it to a display anywhere he goes so he doesn't have to lug a laptop around when he travels. IF you haven't heard Chris on the show before, he's a blast.
Finder Deep Dive on ScreenCasts Online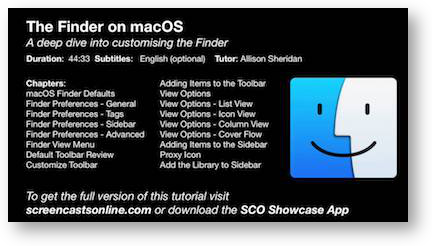 When I used Windows for the last 3 years I was working and how I never felt like I was in control. I could brute force my way into getting things done but it wasn't smooth. On the Mac, when I'm in the Finder I feel like I can make it sing.
This week Don McAllister published my latest screencast for ScreenCasts Online. I thought it might be fun to walk through all of the tricks I know to make the Finder do my bidding. It sounds like a basic-level course, but knowing these things is one of the reasons I love the Mac so much.
I like doing these videos for Don because they force me to really truly understand things. I learned a lot more about how to manipulate the Finder than even I knew. Anyway, if you're interested in getting more out of the Finder, check out screencastsonline.com/… and look for the show called "The Finder on macOS". Don has a free 14 day trial of ScreenCasts Online just to get you hooked!
Bart Busschots Talks Passwords on Daily Tech News Show
Enough plugging of my own appearances, I'm even more excited to tell you that Bart was on the Daily Tech News Show this week! He and Tom Merritt had a great rapport as they discussed the latest tech news. The main topic though was passwords, and they spent a bunch of time talking about Bart's https://xkpasswd.net password generator. If you haven't ever used xkpasswd, it's a tool Bart created that creates secure, memorable passwords that you can tailor to your needs. Anyway, go check out DTNS episode 3024 and see Bart's debut.
Ok, let's listen to another interview from NAB 2017:
Blog Posts
I've been getting some feedback on the interview that we did at CES about the Belkin Thunderbolt dock, specifically people asking when the heck it's coming out. We also spoke to OWC about their Thunderbolt dock (didn't do an interview) and I asked them why the delays in all of these.
They said that both Apple and Intel have to approve all of the Thunderbolt devices. Not only that, you can't even request approval until you have production manufactured devices for them to certify. OWC said they have hundreds of Thunderbolt 3 docks already in the US just standing by waiting for Apple and Intel to say yes.
So…I have a feeling all of these, from Lacie, OWC, and Belkin will suddenly drop and we'll have them to play with, but not until Apple and Intel says we can have our toys.
Patreon and Amazon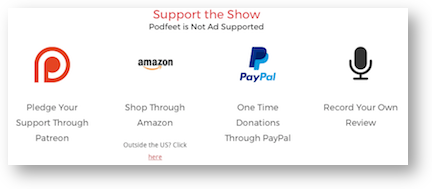 I really like not having advertisers on the podcast, and instead having you support the show by giving what value you get from the shows. I also like that there are so many different ways to show that support. Janet Chesne for example, doesn't like having micro payments to track on her credit card, so she used the Paypal button to make a one time donation (and it's not the first time she did it.
On the other hand, both Bo Hanson and Mike Price like being able to add podcasters to their Patreon donations so they can give on a regular basis.
Our German and US listeners are going nuts using the Amazon Affiliate Links to buy the things they would be buying anyway on Amazon. I'm not going to tell you how much Dean Elger spent on Amazon, but let's just say that he let his son pick out all of the stereo equipment for their new house, and there might have been some Sonos involved.
And finally some of you are in our Facebook and Google Plus communities supporting each other and answering tech questions.
So no matter how you want to support the show, we've got a way that's right for you. Thank you all for supporting the show in any way you can.
I can't thank Steve enough for the work he does on these videos and getting the audio for the show. I don't take it for granted.
That's going to wind this up for this week. Don't forget to send in your Dumb Questions, comments and suggestions by emailing me at [email protected], follow me on twitter @podfeet. Remember, everything good starts with podfeet.com/. podfeet.com/patreon, podfeet.com/facebook, podfeet.com/googleplus, podfeet.com/amazon! And if you want to join in the fun of the live show, head on over to podfeet.com/live on Sunday nights at 5pm Pacific Time and join the friendly and enthusiastic NosillaCastaways. Thanks for listening, and stay subscribed.