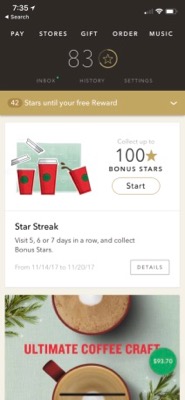 This one might count as a nano-tip, but if you've got the problem this solves, it might be a mega tip for you.
One of the cool things about Face ID on iPhone X is that you don't have to enable it for sites and apps that already used Touch ID. The API (Application Program Interface) just sees a biometric authenticator and doesn't care if it's your fingerprint or your face unlocking the phone.
However, Steve found that after bringing up the Starbucks app on his iPhone X, he could not open the app due to authentication issues with Face ID. When the Starbucks app requested his credentials, Face ID was activated as expected. The app would appear to accept Face ID for authentication, but then the app would freeze.
At first, Steve thought that the Starbucks app was not compatible with Face ID. It's been really awesome how if you're in line and you realize your balance is low, you could so quickly reload your card. There was no way Steve was going back to typing in his password every time he needed to reload his code.
Continue reading "Tiny Tip – Starbucks App Confused by Face ID on iPhone X"