We celebrate 13 years of podcasting (on the 13th), I tell the story of how my doorbell informed us that our UPS had died. We hear the interview with Boinx from NAB, and I'll explain how Rogue Amoeba's Audio Hijack solved two problems on an airplane. I get my Excel geek on when I solve a dumb question for John, and in a more practical tip, I'll teach you about Snapthread for making videos out of Live Photos.
Hi, this is Allison Sheridan of the NosillaCast Apple Podcast, hosted at Podfeet.com, a technology geek podcast with an EVER so slight Apple bias. Today is Sunday, May 13, 2018, and this is show number 679.
It is also the 13th anniversary of the NosillaCast! 13 isn't a significant milestone; not like 5 or 10 or 15, but it does have one distinction. It's just about as old as a podcast can be! I started the NosillaCast on May 13, 2005, and the very earliest podcast was created in October of 2004. So there are no 14-year-old podcasts out there.
Also, thanks to our amazing community of friends, I'm pretty sure the NosillaCast is the longest uninterrupted podcast out there. So hats off to all of the listeners no matter when you started listening because I wouldn't be here yapping if it weren't for you. But as I do say on every anniversary, special hats off to Neil, aka jumboshrimp for being the very first listener!

My son Kyle and his fiancé Nikki got me a really cool present to commemorate my birthday and the anniversary of the show. It's a lucite desk plate that says "Allison Sheridan, CEO, podfeet.com". It's so pretty, I love it!
I also want to give a big shout out to all the great moms out there – happy US Mother's Day! I hope you were appreciated today.
Podfeet Production License Plates
I have something to tell you about that is just plain silly but gives Steve and me great joy. 9 years ago for Christmas, Steve got me new customized license plates for my car that say PODFEET. They make me really happy. The day we drove my car home with them on, Justin Byrne was coming over for a visit from Ireland. He had been to our house years before and knew vaguely where we lived, but then once on the road realized he didn't know the address. He was about a mile away and looked at the car in front of him and saw the plates said PODFEET! We have laughed about how he's a stalker ever since.
California plates have gone through many color changes over the years, most recently being white with blue letters. Steve never really liked that combo on his black car, so when they started releasing the retro color of black with orange letters, he realized this was the ideal time to get customized plates for himself. He pondered for a long time, and finally decided on the perfect letters. He bought himself "APL BIAS"!
Now when our two cars are side by side, you see PODFEET APLE BIAS. Isn't that awesome? Ok, we're dorks, but as my friend Diane says, we're adorable dorks!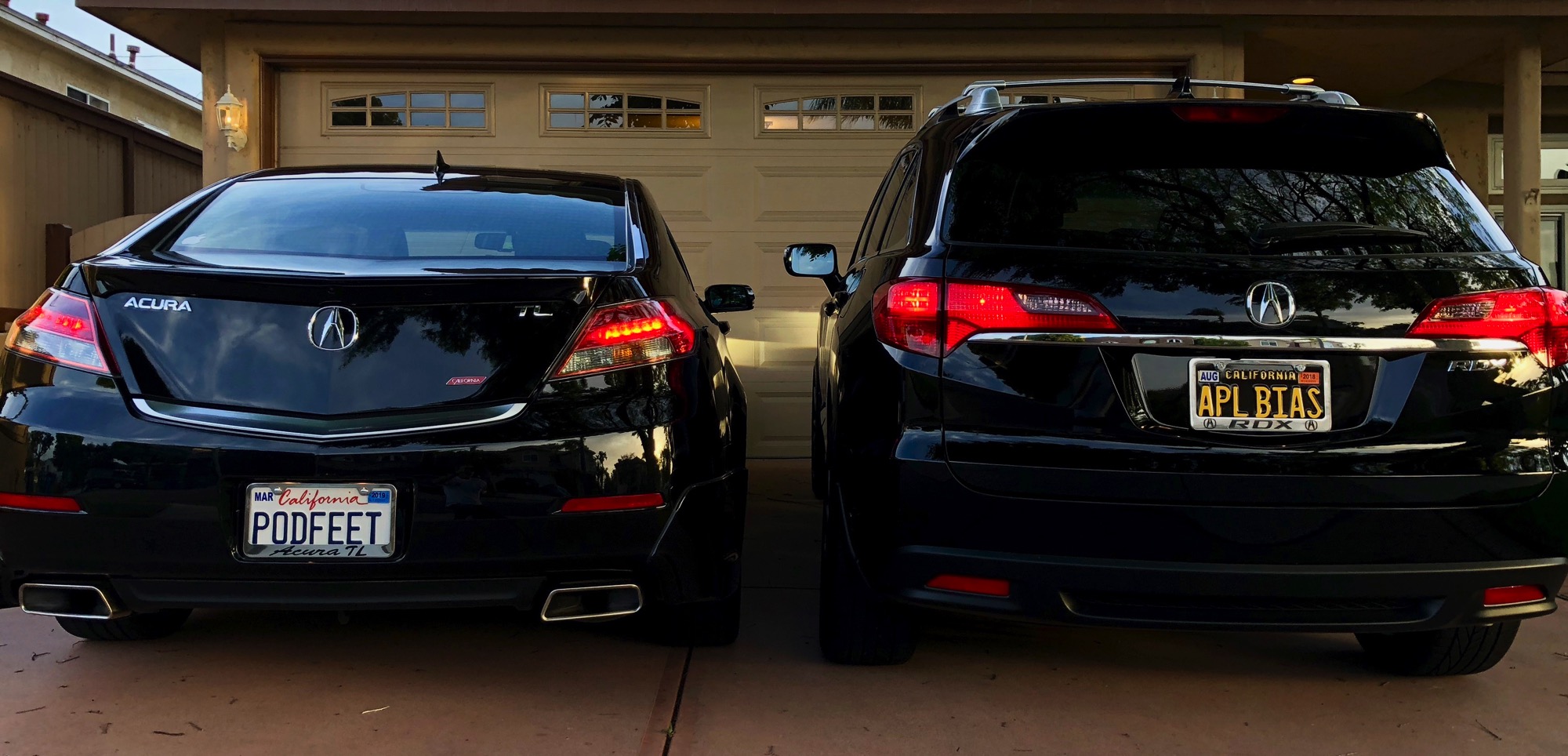 Chit Chat Across the Pond
Chit Chat Across the Pond was of the "Lite" variety this week. I interviewed David Sparks of macsparky.com about how he creates his amazing video field guide books in iBooks Author. On the way there we talk about his podcasts, how he traded saxophones for children and many more entertaining things. David is a real sweetheart, a brilliant guy and I love his sense of humor. This episode of Chit Chat Across the Pond is a joy from beginning to end. You can find this episode of Chit Chat Across the Pond in the full feed or in the Chit Chat Across the Pond Lite feed your podcatcher of choice or at the link in the shownotes: CCATP #536 – David Sparks on Video Field Guide Books
Blog Posts
Right after the NAB conference, I told you how Steve and I have started using a product called mimoLive from Boinx Software to allow us to provide much more interesting video feeds to the live audience. Here's our interview with Oliver Breidenbach at NAB about mimoLive.
Patreon
I said up front that I appreciate everyone who listens to the show. I have to admit that I have a special place in my heart for the listeners who write to me, who join the live chat, who contribute by doing reviews for the show or helping other people in our Facebook and Google+ communities.
I also have a special place in my heart (and wallet) for those who help make the show not cost me money to create by using the Amazon Affiliate Links or by supporting the show through Patreon. You too can become one of my heroes by going to podfeet.com/patreon just like Brett Halle did this week. He created an account and committed to send a small donation every time I create a new episode of the NosillaCast.
I don't do Patreon separately for Chit Chat Across the Pond Lite and Programming By Stealth because that would just be confusing for everyone. You always know there's going to be a NosillaCast so it's easier to tie it to just the one show. Think of it as getting Chit Chat Across the Pond for free! Anyway, thanks to Brett and to all of you who support the show in whatever way you can.
That's going to wind this up for this week. Don't forget to send in your Dumb Questions, comments and suggestions by emailing me at [email protected], follow me on twitter @podfeet.  Remember, everything good starts with podfeet.com/. podfeet.com/patreon, podfeet.com/facebook, podfeet.com/googleplus,  podfeet.com/chat, podfeet.com/amazon!  And if you want to join in the fun of the live show, head on over to podfeet.com/live on Sunday nights at 5pm Pacific Time and join the friendly and enthusiastic NosillaCastaways.   Thanks for listening, and stay subscribed.