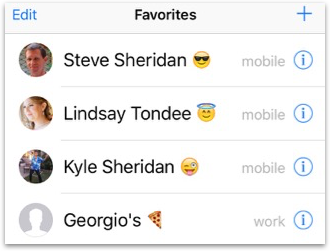 We've been doing some good work here on the NosillaCast, learning about vulnerabilities and the importance of doing updates, exercising to get those little rings to go round and round, diagramming workflows, and testing bandwidth to compare routers. I thought it would be good to take a break from all this seriousness for somethings silly. My daughter Lindsay came up with a little tip for us and I asked her what problem it solved. She said simply, "It's fun."
When you go into your contacts on iOS (and there's probably an analog to this on Android and Windows Phone), there's a Favorites list. On her phone, there's an emoji next to each person. For example, her husband Nolan has a heart next to his name. My name has a computer next to it, and her brother Kyle has the poop emoji.
I asked her how she did this and she explained that you simply open each contact and edit the last name field, and add the emoji using the keyboard. How easy is that? I went through on my phone and gave Steve the smiley face with sunglasses, Lindsay has an angel, and Kyle has a smirking face. Oh – and my favorite pizza parlor, Georgio's, has a pizza emoji!.
It's fun to look at and there's some other side effects. When Lindsay calls me using Siri, Siri says, "Calling Allison Computer"! I bet it's even more fun when she calls her brother! When you get emails from the people you've given emoji's it shows up in there too!
Take a break from all this seriousness and have some fun with your contacts!