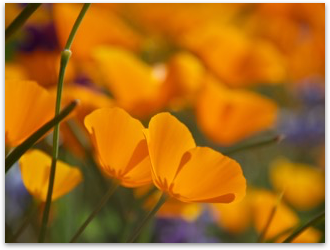 Before I met Mark Pouley, I was content with taking photos, editing them on the computer and displaying them online. But Mark started encouraging me to get some of them printed in large format. He's trying to drag me into his madness (his house is FULL of large prints of his photos). It did sound like fun.
A few years ago I successfully captured the beauty of some California Poppies during a trip to Santa Barbara County. If you haven't seen these, they're gorgeous bright orange flowers that adorn our local area in the spring each year. Mark kept nagging me to get it printed.
This particular photo stands out because of the exquisite light coming through the blooms. I was proud of this photo because I actually crawled under these little blossoms just to catch that light. In thinking about how to print a photo where light is so important, I decided to try printing on glass.I chose to print the photo using a service called Fracture from fractureme.com/…. When I printed the photo, it was really expensive compared to other types of prints, but the advantage is that you don't buy a frame or any matting. They actually print the photo right on the surface of the glass. I was happy with the result, but since it was so expensive I only had an 11×14″ photo printed and it cost $50 at the time. I just checked, and that size is now $65. I actually talked about this back in 2013 when I had it done. It's beautiful but it doesn't fill up much wall space!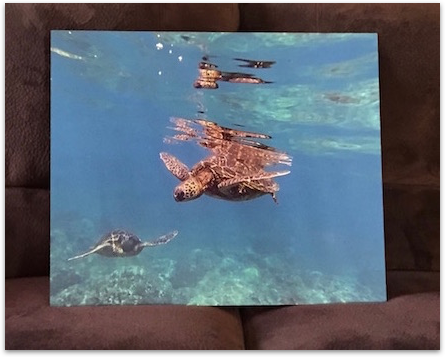 This spring when we went to Hawaii, I got an awesome photo of two sea turtles under water, taken with a Go Pro Hero 3. Again the photo is all about the light, this time reflecting on the underside of the water's surface.
While we were in Hawaii we went into a photo gallery and they had some extraordinary images printed on metal. I'm not sure why metal brings out the light so well, perhaps the ink is more reflective when it doesn't soak into canvas or any kind of paper?
I went to a well-known printing site called Adoramapix to check out their prices. I did a lot of messing around with different options, kept Mark up till really late asking his advice, and finally selected a 20×24″ metal print for $99.
One of the penalties of asking Mark's help is he was super interested in how well the print was packaged. Since I documented it for him, that I put it in the shownotes for you to see. The print was well-suspended to keep it from getting damaged in transit but they did it in a way that used very minimal materials.
The print came with little wood blocks that help you to hang it on the wall (no frame required), and it even came with a cute little level with the name Adorapix printed on it. That's a brilliant marketing move.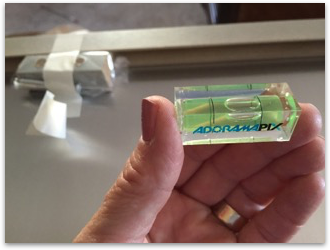 Ok, enough about packaging and pricing, I bet you'd like to know how it looks. Well, it's simply GORGEOUS. I mounted it in a hallway that has a light overhead and it looks like the light is coming from inside the photo itself.
I couldn't be more pleased with how I feel when I look at this image – it's like I'm back underwater swimming with the turtles. I put a photo of it in the shownotes but of course that's like playing an mp3 of a live concert, a photo of a print can't possibly capture how great it looks.
If you've been thinking about printing a great image of yours and you'd like to do something a little bit different, check out the metal prints at Adoramapix.com.