Update your iOS devices to 9.3.5 without delay to protect yourself from a really nasty exploit in the wild. Steven Goetz does a guest review of the AmazonBasics 62" Aluminum Ball Head Tripod. I'll walk you through how to liberate your Activity data so that you can see it in other apps like Activity++ and Pedometer++ from plusplusapps.com. Steve and I performed an exhaustive network test comparing the Apple Airport Extreme against the Netgear Nighthawk X8 (spoiler alert, it is definitely worth the price differential!) Lindsay gives us a fun tip to make our Contacts more interesting. Fantastic metal prints from Adoramapix.com.

mp3 download

Hi this is Allison Sheridan of the NosillaCast Mac Podcast, hosted at Podfeet.com, a technology geek podcast with an EVER so slight Macintosh bias. Today is Sunday August 28, 2016 and this is show number 590.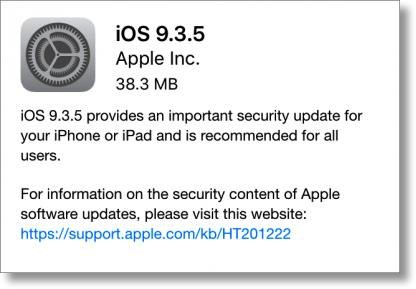 I'm sure most of you have heard about the important security update that came out for iOS this week, but just in case I wanted to give you a little bit of the detail behind it and to make sure everyone updates to 9.3.5 absolutely as soon as possible. I don't have Bart here, but this one can't wait a week for him to tell you about it.
Three significant bugs were discovered in iOS and used in conjunction basically allow the attacker to own your phone. The first bug allows a maliciously crafted website to lead to arbitrary code execution. The second bug allows an application to be used to disclose kernel memory. Finally the third bug combined with the first two allows an application to execute arbitrary code with kernel privileges. As the story at Naked Security explains,
"You can imagine how these three vulnerabilities could be combined into a serious exploit, where visiting a booby-trapped website might not only infect you with user-level malware, but also go on from there to promote itself to gain kernel-level superpowers."
Please don't wait until your iPhone, iPad, and iPod Touch tell you to update. Go into Settings, General, Software Update and agree to whatever updates are available. I know, you had to do this just a few days back but please make sure you got the 9.3.5 update, ok? And send a note to your non-tech-savvy friends and family. This one is worth a little extra effort.
I'm going to hand the microphone over to Steven Goetz from Canada for a quick review:
Steven Goetz on the AmazonBasics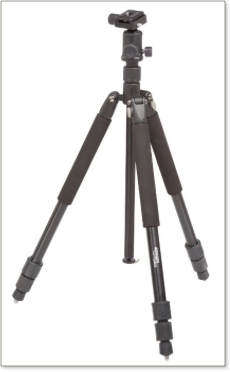 Hi, I'm Steven, and I would like to review the AmazonBasics 62" Aluminum Ball Head Tripod.
Amazon started their Basics line of products in 2009. It included things like cables, batteries etc. I have been very happy with the AmazonBasics products I have purchased in the past (a USB 3.0 hub, and HDMI cables). I was in the market for a new tripod, but for how often I actually use a tripod I didn't want to spend what some of the more popular brand names go for. I noticed that Amazon actually had two tripods (a ball head, and a more traditional 3-way head). I thought for $52 Canadian the AmazonBasics 62" Aluminum Ball Head tripod was worth a try.
The first thing I noticed was that the included carrying bag is made from a sturdy padded fabric, with a good zipper and a nylon strap.
The tripod itself is made from a good feeling aluminum that is painted black. It's got foam hand holds on each of the legs. The rest of the hardware on the tripod is made from a mix of black aluminum and a good quality plastic. First impressions were that it's got great build quality for the price.
As far as weight goes, it's probably a little on the heavy side, definitely much heavier than the higher end, more expensive carbon fibre models, but I wouldn't call it back breaking.
The telescoping legs operate smoothly, and have a nice push button lock on each leg to keep the legs closed, or opened to two different settings.
The ball head itself operates smoothly, but is tight enough to hold up my Canon 7D camera with a big f/2.8 lens attached.
Overall for the money, I think this AmazonBasics tripod is a great choice. If weight is a major concern for you, I would look elsewhere. When it comes down to it, I could think of a much worse way to spend $50.
---
Thanks Steven – sounds like a great tripod for a great price. I did a search on Amazon in the US for this tripod and unfortunately they don't offer it here, but luckily we do have Canadians who can buy it from our Amazon Affiliate Link for Canada. I found it on the UK Amazon store and the German Amazon Store too, so I put in the affiliate links for those too. Remember if you shop at Amazon anyway, starting at podfeet.com and clicking on the Amazon image on the left will send a small percentage of your purchase back to help keep the show going.
Blog Posts
That's going to wind this up for this week. Don't forget to send in your Dumb Questions, comments and suggestions by emailing me at [email protected], follow me on twitter @podfeet. Check out the NosillaCast Google Plus Community and our Facebook group at podfeet.com/facebook. If you want to join in the fun of the live show, head on over to podfeet.com/live on Sunday nights at 5pm Pacific Time and join the friendly and enthusiastic NosillaCastaways. Thanks for listening, and stay subscribed.