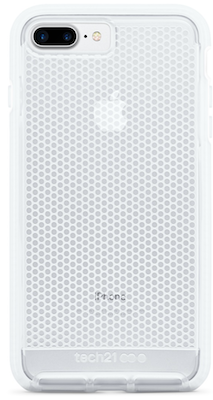 You know that feeling when you first get a new iPhone? When you pull it out of the box, and it feels so sleek and shiny? You carefully cradle it in your hand and feel great joy. But then something changes. The joy turns to fear when you realize you're standing over a hard floor. You grip the phone with both hands and carefully tip toe over to the couch where it will be safe if it falls a few inches.
We love these phones, but they're slippery like trying to hold a goldfish. When Lindsay, Kyle and I got the iPhone 6, within one week all three of us had dropped our phones, and only two of us got lucky.
So here I have the new hotness, the iPhone 7 Plus, and I had to put a case on it. Pat Dengler picked out a very nice case for me from a company called tech21. It's called the Evo Mesh Case for iPhone 7 Plus and it's $40 at Apple. I was looking for something that would show off the gold and white of my new phone, and the Evo Mesh is perfect for that. It's got a white rubbery bumper, and a clear back with dimples in the clear back that made it look really cool. But. It's not sleek, it's not smooth, it's practical.