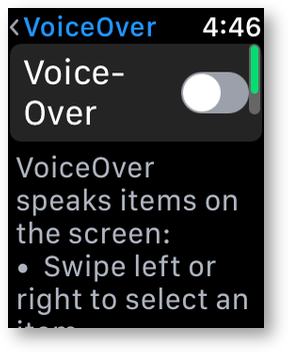 If you ever find your Apple Watch talking to you but the screen is staying blank, you might find some tips in this story. As is often the case with tech stories, this one ends in success but contains an unsolved mystery.
You know I like to experiment with VoiceOver to keep increasing my knowledge about how the blind use iOS and Mac devices, right? After my review of the new Apple Watch Series 2, Kevin Jones sent me a direct tweet explaining that VoiceOver is much faster with the Series 2 Apple Watch.
Intrigued, I opened up Settings on my Apple Watch, selected General, then Accessibility and flipped the toggle to turn on VoiceOver. I expected to have my Apple Watch start talking to me, but I wasn't prepared for the second thing that happened. Very briefly I was shown a screen with a toggle for Screen Curtain. Most people using VoiceOver have no need to see the screen, so Screen Curtain is a useful option to save battery and increase privacy. Unfortunately, when i turned on VoiceOver, the watch defaulted to turning on Screen Curtain so my watch turned black.
Continue reading "What to Do When Your Apple Watch Starts Talking (and the Screen Goes Black)"