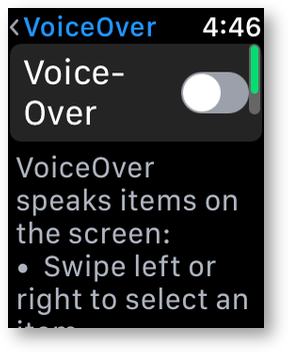 If you ever find your Apple Watch talking to you but the screen is staying blank, you might find some tips in this story. As is often the case with tech stories, this one ends in success but contains an unsolved mystery.
You know I like to experiment with VoiceOver to keep increasing my knowledge about how the blind use iOS and Mac devices, right? After my review of the new Apple Watch Series 2, Kevin Jones sent me a direct tweet explaining that VoiceOver is much faster with the Series 2 Apple Watch.
Intrigued, I opened up Settings on my Apple Watch, selected General, then Accessibility and flipped the toggle to turn on VoiceOver. I expected to have my Apple Watch start talking to me, but I wasn't prepared for the second thing that happened. Very briefly I was shown a screen with a toggle for Screen Curtain. Most people using VoiceOver have no need to see the screen, so Screen Curtain is a useful option to save battery and increase privacy. Unfortunately, when i turned on VoiceOver, the watch defaulted to turning on Screen Curtain so my watch turned black.
I'd never used VoiceOver on the watch before, and had expected to be able to experiment with the screen on. I pinged Kevin back on Twitter and asked him how to turn Screen Curtain off. He explained that you can control the Accessibility settings from the phone in the Apple Watch app. That was good news since it had a screen I could see. Unfortunately for me, flipping the toggle from the iPhone had no effect on the watch. I turned off VoiceOver too, and still the watch stayed black.
This was the beginning of a week long adventure. I was going to tell the story in order, but I think it may be more interesting if I tell it by jumping around and telling you things I learned along the way. The bottom line is that as of right now, I can turn VoiceOver on and off in three different ways and never does Screen Curtain turn my Watch black. I can use the Watch face via touch to enable VoiceOver, or I can use Siri on the Watch, or I can use the iPhone, all without any problems.
To get to this state, I had two great Apple Support people (Tracey and Colin) who worked with me on the phone over the course of a week, and Kevin helped me learn VoiceOver itself in order to conquer it. I also used the NosillaCast Facebook group (podfeet.com/facebook and the NosillaCast Google Plus group (podfeet.com/googleplus) to find people to experiment with me.
Between Tracey and Colin and the engineering team at Apple I learned the following things:
Restarting the Apple Watch using both the side button and the digital crown causes the Watch to restart with all the same services it had running. Think of it as "reopen all applications when restarting" on the Mac.
Restarting the Apple Watch with just the side button does not restart all of the running services, so that's a better way to clean things up if you're having problems with your Watch.
While the Apple Watch and the iPhone communicate via Bluetooth, WiFi has to be functioning as well. It doesn't need the Internet, but a WiFi signal between the devices is necessary.
You can get the log files from your iOS devices into your Mac so you can read them. Plug your device into your Mac, launch iTunes, and sync. Step 2 of 3 is sending log files to the computer. Navigate to ~/Library/logs/CrashReporter/yourdevicename and you'll find all of the log files.
You might be wondering why WiFi is even in this story. That's because during my experiments, I was at a hotel, running Cloak as my VPN. When I left the hotel and went over to Lindsay's house which Cloak knows is a trusted network, I was able to use the iPhone to toggle VoiceOver on and off without any problem.
And that's when I asked the NosillaCast community to test their Watches with a VPN enabled. Oddly, 100% of the people testing, and the wonderful Dave Peck from Cloak, were unable to replicate the failure on their own Watches with VPN enabled. That was interesting to me, because when I went back to the hotel and my VPN kicked in, again the iPhone couldn't toggle VoiceOver on the Watch. So I've got a 100% repeatable problem no one else can replicate.
Here's another fun tidbit. When Tracey and I were working on this together while I was at the hotel, we got the idea to use Siri to tell the Watch to toggle VoiceOver. For BOTH of us, Siri responded by saying something like, "I'll tap you when I'm ready". Later on she tapped but she didn't respond to our requests to toggle VoiceOver.
When I go back home from my trip, Tracey asked me if I'd consider putting a logging profile on my Watch and Phone. He said if I replicated the problem while logging was enabled, Engineering would have some clue of what's going wrong. Gather metrics? Of course I readily agreed to install the profile!
And guess what happened? The problem went away. Seriously. As soon as I started testing at home, I could not replicate the results. I toggled that thing on and off every which way with the VPN on and off, and no matter what I did, it worked perfectly. Isn't that always the way?
I'm going to jump backwards in the story again, keeping this as non-linear as I possibly can. When Tracey and I were first noodling on this together when I was in the hotel, I suggested I try navigating the Watch using VoiceOver to figure out how to turn it off. Tracey said he didn't want to use a workaround, he really wanted to get to the root cause. I really liked that at the time.
As time wore on though, I did try to do it with VoiceOver. The most basic thing to know about VoiceOver is that since you can't see what you're doing, you drag your finger around while the Watch reads the screen out loud for you. Also, wherever you would tap as a sightling, you usually double tap in VoiceOver.
Remember I have to open up the Settings app on the Apple Watch to do this. I pushed the digital crown until I heard it say Clock. That told me I must be on the home app screen with the Clock in the center. I started dragging my finger around on screen, and the Watch started to read out the names of the apps as I slid over them. Unfortunately, my Settings app is in the far bottom left, so it was off screen, and I couldn't figure out how to scroll the screen.
Luckily Kevin was standing by on Twitter. I think he felt that he'd caused this problem for me but I assured him it was my own darn fault and that I was enjoying the discovery. Even better, Kevin of course knows more about VoiceOver than me and taught me a super useful gesture. Turns out if you simply swipe across the screen, watchOS will read out each item. It took a few swipes to get to Settings but sure enough it worked.
From there I double tapped the screen and it opened Settings. I decided to keep using my new trick and swiped till I heard General, double tapped, swiped till I heard Accessibility, double tapped again, and finally swiped till I heard Screen Curtain and after that final double tap, I could see my screen again. I do have to confess that I cheated a little bit, Steve was holding his Watch up in front of me as he scrolled to each option so I knew I was on the right track. I bet I could have done it on my own but I did like to have that as training wheels for my first time.
I know this sounds like a lot of swiping and tapping but the magic is that it's completely repeatable and consistent. Having that consistent pattern makes the Apple Watch really easy to use without sight, if not as efficient as it is for those with good vision.
Now that this adventure is over, I can now toggle VoiceOver using my Apple Watch itself, I can use Siri to tell my Watch to turn on VoiceOver and I can use the Apple Watch app on my iPhone to toggle VoiceOver. In all three ways, Screen Curtain never turns on! My only explanation is that there was heavy neutrino activity going on for those few days. Then again, the problem will come back when I go to the same hotel in November?
Now, anyone know why my Apple Watch won't take screenshots any more?