Guest Post by George from Tulsa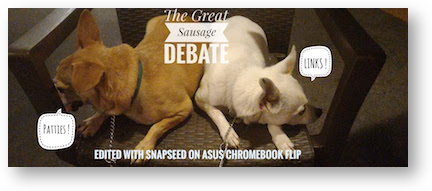 In November, 2015 I reported about my new Asus Chromebook Flip and 2015 Toshiba Chromebook 2 with Intel i3. Text of that review is in Nosillacast 551.
Nearly a year later, I'm very pleased with both.
The 2015 i3 Toshiba Chromebook remains on Amazon for $476 even though Toshiba is reported to be withdrawing from the "general"computer market (anandtech.com/…). The 4GB Flip's current Amazon price is $269 $335.
All that's old news.
What's new is that Google just released the stable version of ChromeOS 53 which brings a potentially huge number of Android's 2.2 million Apps to Chromebooks, beginning with the Chromebook Flip and Acer's R11, both touchscreens in a convertible form factor.
Will the option to install Android Apps be a market winning game changer for ChromeOS? It certainly adds a new level of utility to systems which have none of the maintenance or malware problems of Windows, and which sell for as little as $149 new.
That said, how well do Android Apps work on a Chromebook?
To test, I installed three of my favorites, Firefox, the Snapseed Photo Editor, and KeePass Droid for local storage and creation of encrypted passwords. What's to say? The three Apps work on the Flip in the same way as on my Android Phone and Tablet, and that's quite well.
I found one limitation followed by a related, and important, surprise.. My little Flip, with just 16GB Internal, seems only able to access Android apps and data from its internal 16GB. I worked around that by copying photos from its SD Card to internal storage so I could edit them in Snapseed. It's possible this will be fixed in future software, though another solution is increasing the standard size of internal storage. Amazon has a pre-release order page for an upgraded $299 Acer R11 Touchscreen with 32GB of storage and an Intel Processor.
The important surprise came as I began assembling links to my Show Notes and the audio file to send to Allison.
The photo I edited in Snapseed is clearly in Snapseed. But after 15 minutes using the Chromebook's File Manager to find it to attach to an email, I had to conclude that simply wasn't going to happen.
Turns out Android Apps in ChromeOS are running in Linux Containers.
Think of it as Android running in a self-contained Virtual Machine. That's to protect the very secure ChromeOS system from possible attacks through Android Apps or data. Simply installing the Android version of Google's Photos enabled me to share out my edited photo from Snapseed and send it on to Allison.
Remember, that entering the Amazon World by clicking first through Allison's Amazon Affiliate link on Podfeet.com helps Al & Steve pay to keep the Nosillacast in Your World.