This post has been dramatically edited (and improved) since it's first publish date, thanks to alert readers Mike C and Giles Croft. Spoiler alert – you CAN use two-factor authentication on an Apple TV 2 or 3! If you've already read this post, jump down to the heading "Breaking News".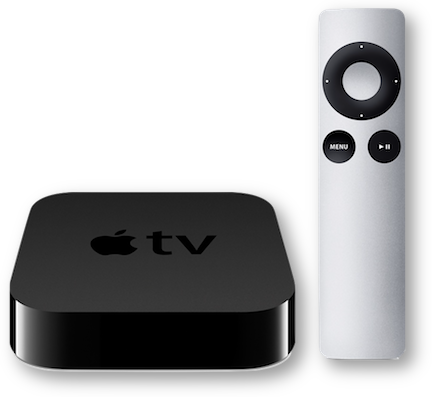 A little while ago I told you about how we were finally able to get our Apple TV to work on Hotel WiFi. As you probably recall, since the Apple TV can't show a web browser popup, there's no way to answer the prompt for the WiFi password. The trick was to get the hotel to tell you the phone number for the service provider of their WiFi. From there you can get the provider to provision the MAC address of the Apple TV to connect.
This week we went to see Forbes again (Lindsay and Nolan too) and stayed in a different hotel. We plugged in our Apple TV 3, connected to the network and as expected it didn't work. After a few calls to the front desk, we eventually found someone to give us the number for their provider, Wandering WiFi. The guy I got was excellent, immediately knew what to do with my request and I hung up while we waited for the Apple TV to connect. But it didn't work.We were baffled. I went to my Mac to start noodling the problem, and there was a 6-digit two-factor authentication code waiting on my iPhone screen, but the Apple TV wasn't asking for the authentication code. Oh. My. Gosh. Yup, my new, shiny two-factor authentication was foiling my ability to use my Apple TV.

I jumped online to investigate, and found an Apple Support Article explaining that the Apple TV 4 works with two-factor authentication but Apple TV 3 and lower do not. Well, we had a week here and really wanted to use the Apple TV so Steve and I prepared for a trip to the nearby Apple Showcase.
I sat "prepared" which in our case usually means, "keep goofing around on the Internets". For once my procrastination paid off. Right then I saw a tweet from @9to5toys that said Best Buy had the Apple TV 4, 32GB version on sale for $100, which is $50 off the normal price. Luckily we had a Best Buy right around the corner so we ran over there instead.
We plugged it in, called Wandering WiFi again and got the new one provisioned. This time the Apple TV 4 popped up a window to enter the 6-digit two-factor authentication code and were back in business.
Breaking News
At this point in the story I'd like to tell you why having the blog posts come out ahead of the podcast is so awesome. It's because people like Mike C and Giles Croft read what I've written, judge it with a critical eye and go searching for solutions. Sometimes people are searching for how I must be wrong, and I love that too. It's so much better to be wrong or misinformed in a place I can edit than wrong in the audio podcast where I have to wait a week to correct myself.
Anyway, what both Mike and Giles discovered is that there's a trick that will allow you to do two-factor authentication on Apple TV 3s, and even Apple TV 2s. Oddly there are two support articles on the topic, the one I read doesn't tell you the trick, but support article HT204915 says,
What if I use two-factor authentication on a device running older software?

If you use two-factor authentication with devices running older OS versions, you might be asked to add your six-digit verification code to the end of your password when signing in. Get your verification code from a trusted device running iOS 9 and later or OS X El Capitan and later, or have it sent to your trusted phone number. Then type your password followed by the six-digit verification code directly into the password field.
Now this gets interesting. Back home now we tested out the process. I've been telling you all along that the Apple TV we brought with us was an Apple TV 3, when in fact it was an Apple TV 2. This is important because you'd have thought we were morons if it was an Apple TV 3.
On our Apple TV 3 at home, we tried to log into iTunes, and plain as day the Apple TV asked us for the 6-digit code from two-factor authentication! The Apple TV 3 we have is a model 1247 running OS 7.2.1. On the Identify your Apple TV model page at Apple, it says that A1247 is the first version of the 3rd gen Apple TV.
So to start with, Apple is misleading us when they say you HAVE to have an Apple TV 4 to get prompted for the code! Steve and I were baffled at first when we saw this come up, and ran to the room where the Apple TV we'd brought with us was located.
Sure enough, that Apple TV did NOT ask us for the 6-digit two-factor authentication code, it simply told us that our Apple ID or password was incorrect. Ok, we're not idiots that missed the screen.
At this point in the plot I'm looking at the login failure screen, but my iPhone is showing the 6-digit passcode for two-factor authentication. That means I have the extreme joy of entering my TWENTY CHARACTER Apple ID password yet again, the one with upper and lower case letters, symbols and punctuation…all with that hideous little silver remote, AND then typing the 6-digit code.
And…it failed again. The only thing I could figure was that since it took me about 5 minutes to type that code in, maybe the code had expired. I should mention that before you get the code, you get a screen asking if you're trying to log in somewhere and whether you want to allow it. So this time I typed in my 20 character password again, let it fail, and then left my phone showing the Allow screen and didn't let it advance to giving me the code. I entered my 20 character password YET AGAIN and only then tapped allow, got the 6-digit code…and it worked!!!
My arm STILL hurts from typing that code so many times.
More whining
While I'm in a whiny mood, let's talk about some other lovely side effects of turning on two-factor authentication.
I was chatting with Bart the other day when suddenly up on screen pops a message saying that someone is trying to log into my account from Pomona, California! Pomona is 46 miles away from my house (which is like 7 hours of driving in LA terms). Obviously I wasn't in Pomona and neither was Steve. I didn't think either of the kids were in that area either, and Tesla doesn't know how to drive yet. I couldn't believe that having two-factor authentication turned on had already saved me from a hack!
And then Steve came into my office to tell me that he was messing with the Apple TV and did I get a 6 digit code? At first Bart and Steve tried to convince me that the location services must not be that accurate, but that didn't satisfy me.
That night, our buddy Ron came over and I told him the story and he said that he had noticed that when he had to log into his Frontier FiOS account to authenticate for an over-the-top TV service, it showed Frontier as being in Pomona. We are also Frontier FiOS customers. So for some reason, Apple is using the hub for our ISP as our location for the iTunes login. Why wasn't it IP based to maybe at least get to my neighborhood? Weird. Keep that in mind if you turn it on and suddenly get strange locations logging in!
Here's another fun byproduct. Steve is nearly as geeky as I am (but not quite) so he likes to set tech stuff up too. We don't share an Apple ID, and never have, so we have to choose one ID to use for the login on our Apple TVs. We use my account and I share my 1Password entry for it to him. But when he went to set up the Apple TV, he didn't get the passcode sent to him for two-factor authentication.
Ok, no big deal, I'll just log into appleid.apple.com and add his phone number to my account. I'm sorry Dave, I can't do that. His phone number is already associated with his account. That means I can't add his email address either. Luckily I have created another email address for him over at podfeet.com so I used that one, but doesn't this seem kludgy? Is the assumption that you only have one geek in the house?
And guess what? In all that reentering of my password on the Apple TV 3 and 2 in order to get the 6-digit code to come in, NOT ONCE did his email addresses get sent the 6-digit code. Seriously.
In case you think I'm exaggerating the weirdnesses of Apple's two-factor authentication implementation, let me quote from Allister Jenks's email to me. He followed my tutorial on how to turn off two-step verification and turn on two-factor authentication and he had this to say:
What you have documented there differs in two important ways to what happened when I tried to follow it. First, not everything you showed happening happened to me. Perhaps because my prior setup was different. Second, not everything that happened to me was in your tutorial.
So…I hope the tutorial helps people but don't be shocked if you don't see exactly what I saw!
So. Yeah. Two-factor authentication has been a dream come true for me.