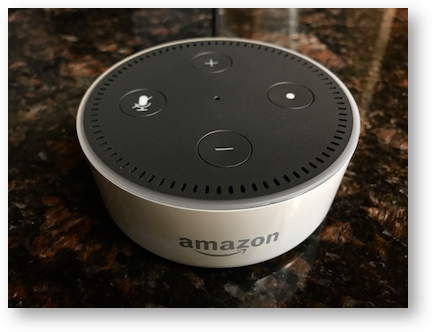 Every once in a while there's a device comes out that everyone loves, and urges you to get, even if they can't articulate to you why it's so awesome. I remember a hundred years ago when my friend Eric told me to get a Palm Pilot. He explained to me that it was a small handheld device that would hold my contacts and calendar. I pointed to my 3 pound full-sized Franklin Planner notebook and said, "My planner already does that, why do I need this?" He was relentless. I took his advice and of course I was hooked.
This same kind of enthusiasm and zeal is happening around the Amazon Echo. People love their Echos. They don't just like them, they loooooove them. You may remember when I had Mike Elgan on the show, he said one of the few things worthy of being carried around the world in his nomadic life is an Amazon Echo. He said all the usual things I'd heard before, play music, ask the weather, set a timer or listen to podcasts. I pressed him that I could do all of those things with Siri. He said it was different but hard to articulate, so I should just get one.Amazon recently came out with the Echo Dot second edition. The Dot is a small hocky-puck sized device that doesn't have an internal battery so it has to be plugged in at all times. It has a built-in speaker, but it's really designed to use with a Bluetooth or wired speaker. Other than that it's got all of the functionality of the full-sized Echo but it's only $50. For that price, I could hook it to one of our Bluetooth speakers and it a try.
I preordered a Series 2 Dot and it arrived this week. You know how when you open a box there's often a clear plastic piece of tape you have to cut through, unless it's an Apple device, in which case there's a subtle tab to pull? The Dot packaging had that nice little tab. I started out happy. It also made me happy that the box was tightly packed with no extra space, It simply contained the circular puck of the Dot, a micro USB power cord, and a rather large USB charger block. Each piece had a nice clear sticker on it just like an Apple device. It was time to have some fun.
I figured I could read the little instruction book but what fun would that be? I plugged it in and waited. Some lights flew around the circle, but nothing happened. On top there are four buttons. Up and down buttons, a mic mute button and one button with a dot on it. I held that button down for a second and let go. The lights swirled around in orange and then she said, "Hello, your Amazon Echo is ready for setup, just follow the instructions in your Alexa app". Off to the App Store to download and install the Alexa app.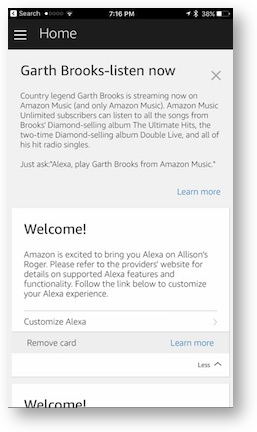 I opened the Alexa app and the Dot patiently waited for me with its circulating orange light. The Alexa app showed me no clues of what I should do. Instead it was telling me about a swell Garth Brooks channel I could play. From what I could figure out online, the app was supposed to automatically start helping me through the setup, but it did not.
Before I go through the setup process for the Dot, let me outline the process you have to go through to set up a typical IoT device.
Turn on the IoT device. It will start broadcasting its own WiFi network
Connect your phone or computer to the IoT's WiFi network
Now the app for the IoT device will ask which "real" WiFi it should connect to and query you for the password
Now you can reconnect your phone/computer back to the normal WiFi network
This process has never gone smoothly with any device Steve and I have configured to date, but that's how it's supposed to work. I had high hopes that the Echo Dot would be the first device to do it right.
I decided to bypass the kind offer to play Garth Brooks and tapped on the Home button. and guessed that Settings was a good place to start. In there it showed "Allison's Echo Dot" at the top of the list. It also thinks I have several other devices, like a Rogers, whatever that is (and I don't live in Canada). Anyway I tapped on my Echo Dot and it offered to reset the WiFi. It seemed weird that it wanted to reset it when I haven't ever set it in the first place.
When I tapped on reset WiFi it told me to hold down the action button (evidently that's the name of the button with the simple dot on it) and wait till the ring turned orange. Instead of turning orange, it bonged and then turned blue/purple, told me WiFi wasn't ready and told me to ask my Alexa app for help.
I decided maybe I held it down too long. I tried it again and this time the ring turned orange. Ok, we're in business now! The app told me to go to my phone and connect to the dot in WiFi settings. I went to my WiFi settings, and the Dot showed right up and connected immediately. I heard Alexa say "You've connected to Dot, go ahead and follow Alexa app instructions". Awesome. Back to the Alexa app, where it was saying, "Unable to complete setup please try again." GRRRR.
Clearing that notification let me connect to WiFi, but when I went back to the app it was still telling me to wait for the orange light ring, but I'd never lost the orange light ring. It was stuck there.
At that point I realized my VPN had kicked in because I've told Cloak not to trust my IoT network! Yay! it's my fault! Except when I turned off Cloak, it had the same exact symptoms. I even unplugged the Dot, and found the instructions online at Amazon on how to reset it to factory settings (down button and action button), but I still had the same problem. I could connect to the Dot's Wifi but the app would never get off the screen and advance to asking for a real network.
I poked around in the help files and was told I shouldn't have tapped on the one that said Allison's Dot, I should have tapped on Set up New device. That's not quite intuitive to me, but great, I'll give that a try.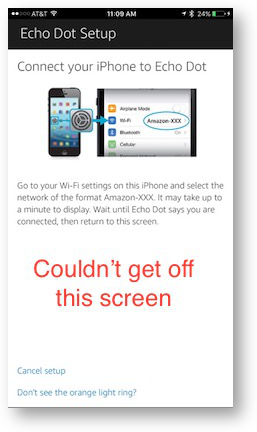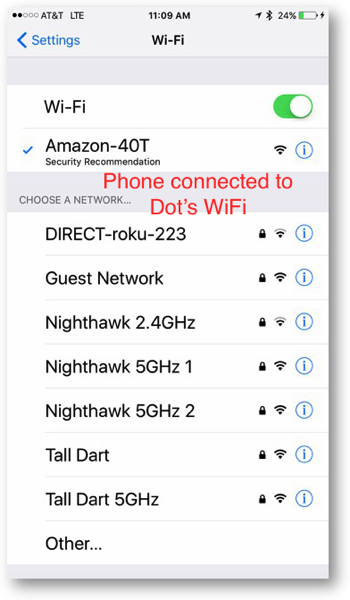 Of course it didn't matter, I kept getting stuck right after the Dot was connected to my WiFi. I could NOT get past that screen telling me to go to network settings.

Finally, I started searching on Twitter, and found @TechLynne46 who posted that she used Alexa.amazon.com to do the setup. When I logged in there on my Mac, I was shown the exact same interface I'd seen on the Alexa app on the iPhone, except it rendered really badly. The menus were nearly unreadable – I put a screenshot in the shownotes to show you how bad it looked. I had nothing to lose so I went through the steps using my Mac, and it worked! After I connected my Mac to the WiFi network of the Dot, it showed me the real networks it could see and asked me to enter the password for the one I chose.
Finally, after 25 minutes, I was done with the setup. And then suddenly the orange light went around for a while and wouldn't stop. Then about 2 minutes later ,Alexa said it had gotten an important update but would be ready again shortly. I do want it to update itself of course so that was pretty cool.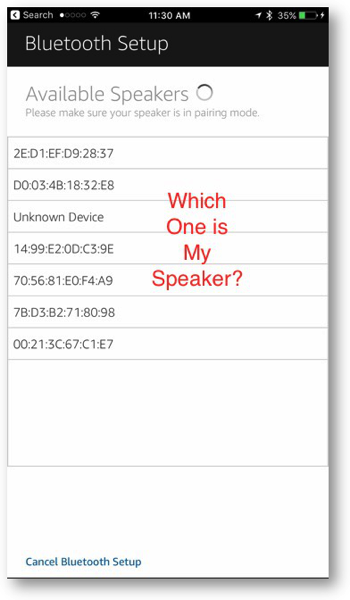 Finally I can play with my new toy. The first thing I wanted to do was pair it to a Jawbone Jambox. They have a list of the "Alexa certified speakers" but what fun would it be to check that? I put our Jambox in pairing mode and in the Alexa app went to my Dot, Bluetooth and add a new device. Boom, here's all my Bluetooth devices…listed by MAC address. Well, that's not very helpful. I stared at it for a while thinking about what to do, and after about a minute one of them changed to say, "unknown device". That's way more helpful. Then slowly, one by one, the MAC addresses started to turn into names. Finally one of them said Steve's Jambox and I tapped it and I was in. It worked, but I've never seen anything when connecting to Bluetooth devices show me MAC addresses for so long like that.
Now you know I don't listen to music, but I suggested she play me some Paul Simon and instantly Amazon Prime Music was showing on my phone inside the Alexa app and his dulcet tones were emanating from the Bluetooth speaker. Steve came in and did the first thing he has done with EVERY speaker since he was in college, and that's play Boston's "More Than a Feeling". It worked perfectly.
Without suggesting she stop playing the music, he summoned her and asked her when the Dodgers were playing that night. She said 5:08 pm. Great. Then he asked her, "what is the series score between the Dodgers and the Cubs." She started spinning her little lights…and never came back. I waited 7 minutes. Finally I unplugged her and plugged her back in to reboot.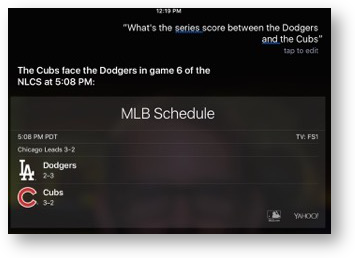 We tried the same question about the baseball series after the reboot and Alexa didn't even try to answer this time. I asked Siri the same question and she told us it was 3 to 2, Cubs favor. Now I don't want ANYONE to think that Siri is flawless execution by any means. She just got lucky this time. But why didn't Alexa come back and tell me that she didn't know what I meant? Curious.
I haven't had a chance to start exploring more stuff the Echo Dot can do, and certainly will soon, but I have to say I was really disappointed in how hard it was to set up. Many people online have said they had no problems at all, so maybe I just got lucky.